This is a story about caring for living things...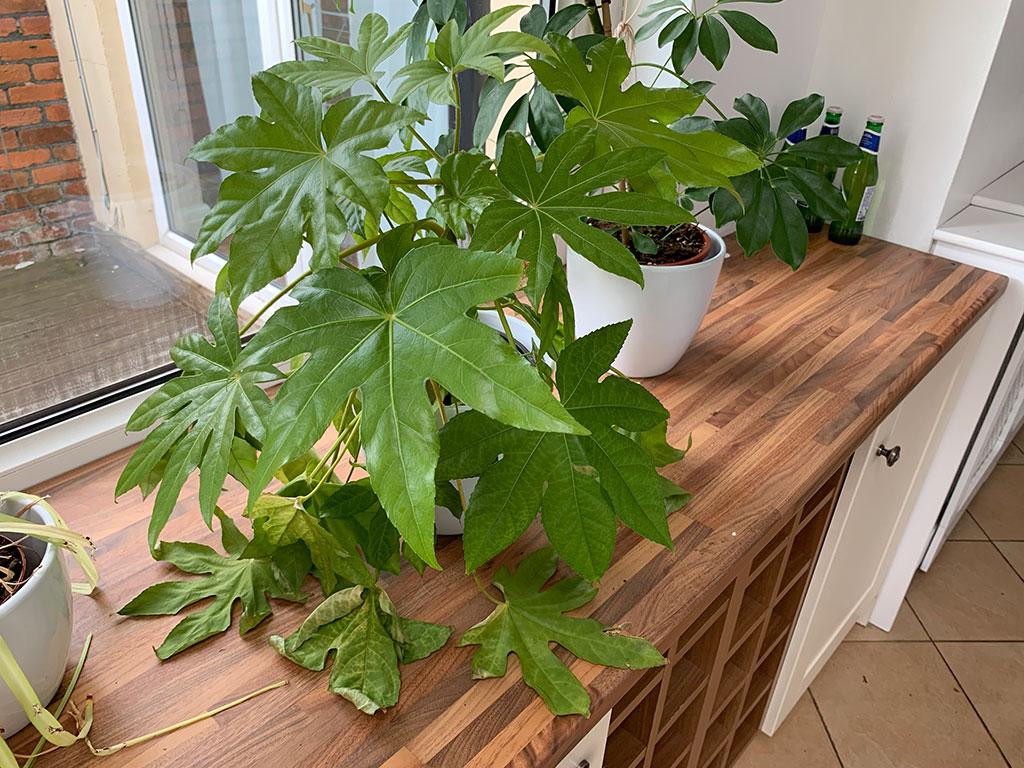 My beloved castor oil plant is not doing very well. Really, I should re-pot my houseplants. I need to purchase some plant food and feed my houseplants. Two of my plants have been attacked by my kitten, leaving them pretty much destroyed, and one of them was knocked off a shelf by my kitten, and perished soon afterwards due to having no pot anymore.
My kitten is not eating her food. She had a different brand of cat food while I was on holiday and now she doesn't want to go back to eating the cheap supermarket own-brand stuff. I'm not trying to save money - I kept her on the same food that the breeder was feeding the cats, and the breeder was trying to save money. It's a bad idea to change your pet's food, because it can upset their stomach. I guess I will have to go and get some premium brand stuff now my kitten is used to the fancy stuff.
I'm not doing great in terms of diet, exercise and alcohol. I thought I would feel rejuvenated enough after my holiday that I would start taking better care of myself, but I've needed a bit of booze to take the edge off the shock to the system of going back to work. Work is stressful.
Things look better regarding the major things that were stressing me out. My contract is likely to be extended by a couple of months and the organisation I work for is chasing my security clearance, which is good. I feel happier about things.
I'm not going to write much today because I'm about to go out for dinner and to the cinema. Also, I'm trying to write less - little and often, instead of gigantic brain-dumps which are far too much for anybody to enjoy reading.
I drank far more than I intended to this week, which makes me feel bad about possible weight gain and the general health implications of drinking too much, but I must admit that it's helped ease me back into the daily grind. However, I could easily end up being overly dependent on alcohol and drinking far too regularly, so I'd like to get things under control before they get out of hand.
My kitten has been very sweet and playful at times and I'm really pleased to have a companion animal - a pet - to keep me company when I'm home alone. I was worried that she was too wild and destructive, and that I wasn't able to cope with such an intelligent cat, but I seem to have found strategies for her behaviour to stop her peeing on everything and destroying stuff. Not an ordinary domestic cat at all, but she's got bags of personality and she's great entertainment.
Today I felt for a moment like things were going OK. My income is slightly more secure, I'm good at my job, I'm in a good relationship, I like my house and my cat, my car is OK, my finances are OK, my health is OK... things are alright. I don't see too many ways in which everything's going to fall apart at the moment. If everything goes ahead as it should, then I don't have any horrible unpleasantness to face for a couple of months, which is good. Some challenges on the horizon for the autumn, including the usual horrible situation where I'll be needing a holiday but my income won't be secure - it really spoils a holiday having uncertainty about employment and money.
Lots of work to do at the moment, which is what I want because I like to keep my mind occupied, but I do want to keep myself on a sustainable and healthy footing. I don't want to burn myself out, or indeed make myself redundant. I often blaze through all my work and am left with nothing to do, feeling horribly bored and dreading having to look busy.
So, I have the opportunity to work and to live, but I need to look after myself.
I'm off to do leisure activities now, which is very nice.