This is a story about feline friends...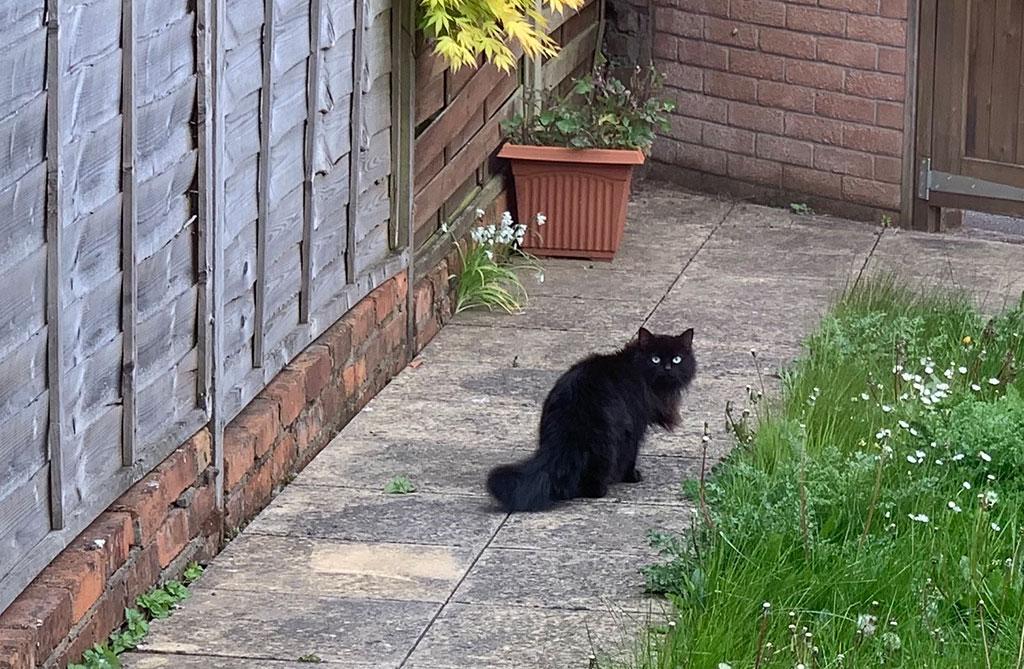 The two best things about owning a house were getting a kitten and having a nice garden. The garden was not in a good state when I bought the house: the lawn was in a dreadful state, the borders were full of unattractive things which had self-seeded, the path was shoddy and the small shed was falling down.
Getting a kitten was amazing. Having a precious little fluffball to nurture was one of the best things I ever did in my life.
Working on the garden, planting an attractive deep herbaceous border in neat mulched flowerbeds, laying a straight path with nice pebbles and later building a summer house in the style of a giant beach hut, was enormously rewarding.
Today, my back garden is full of weeds and my house is empty except for me.
I miss having a cat.
The photo above is of a neighbour's cat who strayed into my garden. I went outside to say hello but the cat ran away before I even stepped out of my back door. I suppose I should leave other people's pets alone, but I see no harm in being kind to the neighbourhood cats, provided I'm not feeding them or letting them come in my house.
I knew that I wouldn't be able to resist getting a cat for very long. I lasted 2 months.
I'm hoping to pick up a beautiful little bengal kitten in a couple of weeks. She has the same name as my niece, which seemed like fate: it was meant to be. If you're unfamiliar with the bengal breed, they're like little tiny leopards - their fur markings or 'spots' are quite unlike any other domestic cat's. I never pictured myself as an owner of a particular breed, but I had been interested in a few breeds: Maine Coons and Savannahs. Everything I heard about bengals made me want to own one, and soon hopefully I will.
I have lots of nice distractions in my life at the moment. Everything seems to be going according to plan.
I'm a strange fellow. Of course I want to chase girls. Of course I want sex. However, I also have a pretty strong nurturing instinct, which seems to take the guise of being a bit of a gardener and cat 'parent'. I'm mad about cats.
I'm sure I can give a little kitty a really nice life. I'm sure no grown cat, having lived in a warm house and had a steady supply of cat food for its entire life, is ever going to tell me that it's depressed and wishes it'd never been born. I can be pretty certain that I'm not going to have chosen the world's first cat to be afflicted with existential angst.
It might seem pretty selfish wanting a cat; another mouth to feed on an overcrowded planet. The amount of meat that my carnivorous kitty is going to need to consume in her lifetime is certainly going to have an environmental impact. There are ethical questions about whether it's right to domesticate wild animals like we do: for food and for harder to define reasons, such as having a feline companion.
I worry about whether my life is stable and secure enough to guarantee that this little kitten - collected in a few weeks - can have a very happy life, where she can be loved, cared for and live in a stimulating environment where her every feline need is met.
I feel like a pretty responsible adult, having taken reproductive precautions seriously enough to reach the age of 39 without having fathered any children who by now would be asking "why was I born into this terrible world?". I'm not ruling out meeting somebody who I fall so utterly in love with that I might be convinced to start a family, but at the moment I'm glad that my nurturing instincts have been mostly curtailed with gardening and kittens.
Call it May Madness, if you like... I'm a little swept up in the joys of spring. I certainly worry that I'm making rash decisions, but I find it hard to be anything other than excited about soon collecting a little bundle of furry joy and bringing her home. You should expect a lot of cat pictures to be shared imminently, hence why I haven't shared one of the cute little kitten today... there's gonna be a lot coming soon!