This is a story about losing your home...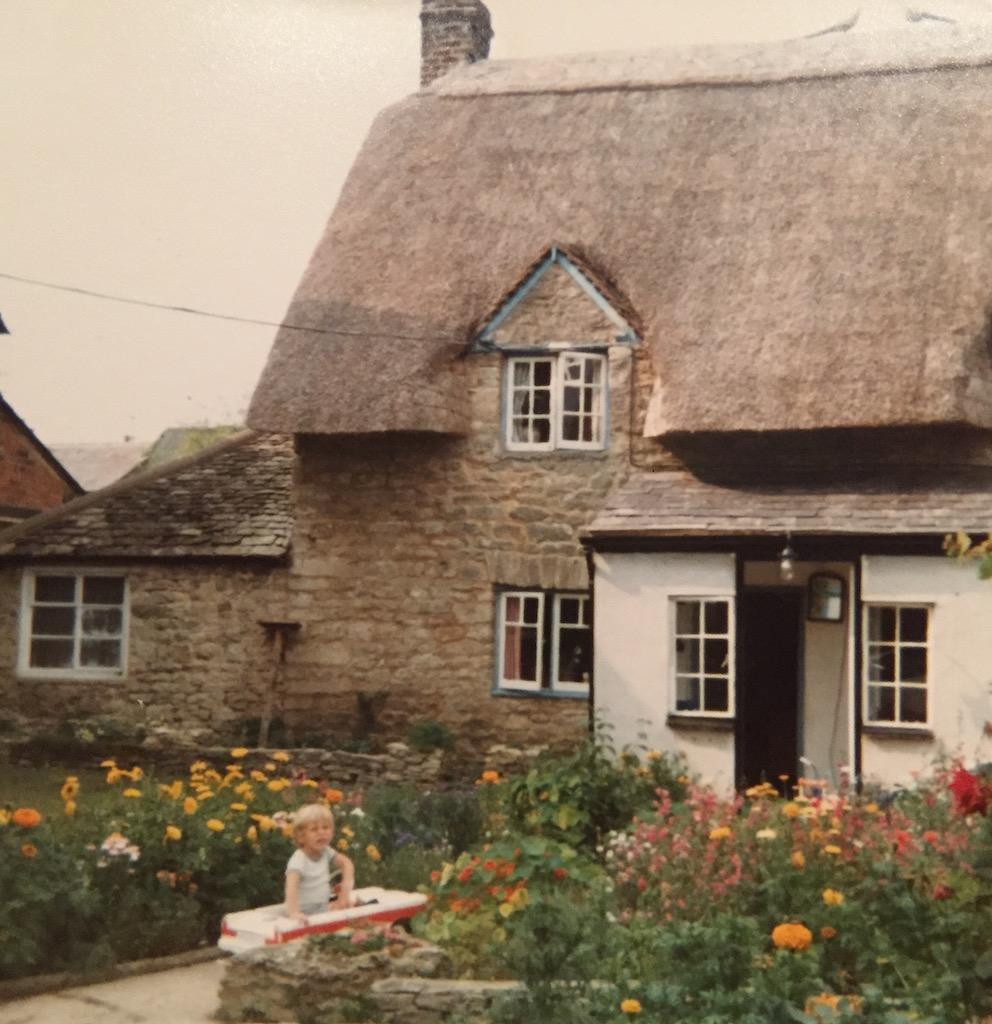 That little blonde boy in the pedal car is me. That thatched cottage is where I used to live, briefly. I loved that thatched cottage, because it was exactly what a house is supposed to be: It had a roof, chimney, windows with panes of glass criss-crossed, a front door in the middle, flowers growing in the garden. All it needed was a blue sky, some smoke coming out of the chimney, a couple of soaring birds, some white fluffy clouds and a big yellow sun with a smiling face, and it would be the picture that every child would draw, if you asked them to draw a picture of a house.
My time in the "proper house" was very limited.
When I briefly lived this proper life, there was a village green, a village shop, a village post office, a church and graveyard, a railway train station, a bus stop, a pub and a school.
During my all-too-brief proper life, I went to the local school, played with the local children, bought sweets from the village shop, attended events on the village green - when people would literally dance around a maypole with coloured ribbons - and went to church.
My life exemplified everything that is great and good about English countryside living. Former British Prime Minister, David Cameron, lives barely a few miles away from the idyllic Cotswold village where I had my proper life. Prince Charles and other royalty play polo on fields, barely a few miles away from this most quintessentially picturesque English village that you could ever imagine. The TV show Downton Abbey was filmed on location, a few miles away from this beautiful place, where I thought I would live forever.
Life seemed to make sense to me - this was a proper life, and it all made perfect sense, even though I was just a child.
The funny thing is that it still makes sense to me.
All I want is to live in a little house, with a little garden, in a little village and do the things that normal people do: go to work, come home, watch TV, cook food, eat, do gardening, have a pet, feed the birds. All I want is an ordinary life.
Presently, the only piece of furniture I own is a coffee table, which I repurposed as a TV stand. One of the few possessions I own which isn't designed to be carried around easily, is the TV, which sits atop the TV stand. Other than that, everything else can be thrown into a bag... and there isn't very much "everything else" left. Most of my possessions have been discarded, because my life was too chaotic and I was too unwell to cope with safeguarding my material things, when my life and my sanity were at risk and all too often nearly lost forever.
Every time I was forced to move as a child - 8 different schools - it was nonsensical and disruptive; it was traumatic and damaging. Every time I found myself packing my bags, yet again, a pattern was being established: I was being psychologically programmed. The message my parents were sending me was loud and clear: "Don't get attached to anything, anywhere or anybody".
I gave up on the idea of having a settled, secure, normal life.
When I separated from my wife and an acrimonious divorce began, it really didn't bother me as much as it should have done, to lose my house, lose my precious things and to end up sleeping rough - homeless and destitute. I camped in bushes, where I could hide my tent. I slept in a bivouac on heathland. I was invisible in a city with a daytime population of 10 million inhabitants. My home and my bed shrank and shrank, until it was simply the tiny patch of ground on which I stood or lay. My personal space shrank to be no bigger than the volume occupied by the extremities of my body.
When I saw the chance to move from being homeless to living in a very luxurious apartment with amazing views of the capital city, the idea was too attractive for me to resist.
I had two years bursting with pride about how I'd pulled myself up by the bootstraps, and was no longer sleeping rough; no longer homeless. I had to pinch myself every time I stepped inside my home, and was greeted by breathtaking panoramic views over London. That feeling never wore off... the whole time I lived there.
I want that again. I want to live somewhere special. I want that special feeling that I'm living in a proper place, after the awfulness I've been through in life.
Yes, I'm sympathetic towards those who are sleeping rough, and those who are living in a very dire situation. No, it doesn't make me happy just to have a roof over my head.
I've lived anywhere. I've slept rough all over London. I've slept in 14-bed hostel dorms. I've slept in psychiatric wards, hospitals and police cells.
I do NOT want to live anywhere.
It was a big deal when I got the keys to a gorgeous home with sea views, roughly ten and a half months ago. I still feel a great buzz when I visit that place, and I stand at the window admiring the views over the bay. I love that home, but unfortunately, it's not my home... although technically I can sleep there whenever I want, for another month and a half.
I shouldn't be getting stressed out about moving. My life will be much better when I have a home again. Hopefully I can have a beautiful home which I can fill with lovely things. Hopefully I can stay there. Hopefully I won't have to leave. Hopefully my world won't be destroyed again.
Currently, I have no idea where, when or how I'm going to get myself a home, let alone whether I'll have the opportunity to fill it up with lovely things.
My upbringing taught me one clear lesson, again and again: Expect nothing, except to lose everything that you get attached to.
Tags: #childhood #home #renting #apartment #london #homeless