This is a story about all the little things you take for granted...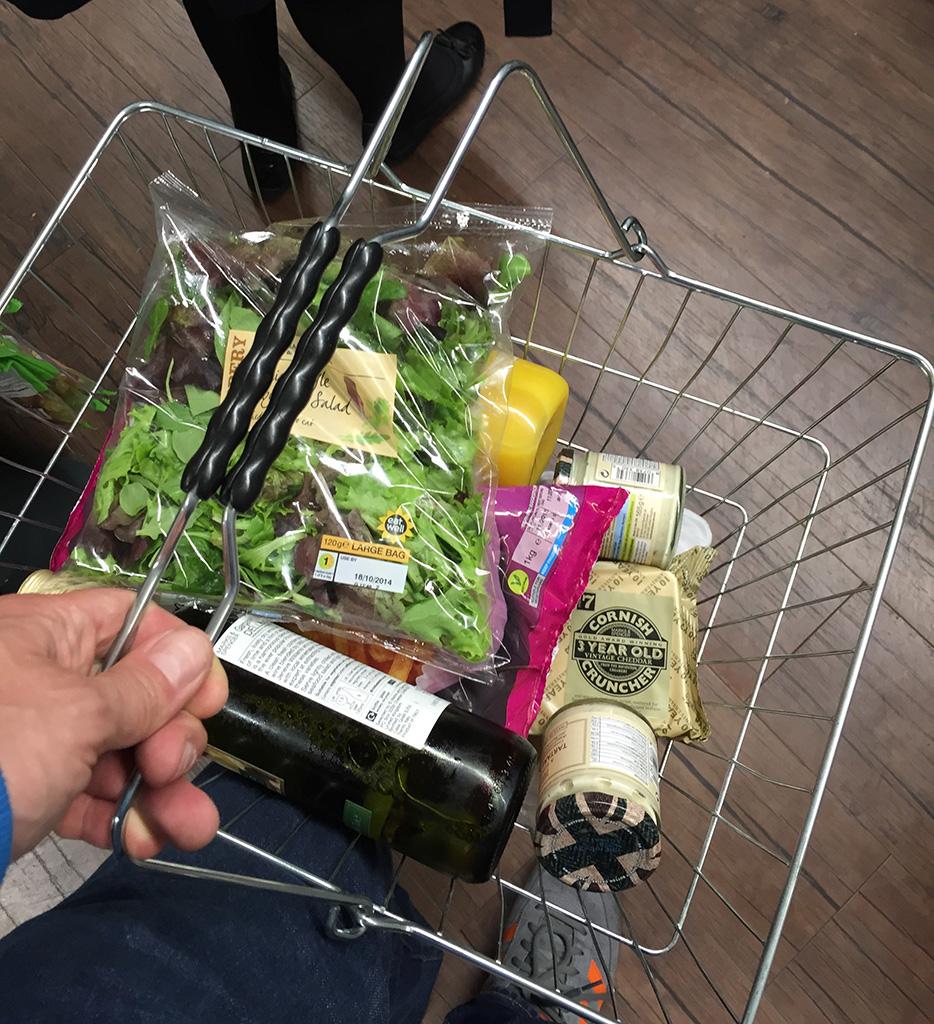 Take a look at your mobile phone recent calls - that tells you who you pick up the phone to when you're feeling blue or something bad has happened in your life. Your recent phone-calls is a good way to see who your social support network consists of. Maybe it's your mum, or maybe it's a brother, sister or best friend. Maybe your recent calls are all work-related, but work can provide support and meaning to life; purpose.
Now, think about the last few journeys you took. You live in a place for a reason - maybe it's where you grew up, or maybe you had to move there to get a job, but you've got connections to the area. You know how to navigate around the place, to get from your house to the shops, and to get to your job. You know how long it takes to reach other important places, like the train station, the bus station, airports, major road junctions and big cities. You know how long it takes you to get to nearby beauty spots and tourist attractions.
Think about all the things you routinely do. Think about where you shop for food and drink. Think about where you'd go if you needed to buy a new pair of shoes. Think about where you'd park and how you'd get there. Think about whether you'd need to pay for parking or whether you know somewhere you can park for free. Think about when it'd be busy and when it'd be quiet, and all the local knowledge you have about what shops there are, what they sell and where they are.
Think about where you'd go in a crisis. You know where the hospital is and you know where the police station is. You know where friends and work colleagues live. You know where to find people and you know where the crime spots are; you know which areas to avoid. You know which places are daytime places, and which places are night-time places.
You do your recycling don't you? You know which day you have to put the bins out, and what recycling is collected on what day. You know which colour boxes and bags have to be put out for collection, and you've gotten into the habit of separating your glass, plastic, cardboard, cans, food waste, garden waste and everything else from your general trash. You know where the dump is if you have to dispose of something bulky.
You have a vague idea of the meals you like to cook and eat. Maybe you plan ahead and you've decided on every meal you're going to eat for the next week. You know all the ingredients you need to buy. You write a shopping list. You know which supermarket you're going to go to and you know every aisle which has the products you want. You know when's a good time to go so it's not too busy. You know where you're going to park your car. You know how many shopping bags to take to bring your groceries home.
You budget and you have a good idea what your bank balance is at any particular point in time. You're saving up for a holiday. You know how much the repayments on your car loan cost you, and how much your mortgage is. You know how much the household bills are. You know what you spend on groceries every week. You know how much you spend on transport. You know how much spare money you have. You know how much you can spend on a night out at the cinema, at a restaurant or at a bar.
You know where your income comes from. Maybe you're on housing benefit and Employment Support Allowance. Maybe you get a paltry salary and your wages are topped up with tax credits. Maybe you have a regular average job which just about covers your monthly costs. You know exactly what your take-home pay is, and exactly when it will arrive in your bank account.
You're planning a holiday. You spent a long time choosing where you were going to go, and you'd been saving up for it for a long time. You're really looking forward to it, and you've planned the itinerary and you've budgeted to make sure you have plenty of spending money, so you can convert your money into local currency and enjoy yourself.
Your car needs taxing, testing and insuring every year, and you know exactly when those things fall due. You know that your car needs servicing and that it will cost a certain amount for tyres and other things every year.
There are birthdays. So many birthdays. It seems like every week there's a card to post off; flowers to send. Some birthdays require a trip. Some birthdays require presents.
There are births, weddings and funerals. There are family emergencies. There are elderly relatives to be cared for. There are friends who are having a tough time. There's your loser brother who's in hospital again.
Maybe you work. If you do, you've probably done the same kind of work for your whole adult life. You know what kind of working environment you belong in - whether that's an office, a building site or a hospital - and you know precisely the job titles and organisations which are likely to employ you. You know the jargon and buzzwords. You know what salary to expect. You know how to do your job blindfolded with your hands tied behind your back.
Maybe you've got kids. In fact, you probably do have kids. You know exactly when they have to get up, what they're going to eat, what they're going to wear, where they need to be taken and how they're going to get there, how long they're going to be there for, who's looking after them and what exactly they're doing when they're there. You know when you've got to collect them and which friend they're bringing home. You know what after-school thing they're attending. You know what paraphernalia they're going to need, both during the day and after school - gym kits, science projects, spelling homework, reading books borrowed from the library, the trumpet and trombone, their Brownie's uniform and the cakes they've baked, their swimming costume and the thing they're going to wear at the dress rehearsal for the play. You've thought about a nutritious and delicious lunch for them, which balances both healthy eating and their particularly picky tastes - you cut the crusts of their bread and scraped the seeds out of the tomato; you gave them the flavour of crisps that they like the best and a drink that's marketed as a "low sugar" version of the drink they really wanted.
You've probably got kids, and you've already decided who they are and what they're going to achieve in life. You've got their whole life mapped out ahead of them - you know what subjects they need to study and what grades they need to achieve and which universities they're going to apply for, and which career that means they'll end up in. You know how you're going to sharp-elbow your precious little darlings to the front of the queue. You know how you'd do anything to give little Henrietta a head start in life.
You haven't really thought about the fact that your kids are going to get into mountains of debt and emerge from university with a worthless degree into a particularly hostile job market where they'll be completely unable to secure employment in their chosen field. You haven't really thought about how the student maintenance grant will nowhere near pay for the cost of living while they're studying. You haven't really thought about how your precious little darlings won't be able to get on the housing ladder. You haven't really thought about how your kids won't be able to make their pathetic wages stretch to pay for even the basic essentials: rent and bills. You haven't really thought about how you're going to have to buy them a car, pay the insurance, pay the deposit on every place they rent and generally bankroll them because they have no chance of achieving financial independence in the current economic climate.
Your parents are getting older and their health is failing, but they're going to live into their eighties in their massive house with lots of empty bedrooms. Your parents will require an increasing amount of assistance to be able to continue living independently, but you already spend over 100 hours a week working, commuting and doing the school run. You're already maxed out. You're already stressed out of your mind and you spend every penny you earn. You can't afford to work part time. You don't have any spare time or money to deal with all the hospital appointments and minor operations in your parents' lives.
You feel like you're on the brink of a breakdown all the time. You feel like you're rushed off your feet 24 x 7. You know that you need 2 weeks in bed, but you can't stop for a single second because you're stressed out of your mind keeping all the plates spinning. People are counting on you. You're a breadwinner; you're the one dependable person at work and people keep asking you to do more and more in less time; you've got to deal with the kids and there's so much to do; nobody else is going to do it; you can't let anybody down.
You know who you are and what your place is in the world. You have a purpose. Your life has meaning, even if that meaning is as slave to the brats you spawned to replace yourself. You have an identity. You know how you like to wear your hair and what your 'style' is. You know what clothes are clean and what clothes you are going to wear at any given moment - you have work clothes, comfy clothes, cleaning and gardening clothes, fancy clothes, casual clothes, holiday clothes, winter clothes. You have shoes for every occasion and shoes for specific purposes - running shoes, tennis shoes, cycling shoes, wellington boots, walking boots, horse-riding boots, f**k-me boots.
You have pets. You have cats, dogs and your kids have rabbits, hamsters and guinea pigs. Your parents have pets too. The pets are part of the family. The pets have birthdays too.
You have stuff.
So. Much. Stuff.
You own a house; an apartment. You own furniture. You own curtains and carpets and rugs. You own a fridge, freezer, cooker, microwave, dishwasher, washing machine, kettle and toaster. You own a vacuum cleaner, mop and broom. You own bedding and towels. You own sofas, beds, dining tables, chairs. You own chests of drawers and wardrobes. You own sideboards and dressers. You own steamers, slow cookers, fryers.
Now I really have segued into a Trainspotting monologue, by accident.
You've sewn all this stuff together into a life which is more comfortingly familiar than you're even aware of. Yes, you might go away on a self-catering holiday for a week in Spain, and all the brands in the supermarket are unfamiliar and the kitchen in the s**tty apartment you rented is completely unfamiliar to you, but when you go home you're relieved to be home. Your home never went anywhere - you had two homes briefly, and you were just temporarily having a holiday, but you knew that your home was still exactly where you left it.
Try if you can to imagine losing all that. It's a near-impossible thing to do, to empathise with the plight of somebody who's been so uprooted that they've lost everything I've just described, and they find themselves to be lost and bewildered in the world which they detached from. The world's a very different place when you lose all your local connections, your support network, your possessions and your home comforts, and everything else that constitutes your entire life.
Sure, I have an apartment where I've lived for 5 months. Sure, I have a job where I've been working for 4 weeks. Beyond that, I have 2 friends in the place where I live and 1 friend in the place where I work. My list of recent calls on my phone is mostly cold-callers, although I am lucky enough to have a friend who phones me regularly, although I've actually never met him in person. My support network doesn't include anybody who I see regularly face-to-face. My list of contacts doesn't include anybody who I could call if I needed a hand getting home from the hospital, if I'd had an accident.
When I was in hospital on dialysis with kidney failure in London, I had visitors and it was lovely. I don't live in London anymore. I live somewhere where I don't have any local connections. I don't have much of anything, although I am lucky to have a roof over my head and a source of income, although it's somewhat insecure. I've been lucky enough to hang onto a few precious possessions, and I've even accumulated a few more along the way - not everything was lost.
I worry that person, who I've always thought of as one of my best and most loyal friends, is deliberately ignoring me. I feel like I must've done something wrong. I feel like I must've done something to offend or upset him.
My guardian angel is increasingly busy with her life in London, although we're still in regular contact. I feel like she's the one person who'd be there for me if I was deep in the s**t, but I've relied on her very heavily to rescue me from all kinds of sticky situations over the past few years. She knows me through my blog - we didn't know each other until I started blogging.
These are the fragile little hooks that I hang on, suspended over the precipice: I have a place to live, a job and a handful of people who I speak to via text message. Other than that, I'm pretty much cut adrift from humanity.
It's like I'm on a self-catering holiday in a strange country, except I don't have a home, friends and family to go home to.
Tags: #homeless