This is a story about impatience...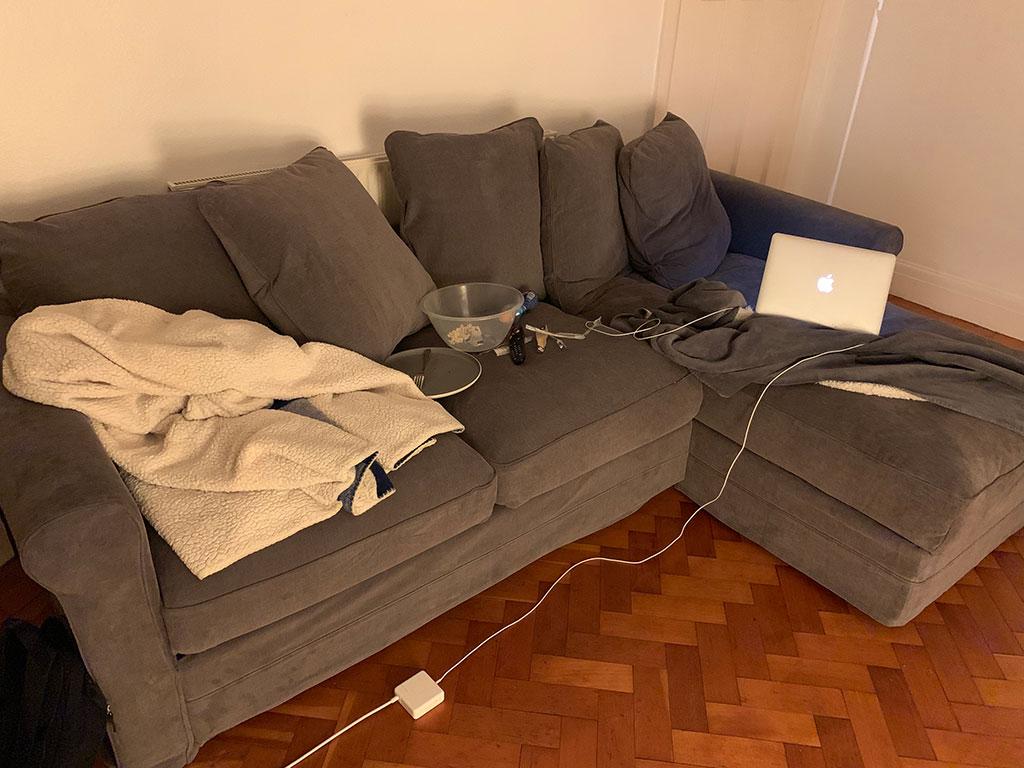 I've committed the cardinal sin of spending a substantial sum of money that I haven't earned yet. Compounding my error is the fact that I have been dreadfully unwell for the last week, and was not able to work. I've quickly moved myself from a precarious position - living in hotels - to one that appears to have more certainty about it. It would take considerable effort to eject me and my belongings, now that I have arrived, and I've got a load of furniture now too. However, I now find myself in the position which I tried to work very hard to avoid: Worrying about job security.
I'm not really that worried.
I waited a long time for my home and my income to come back into alignment. I suffered too many nights lived out of a suitcase. I suffered too many different hotel rooms, bed & breakfasts, AirBnBs and other ad-hoc sleeping arrangements. My favourite clothes were either on my body or in my luggage - never put away in a chest-of-drawers.
Of course, this isn't a self-pity piece. I just watched a feature-length documentary, eating popcorn, reclining on a brand new sofa, under a fluffy blanket and warmed by a log fire. My life is good.
At least, I presume my life is good.
The enormous pressure had broken me a week ago. I was losing my mind. I gambled with my professional reputation: I'm known for being ever-present, always available when somebody needs a question answered. Getting sick was not just unfortunate, but almost definitely an act of self-sabotage.
I had my ducks so nicely lined up, that I could only see two outcomes: I would get everything I wanted, or disaster would strike and I'd lose it all. Easier to prompt the latter outcome into existence, than to sit and patiently wait for things to be OK.
The intensity of what I had planned for a 4-day period was ferocious, and intended to limit my loss of earnings due to domestic errands in the course of house moving. What actually happened was that I put so much pressure on myself that I lost my mind, and began to do things which could have become a cascading, escalating, spiralling catastrophe.
My body 'let me down' in a way that it has often done, where my muscles start to disintegrate and my kidneys are damaged. My urine turns dark brown and it becomes very clear from the sight and smell that I'm beginning to have a medical emergency.
The sensible thing would have been to defer all my plans and go into hospital, but perversely, I decided that I would carry on until complete renal failure. Perversely, it was precisely this outcome - the beginning of the end - that I had superstitiously predicted, but had also prompted into existence.
To the untrained eye it looks as if I'm enjoying a very exciting life of travel and adventure, and my skills are in demand all over the world, but in reality I'm always skating on very thin ice indeed.
It is not advisable to move house, go to new cities, change jobs and have such an unsettled life, without any anchor. Given my estrangement from my family and move away from Dorset, Bournemouth and London, I've found myself in places where I've felt like there's nobody I could phone if I was having a crisis. I'm too distant from everyone who's ever really known me and cared about me. I've become a strange hermit-like reclusive creature, who's always accessible to anybody and everybody, but I've been too loosely anchored to have any meaningful relationship with.
Of the two friends I saw the most of last year, one lives in idyllic domestic bliss with his beautiful family - a very firmly anchored man - while the other one is dead: A man who found himself very alone and very far from the vast majority of people who knew him and cared about him.
I must be careful that I now proceed to live my life with the anchor of a city I call home, a house, relationships and things of some permanence, because I can see that all-too-easily I could wind up dead, like my friend. I've made some difficult decisions which make me far less resilient to life's unexpected changes - far less adaptable - but I'm going to make my 4th attempt at building the life I want.
I once had a beautiful girlfriend who was devoted and loyal and everything I ever wanted, and we both had riverside apartments, not far from each other, but on opposite banks of the Thames. There's a foot tunnel which was by far the quickest route between our two amazing homes. All I needed was a job. I got the job I needed, but the patience of waiting for it had somehow damaged me... I self-sabotaged and ended up with kidney failure, spending a long time on dialysis in a high-dependency hospital ward. Still, this was not enough to destroy my life. I kept going down the path which led only to catastrophe, until I got what I wanted: I lost it all.
Regrettable, but nothing can be salvaged except for the lesson learned: That if I really try hard enough, then I can screw up nearly but not quite all my opportunities in life.
The intervening 20+ months have been the harshest part of the lesson, because never once have I been so close to having what I had then. The hardest part has been when I've had clear sight of the route I need to take. When, at least on paper, I've had my future all mapped out and all I have to do is stick to the plan, that's been indescribably awful. It's been such a horrible waiting game.
If your only goal in life is to get things back to at least as good as they once were, it's a pretty miserable state of existence.
I'm not such a fool that I'd attempt any like-for-like replacement of my old life, and I'm also wary of romanticising the past too. Some might say that I tried - and failed - for too long in London, because I had such good memories, from when I first started my career. Friends would tell me that London is too much hard work - too expensive, too busy, too overcrowded and too fast-paced and competitive for anybody but a fit young person.
When my washing machine failed to be delivered today and I had no clean linen for the bed, I got in my car and drove through the city centre, bought what I needed and drove home. In London, such a thing would have been an ordeal, and nobody in their right mind would have attempted to drive through the city centre during rush hour. Of course, I know how to adapt to London - you live your life very differently there - but there is a great sense of relief that things are just easier out here in the provinces. Like, I find nothing very taxing or frustrating, because London is my benchmark. I spend a lot of time marvelling at how very civilised existence can be. All of the very many conveniences available only to London's mega-rich, are at my disposal here in this city, which is but 2 hours train ride away from the Big Smoke.
I felt a huge sense of calm and contentedness descend upon me, as soon as my bed was properly made and I knew I could snuggle under the duvet whenever I felt I wanted or needed to. I can't believe that it's only Saturday, and my lounge and bedroom both feel like they're my home and I belong here. In fact, I often get the sense that I'm not too far away from declaring my life to be as good as it once was.
I'll be going back to work with some trepidation and it will take me a while to feel as though I've undone any damage caused by my self-sabotage. I'll need to get a few more cheques in the bank before I start to relax and let my guard down - to allow myself to think of this life as 'mine'.
I wonder if people think that I demand the impossible and am ungrateful for what I have. I know I've done a lot of moaning and complaining about the discomfort and unpleasantness of living out of a suitcase, and perhaps with retrospect that seems very impatient of me, given that I must surely have known that my efforts woud bear fruit.
Is it very bad of me, that I walk around my beautiful home and I think "this is befitting of the effort expended and the struggle"... almost like I deserve this, which I know sounds despicable. There is no justice in the world, but I still want you to know that I'm sitting here thinking "this worked out the way I wanted it to".
There's still a scary time ahead, while I cement my victory in place, so it can never be unseated, but every day when disaster doesn't strike is another day I can look back on with incredible gratitude, just like I can do for all those days I was in love by the riverside. No regrets.
Tags: #house #home #love #relationships #moving #selfsabotage