This is a story about the hard-of-thinking...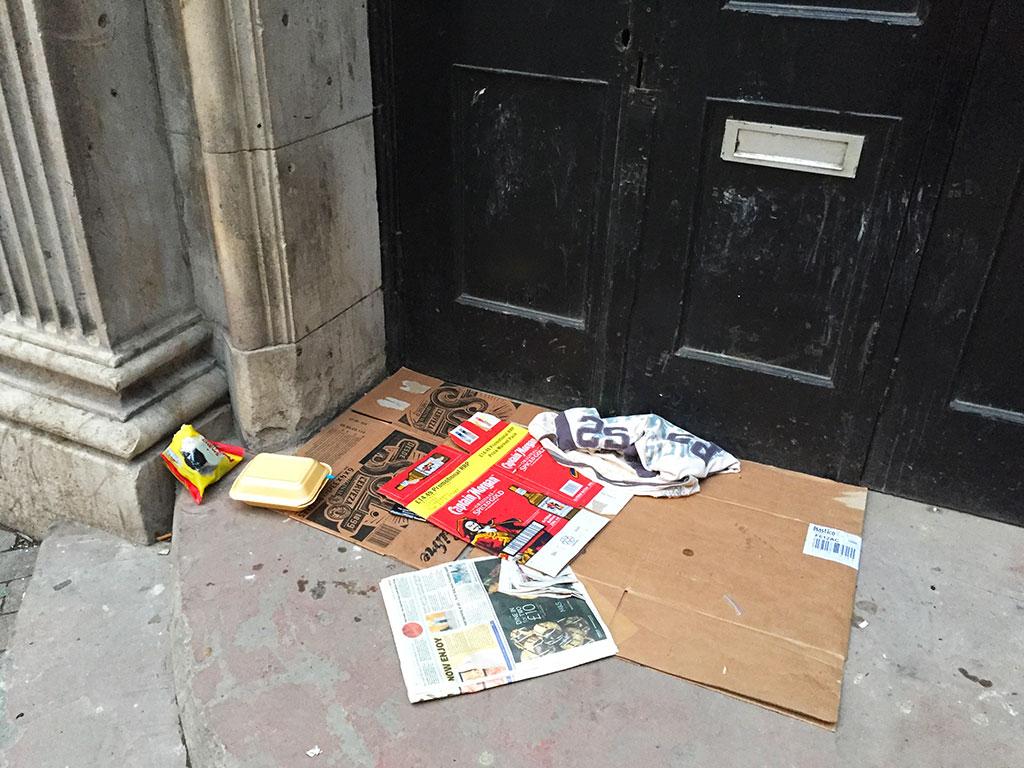 I have a friend who can only be described as a racist and an anti-feminist. It's worth letting that sink in for a second, and then repeating. I have a friend who can only be described as a racist and an anti-feminist. How can this be possible? How could I be friends with a racist anti-feminist?
At first, this friend began to announce his anti-feminist views publicly on social media, which was a shock to me, because I had presumed he was an educated left-wing metropolitan liberal elitist, like myself: a product of the university system, and therefore his political viewpoint and stance on such matters as racism and sexual equality could be presumed to be correct. My presumption was wrong. He began by strongly asserting his anti-feminist stance, suddenly and shockingly, in a very public manner. I did not know how to react, except through a combination of condemnation and ignoring it.
Then, this friend began to indicate a right-wing viewpoint very publicly, on social media. This was perhaps less of a shock, given that he had shown himself to hold views which I despised, on the subject of sexual equality, but it was still nevertheless, shocking to see somebody who I considered to a be well educated, erudite and thoughtful individual, sharing content which was so right wing that it was bordering on outright racism. I did not know how to react, so I used a combination of condemnation and ignoring it.
Then, this friend became openly racist, in public, on social media. This was again, shocking, because I never imagined that I would ever encounter a racist amongst my small group of hand-picked friends, almost all of whom have enjoyed privileged socioeconomic advantages, university educations, professions and share a similar set of politics and values. I did not know how to react, so I used a combination of condemnation and ignoring it.
After my friend had spent some considerable length of time espousing views which I found vile and abhorrent, I was faced with a choice: should I cut all ties with this friend? It seemed to me that I was duty-bound to do so. My upbringing had provided no explicit guidance on how to handle this precise situation, but it seemed as though the right thing to do would be to pretend as though I had never been friends with my friend, and to distance myself from them as much as possible; to cover up the fact that we were ever friends and to sever all ties. It seemed like I was supposed to eject that person from my bubble.
I realised that if I did eject that person from my bubble, then I would never have any insight into the mind of an anti-feminist right-wing racist, and I felt that it would be detrimental to me, given the homogeny of the views of my other friends. The views of all my other friends are all so broadly similar, that I had never encountered a viewpoint which I felt compelled to condemn, much less acknowledge existed: in my liberal metropolitan elite world, I thought that racism had been defeated, along with sexism and anti-feminism. I thought that there were only small pockets of knuckle-dragging racists to be found in the poorest and most deprived communities, where the poor brutes knew no better so I was perturbed that a person who had enjoyed such socioeconomic advantage might turn out to be such a racist and anti-feminist.
I invested a substantial amount of energy in condemnation of my friend's views, attempting to persuade him to change his ways, but I made little progress.
I considered again, whether the wise course of action was to abandon the friendship and to block him on social media; to distance myself from him and to pretend that we had never been friends. Again, I felt as though I was committing some kind of immoral act, by not tossing our friendship into the dustbin - something I felt a weight of expectation to do without hesitation, the moment that any friend said anything which was remotely incorrect according to liberal dogma. Racism, certainly, is the ultimate taboo and I knew that it must carry the harshest penalty - immediate ostracisation, and denial that we were ever friends; immediate castigation and abandonment.
Yet, I did not abandon the friendship.
Does this make me a racist sympathiser? Do I endorse my friends anti-feminist views? Of course not. Do not be so ridiculous.
Recently I've had the opportunity to probe the origins of my friend's views, and quite quickly discovered where he had erred. He enthusiastically cited the extremely strong link between race and crime, in the United States - particularly that black men are disproportionately incarcerated versus the overall number of black U.S. citizens in the general population. This, for him, was concrete proof that "the races are different" and therefore his racism was justified. Naturally, I pointed out that correlation does not equate to causation, and by far the biggest cause of criminality is poverty - the race argument is null and void: the statistical link disappears when we control the wealth variable.
My friend persists with arguments, born in the time of the eugenics movement, and pseudoscience which is regrettably ubiquitous, which appears to provide legitimate research proving a link between race and IQ. Of particular fascination to my friend was any data which showed that black people had significantly lower IQ than white caucasians. Naturally, I pointed him in the direction of how these dreadfully low-quality academic papers were published in fringe journals, bankrolled by racists, and received little or no peer review; their findings utterly discredited and the quality of the work found to be nothing better than abysmal.
My friend and I have regular conversations, and each one is at least interesting which is far more than can be said for any discussion I might have with fools who hold viewpoints, simply because of anecdotal evidence, or because the liberal media finds the narrative to be particularly popular with its readership. If I was the editor of a left-wing newspaper, read by wealthy metropolitan intelligentsia, of course I would publish news stories about black lesbian disabled homeless women being raped and murdered by the patriarchy, because outrage sells newspapers. However, the anecdotal evidence gathered by those of us who wander around with a bleeding heart - myself included - does not have any validity, beyond our own confirmation bias: we seek out so-called evidence to reassure ourselves that our values and beliefs are correct.
My patience has run out for idiots who waste my time, parroting media narratives instead of using their so-called intellect to direct their energies towards the truly important issues. Racism, domestic violence and sexual discrimination are very real and they cause terrible suffering, but to mistakenly believe - as so many do - that women, for example, are at greater risk than men, is demonstrably absurd and grossly incorrect. Men are 85% more likely to be violently assaulted. 79% of all murder victims are male. Again and again, the exhaustive research has overwhelmingly and incontrovertibly demonstrated the truth all around us, yet there are wilfully ignorant idiots on both the left wing and the right wing, who continue to perpetuate myths and lies. My friend the racist is just as bad as the former friend who chose to block me, because she preferred to live in her bubble, believing that women are the victims of the majority of violent crime and murder, when in fact the polar opposite is true.
My friend the anti-feminist racist is wrong to hold the views that he does, and I hope that one day he might be persuaded by the overwhelming evidence and convincing research, but at least he is still talking to me and I am still able to challenge his erroneous thinking. The woman who I thought of as a friend, who would characterise herself as a feminist, has actually proven herself to be sexist: to deny that male victims of violence and murder far outnumber female victims, is pure delusion, driven by sexism. To block me on social media and to pretend our friendship never existed is quite typical of a sexist or other person who holds abhorrent views which they do not wish to be challenged. Only by remaining in our isolated bubbles can our wilful ignorance persist. I have lost any further opportunity to persuade - with great ease - my former friend, the sexist, of the overwhelming body of evidence which shows the appalling situation suffered by male victims of violence and murder. This is a predictable characteristic of weak-minded fools who rely too heavily upon the media to instruct them on how they should think, in place of an intellect which they sadly lack.
My energies are presently consumed with work, health and of course, having a brief period of sobriety, which these steps partly document.
My point this evening is simple: the world is full of idiots, and one should rely upon high quality evidence and research, not popular opinion within your social media bubble. Of course, one must be careful not to fall afoul of pseudoscience and the temptation to draw incorrect conclusions from raw statistics, but provided you keep a group of intelligent friends around you, then you will at least have a better chance that any mistaken beliefs you hold might be corrected. The ignorant idiots who wish to surround themselves with likeminded fools, are no loss, and no effort should be expended upon them. I am glad that I am friends with somebody who holds detestable views, and I feel no regret for losing the friendship of somebody who holds no views at all other than the media narratives which are pedalled by the limited sources upon which they rely on, in the absence of their own intellect.
In closing, we should be reminded once more: men suffer dreadfully. The life of a man is virtually worthless. That suicide should have been allowed to become the biggest killer of men in the prime of their life, with few tears shed, is an awful state of affairs, and it is accompanied by other terrible things: 97% of workplace deaths, 78% of all murders, 75% of all suicides, 65% of all violent assaults... the list is virtually endless. Men are overwhelmingly the victims, yet this is not the impression which a person would gain, if they keep themselves inside their bubble.
It's vitally important that I maintain perspective, given that my life is at stake. This sounds hyperbolic of course, because we have been brought up to believe that men are strong, when demonstrably a man's life is extremely precarious - the evidence is overwhelming.
During the last couple of days of my "Sober October" I'm particularly mindful of the precarity of my existence, combined with a great deal of stress regarding my work and a matter which hangs over me, threatening to end my career. I feel unwell. I am in need of some winter sunshine. I need to take a break, having worked very hard for a lengthy sustained period. My future hangs in the balance and my health is fragile; my efforts and energies invested to reach this point presently count for nothing - no safety or security has been achieved, and things are as uncertain as they ever were.
With this in mind, it is with very little regret that I refuse to suffer fools gladly and lose so-called friendships, to whomsoever proves to be immovable in the face of overwhelming facts, preferring instead to treat me with sexist contempt and hold little regard for the danger my life is in.
Survival is paramount.