This is a story about rushing things...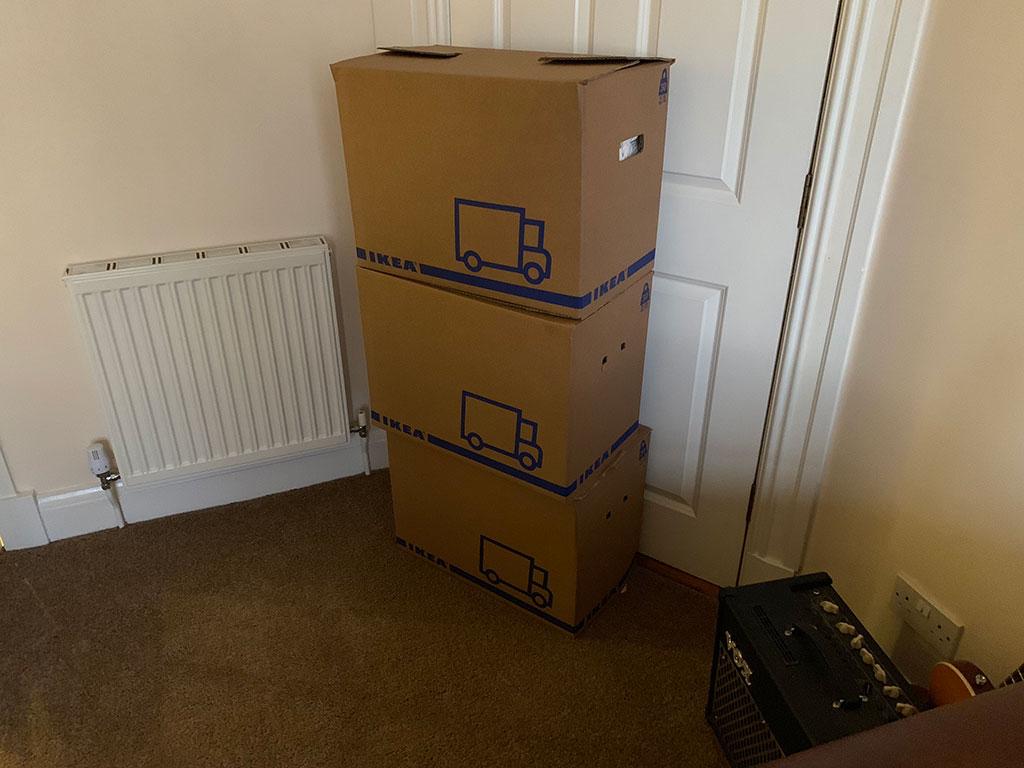 I never really fully recovered after getting sick, following my close friend's funeral, which required a huge round-trip across the country. That was a really terrible week, which started with me having to break up with my girlfriend, because she wasn't being very pleasant or supportive at a time when I needed to get me, my suit, my black tie and other funeral-suitable attire to a crematorium hundreds of miles away.
I had to break up with that girlfriend, because my attendance of my close friend's funeral was being jeopardised.
That was a few weeks ago.
I have something else that was being jeopardised: My shelter; my housing security.
I suppose I could have extended my rental contract, but the place was nowhere near my workplace and therefore completely impractical. I'm struggling to cope, even though I've made smart choices to ease the burden on myself, such as staying in a hotel close to my office. If I was to commute from the current home I'm renting, it would add a 3 hours of travelling onto my day, every single day weekday. That's exhausting and pointless.
So, I guess I knew that sooner or later I was going to have to move. The clock was ticking.
It made me very anxious, knowing that there was a day when my contract would simply expire and I would no longer have any legal right to continue to occupy the place I'd called home for a year. Squatters have lost most of their legal rights over the years, and I need to be a squeaky-clean citizen anyway, because of the nature of my work: I'm expected to comply with a much more stringent code of conduct and set of behavioural guidelines, than the vast majority of people - with great power comes great responsibility.
I had back-slid into that toxic relationship after I got sick. Once my friend's funeral was out of the way, I was back home, but I was vulnerable. She cyber-stalked me and found my address. She turned up and I let her in, because I was sick in so many ways. I was physically sick with diarrhoea and vomiting, and I was emotionally sick from the recent funeral of a close friend. I was weak, she turned up and I let her in.
Fast forward to Valentine's day and I had viewed a beautiful house that I wanted to rent and the landlord had agreed to accept my tenancy. I had a house to move to. I had housing security. I had some guarantee of shelter.
She wasn't very happy for me.
In fact, she told me to get out at 11pm, when I was trying to get enough sleep to go to work in the morning. I said it was unreasonable, and that I would leave in the morning. She escalated things. It was unpleasant and unnecessary, but I was not surprised: The relationship was toxic and I had resolved to try to make my escape as soon as I could. I spent the night in a hotel.
I boxed up my belongings and made my current place more presentable, so that it could be more easily rented out. I was getting my ducks in a row, so to speak, in order to keep working my full-time job AND move house. If I don't work I don't get paid, and moving house is expensive.
I thought I wasn't going be able to move for weeks and weeks.
I hate waiting.
Now, I have a date.
I will be leaving on specific date, to start my new life in a new city - a city where I've never lived before.
I bought some furniture today and arranged for it to be delivered soon after I get the keys to my new house. I still need to buy a washer/dryer and have my broadband moved, as well as renting a van or organising a removals firm to help me shift all my stuff from one city to another: Probably the best part of 2 hours drive away, in a fully-loaded truck.
I'm going on a date. That is to say, I'm going to start my new life on a specific date. I can start to look forward to that date. I can start to dream about what it's going to be like living in the beautiful house I've rented.
I've swept problems out of the way. I've refused to allow anyone or anything sabotage my plans to maintain a secure roof over my head. It was the right thing to do: To leave the girlfriend who was jeopardising the holiday I needed, jeopardising my attendance of my close friend's funeral, jeopardising my chances of finding a beautiful new home, jeopardising the stability I need - to keep working my job - while going through an incredibly tough stressful time.
Moving house is hell. Moving to an unfamiliar city is double hell. Moving with the clock ticking down, and nobody supporting me practically - actually packing, moving boxes and assembling flat-pack furniture - is triple hell.
I expect I'll probably start dating again once I'm settled in my new house, but it's low down on my list of priorities right now. Going on a date is the last thing I want to do, when all I can think about is the date when I'm going to get the keys to my new house.
I've brought the move date much sooner, because there's no point in me living in an expensive hotel when I'll soon have a whole massive house to live in. I'm so happy. It's such a relief to have secured a roof over my head. It gives me such an important sense of security, to know that I'm going to have a house that actually suits my needs, and I've managed to extricate myself from a toxic relationship that so often jeopardised the things that I need and I've worked so hard to get.
Already, friends have been getting in contact to arrange to come and visit me. I was overjoyed when a beloved Twitter follower - who I've never met in person - mentioned they might drop in on me for a cup of tea if they're in the area. I've got the opportunity to accomodate my friends and their children as my guests, because I've been lucky enough to rent a huge house.
I adore company and I love to entertain guests, but the place where I was living was a little too far away from London, where most of my friends are, and it was also even too far from places like Bristol, Somerset and Dorset, where I still have a lot of long-neglected friends.
Most of my friends now seem to have children, and I do think that little people are wonderful, even though I've been careful not to spawn any of my own with the wrong person... so I find myself in the enviable position of having the best of all worlds: I will have a large house, which will comfortably hold me and my guests, without it being any trouble at all... in fact, it'll be a joyful thing to have my house filled with life and the noises of habitation. I live a bit like a monastic monk and I wouldn't have any face-to-face interactions or 'normal' human experiences, if it wasn't for things like my day job. Nobody at work really knows the extent of my isolation; my vulnerability.
I moved to Manchester, and that was disastrous and very nearly killed me, quite literally. When my kidneys failed in 2017 and I was on a high-dependency ward, my wonderful then-girlfriend (the one who got away) arranged for me to have lots of visitors, and she was incredibly attentive and supportive. She was my rock. When my heart was broken and I was virtually bankrupt, in central Manchester, where I had no friends or family anywhere within a hundred miles, at least, it was an easy decision to kill myself. I very nearly succeeded, but for the incredible work of the resus and intensive care medical teams at Manchester Royal Infirmary, and the emergency services who got me to hospital so quickly, thanks to strangers on the internet raising the alarm.
I'm moving to Cardiff, which I shouldn't really mention because I risk being positively identified by my colleagues and people whose job it is to vet and monitor employees who have access to highly sensitive information, who might not think it's a wise idea to expose myself so publicly.
However, I'm rushing and I'm stressed and I'm tired and I'm sick and I'm terribly alone, except for the huge group of friends I have across the globe. My work colleagues are lovely, but for the sake of my career, I try to hide my mental illness and personal life struggles. I have a very serious psychiatric mood disorder, which has caused dreadful destruction to my life in the past, so I work very hard to protect my hard-won stability. Anybody who jeopardises my future happiness and security is given short shrift, hence my toxic ex got the boot on Valentine's day, which was only a day earlier than planned anyway... it just seemed heartless to break up with her on a day that has heaps of societal expectation pressure placed upon it.
So, I move to Cardiff on my own - single - which is sort of overwhelming, but at the same time it's such an unbelievably good opportunity to get all the things I need in my life, such as a secure home in a city where I can easily commute to a job which is going well, and maintain as much stability as I can.
As you can tell by the volume of text which I'm writing, and my flurry of social media activity, I've been triggered into a state of mania by the combined recent events and cluster-fuck of stresses placed upon me.
I'll be OK.
I'll just be nimble and quick.
I'll dodge my way around the people who would otherwise sabotage me and the things I work hard to make happen.
I'll cut toxic people out of my life without a second thought. I've fought too hard to get what I've got, so I'm not going to allow myself to be coerced, controlled or forced to live with oppressive insecurity and unnecessary aggravation, when I work so damn hard to ensure that stressful and difficult things happen, with smooth sailing.
I'm single, but no dates for me. I'd be rushing things too much.
Of course, I'm about to get the keys to a gorgeous huge house that I can fill with beautiful things that I hand-picked. Of course, it'd be wonderful to have the comfort and security of a partner to share that with, but if I have to do it on my own, I choose that every time even though it's difficult, because being a good partner means being supportive and making a better life together. If you threaten to sabotage the important things in my life, you'll be shown the door... sorry.
Perhaps I'm just a washed-up middle-aged nobody, with nothing to offer. Perhaps I should be feeling insecure, but I don't. I'm filled up with excitement about all the future possibilities, even though I'm a bit sick, very manic and I've got some awfully exhausting and stressful stuff to get through, which will be incredibly destabilising.
I'm planning on basing my stability on a few simple things: my daily routine, my job (which I'm really good at) and my excellent relationship with my colleagues, and a secure financial and housing situation. The safety net that allows me to do my high-wire act alone is my vast number of friends who I'm in contact with all over the world, who have my back, although I can reassure them that this move is not one of heartbreak and shameful defeat, like the time I had to leave my beloved London home, to take a shitty job in Manchester, and live in a shitty apartment.
I'm going on a date. I'm going from Swansea to Cardiff on a specific date. I know the exact date when I get my keys and I become a resident of a city that I chose to live in... this move is not driven by desperation, this time, and I get good vibes about the place. I still can't quite believe that I can afford to rent such a massive house in an amazing location... but that's Wales, it seems. Wales is my birthplace and the country seems pleased to have me back. Things have gone my way since I came back. Things have gone well, mostly.
Anyway, sorry for the manic rant, but that's what's happening in my world. I expect I'll be blathering on about it for a while, because it's part of the foundation of the stable happy new life I'm building for myself. It's incredibly satisfying to see real tangible progress towards the life I want, when I was so close to death so many times, and I was in every kind of trouble you can imagine: Debts, drugs and abandonment. For a while, my life revolved around hospitals, police stations, psych wards, hostels and sleeping rough.
If I pull this off and manage to get myself stable again, I really feel like I can hang onto things this time. Dating can wait. I feel like I've got so much to offer, so there's no rush.
Tags: #moving #homeless #apartment #rent #renting #housing #girlfriend #relationships #love #bipolar #mania