This is a story about cabin fever...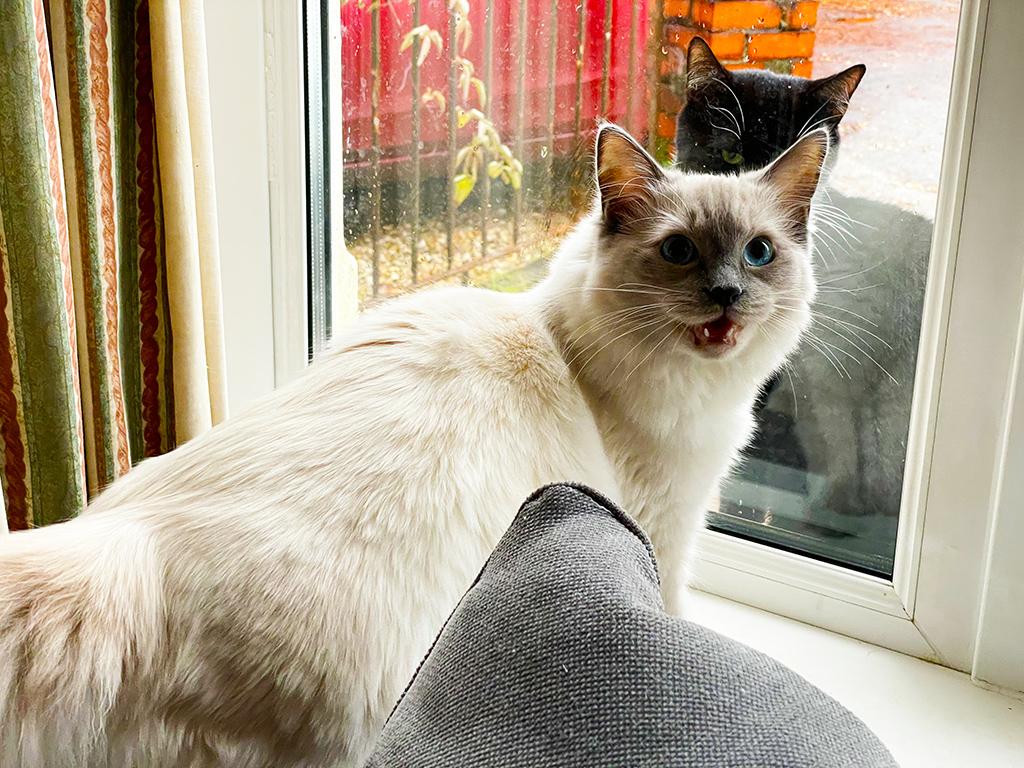 Getting a hybrid cat, only 4 or 5 generations from a wild cat breed, was a mistake. The main mistake was that - something that nobody tells you about - that hybrid cats which are so few generations into their domestication journey, are not only different in incredibly entertaining and interesting ways, but also, incompatible ways with domestic life.
I really did completely adapt my house. I was prepared to do that. I accepted that I would have to make alterations to my home, so that I could have such a 'wild' cat.
The kinds of alterations I made, would be 'child locks' on cupboard doors, extra latches on every door, or even screwing doors shut, having to put away just about everything in a cupboard or one of the few rooms where I had to store everything, safely away from my cat. I couldn't open my windows. I couldn't put any clothing item on the floor. I couldn't leave the cat unattended anywhere near a bed, or bedding, or anything else poros or otherwise absorbant.
Then, there were the huge lengths I went to, in order to provide a stimulating environment. Huge cat 'trees' or 'towers' with lots of different levels to climb up, ledges, hammocks, hidey holes. Endless cat tunnels. Tons of interactive cat toys. Tons of regular cat toys. Laser pens. Fishing rods with feather teaser things on the end. Life-size fish which waggle their tails. So many mice and other little soft toys, which rattled or had some other audio/visual/textural interest for the cat.
Also, there were the things that the cat just loved playing with, just because: picking the sealant out of my UPVC windows. Digging holes in the plaster of the walls. Tearing holes in the carpet. Shredding every piece of mail I got, the moment it hit the doormat.
Despite all my attempts to create a lovely fun, stimulating, relaxing environment for my hybrid cat, including special pheromone stuff which was supposed to calm her down and make her less anxious, she was still stressed out about having to share a massive 4 bedroom, 2 reception room house, split over 3 floors... absolutely tons of space for both of us, but she was still stressed about it - I guess - and her response was to piss on my bed. She pissed on my bed 3 times a week. I was running my washing machine and tumble dryer continuously, just to not have to sleep in a cat-pissed bed.
Don't get a hybrid cat, unless you can give your cat a whole wing of the house all to his or herself. I mean, I pretty much did that, but she still wanted to be in the bedroom with me, and would destroy the carpet outside trying to get into the bedroom... so I'd let her in, then later, she'd piss on the bed.
Since my hybrid cat escaped and either ran away, was killed (and not reported) or was stolen, I was distraught without any company; living all alone. I was grief-stricken to lose my companion, who I loved with all my heart. I live my life dangerously close to suicide at pretty much all times anyway, and to lose my beloved cat was too much to bear.
As luck would have it, I adopted the most beautiful bengal kitten. She's stunning. She's so perfect. I love her so much.
We've lived together, now, for the best part of 6 months, and she's a brilliant companion. She wakes me up every morning at 4am, wanting to play - bored - but I put up with it, because she's so adorable and I don't want to miss out on a single moment when she wants to interact with me. Recently, she's gotten into the habit of destroying stuff, presumably out of boredom and frustration, but we work our way round those problems: she's just as smart as my hybrid cat, but also not so stubborn. She knows she'll get squirted with water if she starts destroying the walls, so she stops doing it. If she's annoying me, opening drawers and wardrobes in my bedroom and pulling all the stuff out, I can just shut the door and she doesn't totally destroy the carpet, trying to dig her way back in.
I probably got an average of 1.5 sweet lovely moments with my hybrid cat per day, 5 incidents which were extremely annoying/costly, and another 3 which caused a major inconvenience - most of my day was spent stopping my hybrid cat from destroying or at least ruining everything I own; my entire life was spent on elaborate systems, to thwart the hybrid cat, but eventually, with enough persistence, she would literally batter her way through any obstacle.
Compare that with my ragdoll. Every morning, for hours, she won't leave me alone. It's not a hunger thing... she just loves interacting with me. Then, when I get up, she goes bananas: running round the house, making noises I've never heard a cat make before; like nothing I've ever heard before. Then, some days she meows constantly, telling me to come downstairs from my office, and I stubbornly stand at the top of the stairs meowing back at her to come upstairs. Then, she alternates between wanting to be sat on my desk with me, or sometimes wanting more cuddles and attention: head bumps and stuff, versus going off and lounging around somewhere nearby... not too near, but not too far... usually just in the room next to my office, or the corridor. Whenever I move around the house, she gets super excited and runs around, leaping over stuff, and skidding around, trying to second-guess where I'm going, and why. I do spoil her, with treats and stuff, but I make sure she's not overeating, but there's nothing more enjoyable than feeding her bits of ham by hand. At night-time, we play fetch, which my hybrid cat was really really good at, but my ragdoll is just as good at... only I guess I have to initiate the games of fetch, whereas it was always the hybrid cat's idea to play fetch and she'd keep poking me with her paw and putting the toy in my hand until I threw it for her.
My ragdoll has a habit of running out of the door, when I open it, but she never goes very far: usually just hides under my car. Mercifully, I can open the windows and she doesn't try to climb out. Also, when I try to get her back inside, that's usually pretty easy too. She will come to me on command, pretty much any time I want: I just make a noise to get her attention, and she'll come right over to see what's up. Of course, being a ragdoll, she's so easy to pick up and hold; she's so placid and laid back, in my arms.
I'm not sure why I'm telling you all this, but I thought it'd been a while since I had written about my beloved ragdoll (and indeed, my still-absent hybrid cat, who must surely by now be lost forever... but I do still live in eternal hope). My ragdoll cat is a very special companion: such a big personality; so unusual and interesting, but still everything you'd want from a domestic cat, in terms of being well behaved, but also playful of course, in a natural catlike way. She's also HUGE. I mean MAN she's only 7 months old and she's a BIG cat. I don't mean fat I mean BIG. That's great... I love that. You really can give her a proper good cuddle. It's so great that she's so relaxed and placid about being picked up and fussed, although I do try to give her plenty of space, and her independence: 4 paws on the floor, as much as possible, but sometimes she makes it pretty clear, I think, that she's OK with being scooped up and held.
All in all, I made a really bad cat breed decision, getting a hybrid, but I love her so much, I'd give anything to get her back... but she's got. I had just about learned to live with the huge life sacrifices. I certainly only ever blamed myself, and never the cat. In the end though, I've ended up with the most perfect beautiful ragdoll, who I'm so totally attached to; bonded. We have been under virtual house arrest together, alone, for 6 months, and I couldn't imagine life without her. So many times during the day I think "where's the cat?" and I call her name, and she comes running. I couldn't imagine life without my special fur baby.
Anyway, I thought you should know that, as a slight change from my usual dreary moaning about feeling suicidal.