This is a story about being mute...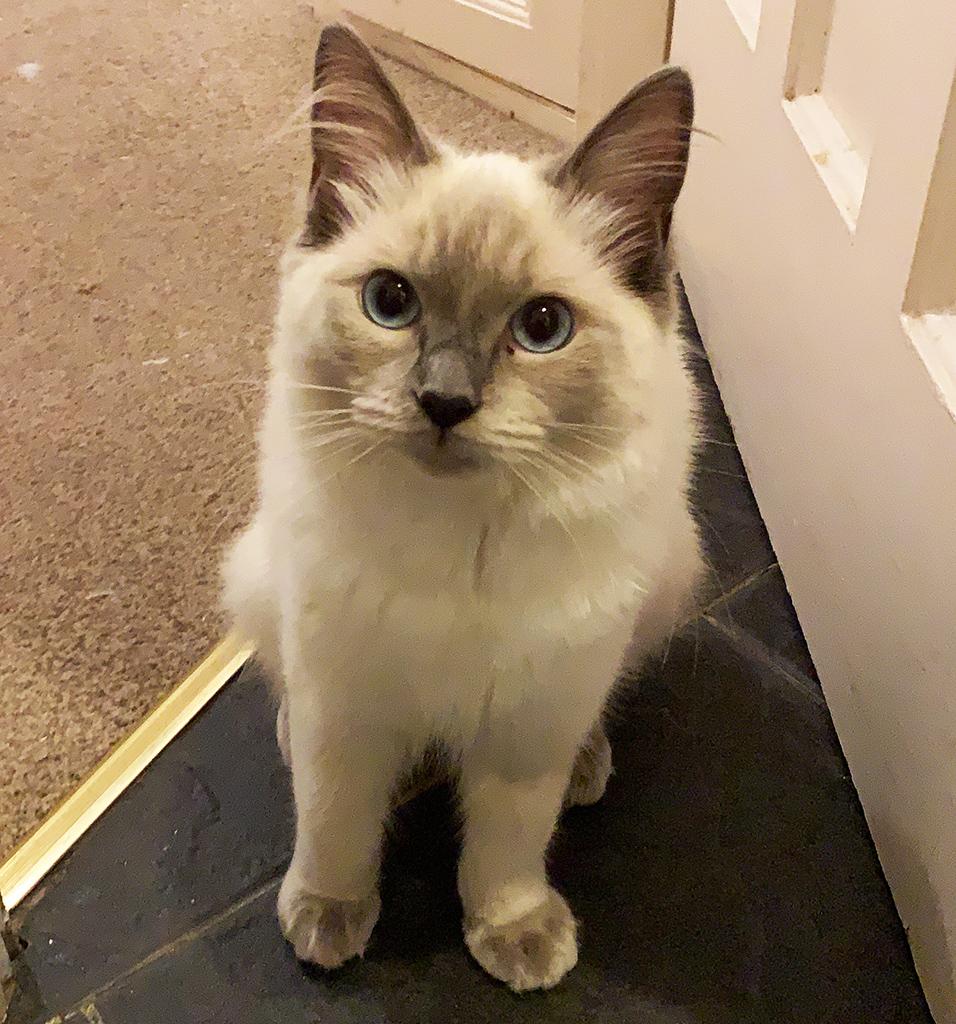 I suppose my beautiful baby girl is not mute, per se, because she's actually a very vocal cat; she makes a much bigger variety of cat noises than I've ever heard - everything from growling deeply, like a big wild cat, to sweetly mewing like a tiny kitten.
I often play a game when I'm making myself a sandwich at lunchtime, where I will say to her "meow if you would like some ham", to which she always replies with a meow, indicating that, yes, she would very much like a little ham.
My bengal - heartbreakingly still missing after 3+ months - didn't really have manners, shall we say. If she wanted something she would grab it, and if I didn't let go, she would have a tug-of-war competition with me. Of course, that kind of behaviour is intrinsic to the bengal breed, and part of the appeal: they are incredibly intelligent and determined animals, who will always do what they want; get what they want.
My ragdoll - pictured - had to wear the cone of shame for a couple of weeks. It's a common misconception that bengals are smart and ragdolls aren't. In fact, my ragdoll will play fetch, open doors and copy other stuff she sees me doing, or just figure things out for herself because she's smart. She is, however, a lot less prone to getting bored and becoming destructive. My house is in need of a number of bengal-related repairs, and that's even after cat-proofing my entire home.
I used to have to wash my duvet and bed linen at least 3 times a week, because my bengal would get into my bedroom and urinate on my bed. If she couldn't get in my bedroom, she'd urinate on anything of mine she could find: clothes, bags, blankets, tea towels, bath mats... whatever. She had no fewer than *FIVE* litter trays to choose from, and I used the special pheromone spray to try to help calm her down, but she basically was on a one-cat mission to urinate on everything I own.
I would not get another bengal, although of course I am desperate to be re-united with my poor lost baby.
My ragdoll is the perfect cat: she's very entertaining, just like a bengal, because she's smart and wants to play fetch and other games; she can be trained to do stuff. But, the main thing is, she doesn't urinate on any of my stuff. Well, actually, there was one time, which is the point of this essay.
Every time I go in the bathroom, my cats have always wanted to be in there with me, playing. I got into the habit of shutting the door with my bengal, otherwise she would shred all the toilet rolls, pull all the towels and bath mats onto the floor and urinate on everything. So, I kept the door shut. However, the cats love being in there with me, for some reason.
With my ragdoll, whenever I'm in the bathroom, she wants to be in the bath for some reason. I suppose it's like a hidey-hole or something for her. We even play a game where she thinks I can't see her, as she's poking her head over the edge of the bath. When she notices I'm looking at her, she ducks her head down, but her ears are still poking up. If I peer over the edge, she ducks even lower.
My ragdoll's love of the bath is immense, it would seem. So much so, that when I picked her up, because - instinctively - I didn't want to leave her in the bathroom, given the habit I'd gotten into with my bengal - when I carried her through to the bedroom and put her down on the bed, she urinated on it... first time and last time she's ever done that.
I guess it must be hard, not being able to communicate effectively. I try my best to figure out what's going on in my cats' head, but - as all cat owners will tell you - the mind of a cat is quite impenetrable. However, I let my ragdoll play in the bath whenever she wants now. In fact, I pretty much let her do whatever she wants, because she's such a gorgeous affectionate loving creature, who just wants to eat, sleep and snuggle, with the occasional mad moment where she wants to play rough, or just run around like a lunatic.
So, I'm sure you didn't come here for cat breed advice, or indeed an essay on the subject of my hit-and-miss experiences of cats who like to urinate on everything - bengals - versus the "perfect" domestic cat - my gorgeous ragdoll girl.
No matter how much I might moan and complain about how miserable and pointless life is, cats are the best.