This is a story about technical stuff...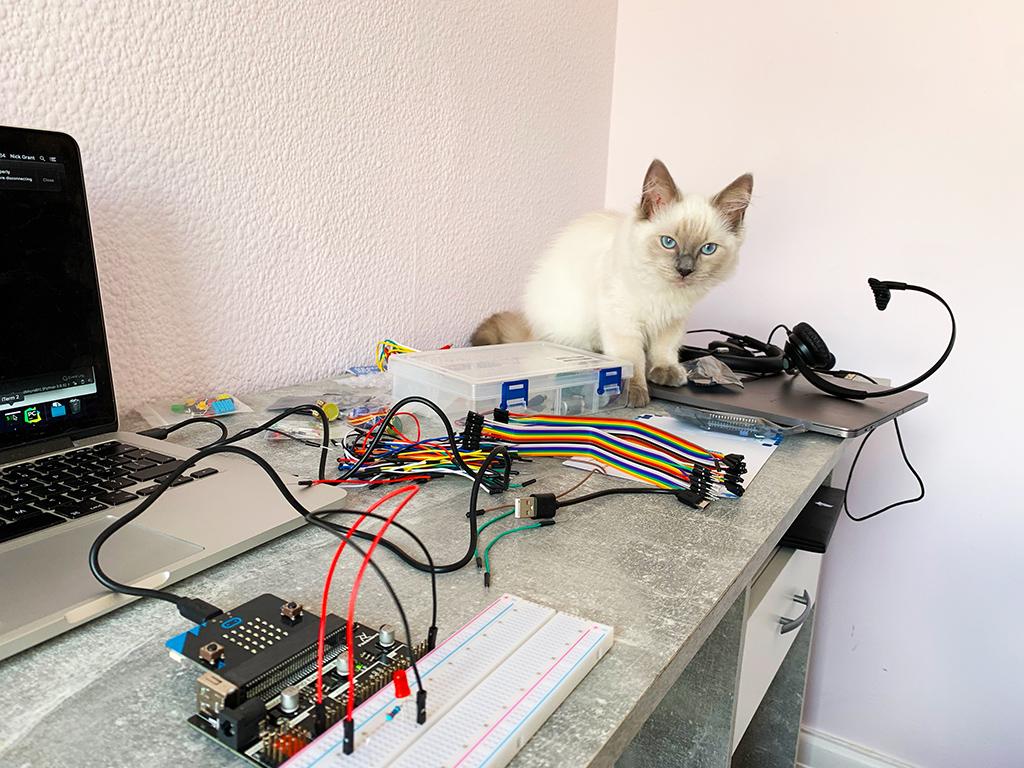 Of all the hobbies I thought about getting into, most of them were sedentary; indoors. I thought about getting some kind of retro games console. I thought about getting a new games console. I thought about getting a gaming PC. Then, I thought about maybe doing something really geeky. I started looking into software-defined radio, with the intention of making a home-made radar, perhaps, or doing my own mobile phone base station. All of this, I decided, was expensive and wouldn't help me with my need to get outside and exercise.
I did some of the projects on the cheap. I managed to turn my 5 year old laptop into a pretty decent retro console, with nothing more than a cheap game controller pad. I got a whole buttload of electronics experiments I could do with a super cheap tiny little computer (pictured). I managed to make a home-made sonar. Not quite radar, but not too bad for a bodger.
Still, I found myself spending most of my time looking at a screen, indoors.
Also, although the projects have provided some intellectual challenge, they haven't really opened up any social avenues. I'm sure that if I got really involved in - for example - the software defined radio community, online, then I would kinda get 'social' contact out of that, but I already get more than enough online social contact. The thing I'm missing is real world social contact.
I know from past experience that when I've done something ridiculous, like suddenly deciding to get into kitesurfing, it's taken my life in a brilliant direction. I've travelled the world, in search of the best wind and waves, and made lifelong friends along the way.
My life is very nice - enviable - in a lot of ways. My beautiful cat keeps me company, and she likes company too; always wants to be nearby, getting involved with everything I'm doing, which is not always ideal when working on a microelectronics project, for example. For sure, I have options and opportunities which a lot of people can only dream of.
However.
I am also more socially isolated than you can possibly imagine. Estranged from my family, far from friends, without a support network. The litmus test is this: if you're hospitalised for a major medical emergency, who's there for you? I can answer that question. I can answer that question very well, and the answer is not good, although mercifully I did have a work colleague and a friend who happened to be visiting from abroad, who were kind enough to visit me, hooked up to a dialysis machine for 4 hours a day; a hospital stay of more than 2 weeks; a medical emergency that pretty much nearly killed me.
That's not a dig at my friends, of course. They've become used to leaving me sleeping rough or otherwise homeless. They've become used to leaving me in hospital, dying, alone. That's fine. I've come to terms with that.
I do have some VERY good friends. I am lucky enough to have one or two friends who would help me, if I asked. The rest... I'm not sure if I can even call them friends... more just people who I used to know, but now they're just strangers who I happen to see updates from on Facebook. They might as well be celebrities who I read about in tabloid newspapers or gossip magazines.
This wasn't supposed to be a dig at my acquaintances [former friends]. This is about what I'm doing to sort my life out, to make it bearable.
Possibly, by getting back into mountain biking, I have opened up the possibility of making some friends and building a support network; having a social life. We'll have to see. "Social life" might just be something which I'll never regain; I'm too old to be able to [re]build one now, having lost my old one. Anyway, I remain optimistic.
For the first time in forever, I felt motivated to start to plan for the future, in a way that's not just planning for my suicide. I've been planning what to do when my backside isn't so sore, and I can ride my new mountain bike again - where am I going to go?
Suddenly, winter doesn't look quite so bleak. I have good winter clothes and a reason to be outdoors, in the wind, the rain, and the mud. Not many people have the strange twisted kind of brain that I do, where I love extreme weather: keeps the fair-weather tourists away. On the bike ride I went on, on Saturday, there was not a single other soul on the mountain. I'd hardly describe it as "perfect conditions" but in the forests around the summit of the mountain, I hardly noticed the rain; I was going to get covered in mud anyway. It was delightful; ecstatic; euphoric... to be hammering down deserted mountain tracks, without having to worry about crashing into anybody. A far cry from the queues to get into shops, which seems to be something that the ordinary folks are spending their time doing.
Of course, everything's more fun when there's a social aspect, so I'm hoping to find some people to go mountain biking with, but people are already contacting me (which is unheard of) to arrange some biking trips, which is a good sign; a sign that I might get the healthy habits which I need in my life, along with a truckload of fun and adventure.
Tags: #bike #depression #isolation #mentalhealth #cat #kitten