This is a story about a novel...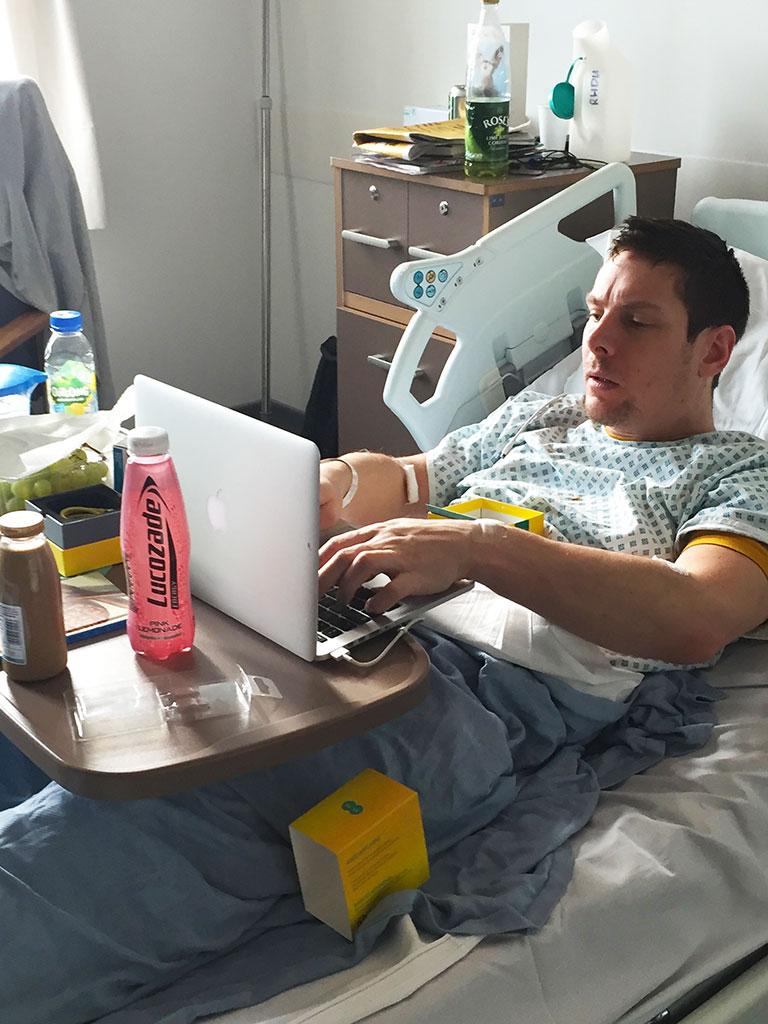 It would be far too 'meta' to write a novel about writing a novel, but I have written a 'story' almost every day, for well over 4 years, publishing the equivalent of 26 novels in that time period. In 2016 I completed the first draft of my debut novel. In 2017 I almost completed my second novel - it's 85% complete. In 2018 I didn't have such a good year for fiction writing, but I was writing my blog at the same time as trying to write my novel, and I was generally unprepared and rather over-worked with other commitments.
This year, I'm going to combine what I'm good at - blogging, telling short stories and being consistent and committed - in order to produce a novel which [hopefully] will weave together some interconnected stories and result in an interesting and worthwhile work of fiction, which succeeds as a piece of art, roughly as the author intended.
I offer the reader a picture of me in hospital suffering from multiple organ failure, which was unable to divert me from my mission to write [almost] every day. My present situation is not quite as drastic as that one, but there is still a substantial amount of effort and energy involved in motivating yourself to write at least 1,667 words per day, for 30 consecutve days, when you have a full-time job and other commitments.
Wish me luck!
* * *
Blogger's Digest: a Novel
Contents
Chapter One
I was woken up by the sound of a pneumatic tool being operated at the front of my house. A low-frequency rhythmic thumping and high-pitched metallic rattle, were emitted at a volume not normally heard on the quiet suburban roads where I lived, and so my slumbers were abruptly interrupted with a heart-stopping shock. My head swam with confusion in my semi-comatose state, and I was momentarily alarmed: had World War III started suddenly, overnight?
Foolishly, I had forgotten that I was having my gravel driveway replaced with herringbone-pattern bricks, and the noise must be from the builders I had hired.
I was suddenly faced with several competing unpleasant thoughts. It was somewhat embarassing that the builders had started work at a socially acceptable time - 8:30am - while I was still fast asleep on a weekday, and had no intention of reaching the office before 10am, which made me feel quite lazy. It also occurred to me that I would have to walk past the builders at some point, in my office attire, and there would be no disguising the fact I had been at home and not at work, while my builders had been working hard. I wondered whether I was obliged to offer my builders a mug of tea or coffee, and perhaps even bacon sandwiches, or at least biscuits, but it felt a rather onerous task which I would very much prefer to avoid.
I tried to relax back into bed, given that I had been planning on having at least another 30 minutes of sleep, but the noise was persistent. I possessed a powerful determination to sleep as much as possible, and it was not clear whether this outweighed the extremely loud noise and rendered any attempts to stay in bed, utterly futile. I persisted for some minutes while I decided whether I could tolerate the noise, or whether to admit defeat and start getting ready to go to work.
With bitter disappointment, I decided that there was no way I could relax with the ongoing loud din, so I dashed into the shower, dressed quickly and left the house without having any breakfast. This was my usual morning routine: maximum sleep and minimum time wasted faffing around doing things that "morning people" seemed to enjoy doing. I couldn't imagine being the kind of person who reads the newspaper at the dining table, while dipping a piece of toast into a lovingly-prepared soft-boiled egg, before slowly sauntering out of the house, leaving plenty of time to beat the morning rush-hour traffic. My own routine consisted of a highly optimised dash to the office after the rush hour, meaning that I arrived at work late every single day.
"Morning! Alright, shan't detain you, I can see you're busy" I said to the builder who'd given me the original quotation, who I assumed was the boss. I dashed past him and his workmate, who had been operating some kind of pneumatic device for flattening surfaces, and jumped into my car.
My journey to work was another example of my idleness, which I felt some guilt about, but was a system which worked very well for me. My car was an expensive high-specification model from a prestigious German brand, and I enjoyed driving it, even though the walk to work would take me little more than 20 minutes and to cycle it would be as fast as my journey by car.
There were a limited number of car-parking spaces at the office, which were allocated using a combination of seniority and years of service. By virtue of rapid promotion I had found myself the proud owner of a coveted parking space much earlier than any of my longer-serving peers, which served to underline the sense of self-importance which I felt: I was ambitious, young, and talented, so it had irritated and upset me in previous jobs, when I had seen far less competent and capable individuals progressing up the career ladder, simply because they were older. Promotions seemed to be automatic, based upon the number of years spent at a certain rank or grade, which conflicted with my desire for the workplace to be a more meritocratic place, so long as it favoured me, of course.
Arriving late - as usual - my space was one of only two which were free in the car park. My colleagues had become so used to the hours I kept that the concept of 'late' did not particularly apply to me. Perhaps if I wasn't at my desk by 10am, my colleagues would begin to wonder where I was, but I was quite punctual - albeit keeping to a timetable of my own invention, and selfishly suited to my own 'night owl' personality. Obligingly, my colleagues would not book early morning meetings with me, although perhaps they had learned not to try anymore, since clashing appointments would regularly appear or I would decline invitations which would have obliged me to arrive at the office earlier than I wanted to. So, my working day began like most working days: with queue of people wanting to speak to me.
* * *
"Yep so that's 7 pizza & chips and 7 beers, please" said Ian, one of my work colleagues.
A very traditional Italian restaurant - The Taste of Venice - was sandwiched in-between a bingo hall and a furniture auctioneer, and this was the closest restaurant to our office, where a group of us would dine at lunchtime, from Monday to Thursday. The restaurant's decor was tired, worn and dated, having not been refurbished since its opening in the 1980s. Ghastly paintings of cliched Italian tourist attractions and faded fake flowers, accompanied poor-quality attempts at Roman pillars and archways, giving the restaurant the impression of an eating establishment which was cheap and tacky. Most of the tables were empty, except for two 4-person tables which had been pushed together to make an 8-seater table, where my colleagues and I were sat.
Every lunchtime, we all ate exactly the same thing: half a Margherita pizza, chips and a bottle of 'Italian' lager, brewed under license in the UK. Chilli oil was doused liberally on the pizza by those with less sensitive tastebuds than myself, but otherwise, this was a routine gathering for a group of between five and ten of us, who all worked together.
"When do you set sail, Ian?" asked Ollie, a tall and broad-shouldered man with sun-bleached blonde hair and tanned skin. I liked Ollie. He was one of the smartest people I knew and he'd led an interesting life. I was somewhat jealous of how effortlessly he'd seemed to attain his successes: a degree from Cambridge, a career which had taken him around the world, from New York to Japan, and an incredibly attractive wife.
"We're picking her up from Ellös in three weeks. We're going to hang out in Oslo for a few days, do a bit of sightseeing, before we drive down" replied Ian.
"Isn't Oslo in Norway?" I asked, trying to sound intelligent and attempting to impress my colleagues.
"Yes, but it takes half the time to drive from Oslo to Ellös than from Stockholm."
"But isn't Gothenburg the closest airport?" I said, pretending to ask a question when I already knew the answer, because I had checked on a map before we left the office for lunch.
"Flights to Gothenburg are a nightmare" Ian replied dismissively.
I was hurt. I had desperately wanted to be invited along to help crew on Ian's new yacht, which he was soon collecting from the shipyard where she had been built. Ollie and I were both experienced sailors, so I took a little bit of comfort in knowing that Ollie hadn't been invited either, but I felt slightly insulted that Ian had invited another sailing friend from outside our close-knit group, to help him safely deliver his new yacht to her home port.
"When are you taking us all out on it then?" asked Blair, a dark-haired man with thick stubble and a strong Scottish accent. Blair was unlike the rest of the group, because his upbringing had been more humble; less privileged. Blair was well paid - as we all were - but his cocaine habit was an open secret and had led to him being passed over for promotion on several occasions.
"You still owe me money from the winter racing series, last October" replied Ian. "You know I'm always looking for crew during the racing season."
Ian was by far the keenest sailor out of Ollie, him and myself, and he regularly left work early during the summer months so that he could race his yacht in the evening. Ian's plan was to live aboard his new yacht, during the summer, and only work during the winter months, which he was able to do because he was a consultant with very specific expertise.
"Anyway, changing the subject, when's your leaving do, Rich?" I asked.
Rich had decided to quit investment banking and study for an MBA. He had ambitions to be a startup CEO. He was a short man with a slight build and a high-pitched voice. I struggled to picture him as a CEO, given that he was the least ambitious in our group of friends, and didn't seem to demonstrate any particular leadership qualities or entrepreneurial qualities. I wondered what they were going to teach him on his MBA which might be useful.
"Week on Friday" replied Rich.
"It's going to be HUGE" said Blair, grinning with enthusiasm.
Our group of friends and colleagues were extremely well remunerated, in our cushy investment banking jobs, and alcoholism was virtually encouraged; certainly not discouraged. The reason why we only ate in The Taste of Venice from Monday to Thursday, was because from Friday lunchtime onwards we would be drinking all day, pausing only to collect our jackets and bags from the office, before returning to the pub.
"More beers, everyone?" I asked rhetorically, as I caught the restaurant owner's eye and waved my empty bottle, indicating that we all needed a refill. "Did you hear that Stephen's thinking about quitting to become a landscape gardener?"
This was our lunchtime ritual: getting drunk and discussing our plans to quit the rat race.