This is a story about being medicated...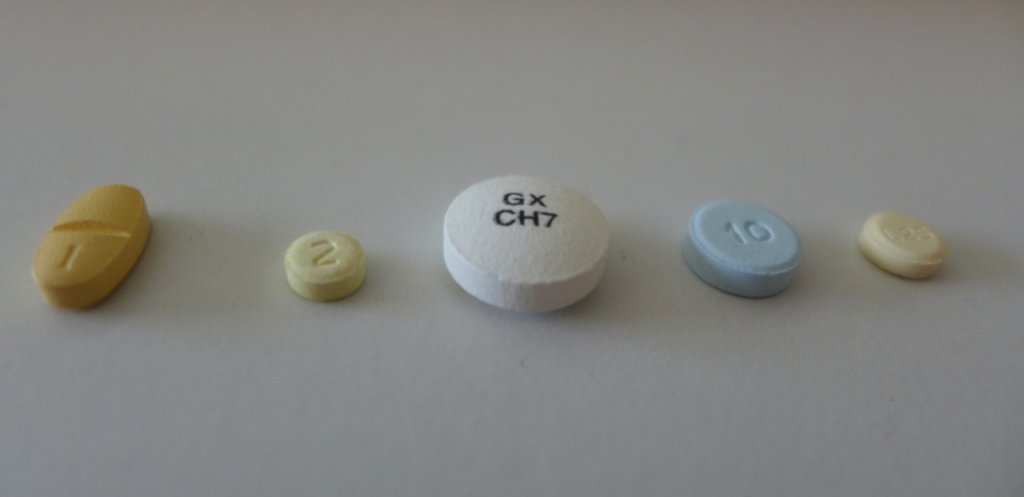 It would substantially benefit my bank balance if I was to swallow substances that would remove my brain from my skull and place it into a jar - a chemical straightjacket. My doctors are falling over themselves to give me pills that will put me into a warped kind of reality - an altered state - where my perceptions are chemically changed.
If you put your hand in a fire and it's hurting because your hand is getting burnt, you have two choices. Firstly, you could remove your hand from the fire. Secondly, you could take a drug so that you don't feel the pain or care about your hand getting burnt.
I remain absolutely convinced that I'm in a state of depressive realism that's allowing me to perceive the madness of our late-capitalist society. I see suffering and injustice everywhere I look. I see the ridiculous situation where powerful incompetent men are paid millions of pounds, despite screwing everything up, while the people who do the most essential jobs in society are paid a pittance. The poor give every penny they earn back to the wealthy men for the privilege of being alive. It's a bitter pill to swallow.
Why have we defined "functional" to mean doing jobs that we hate? Why have we defined "functional" to mean not rocking the boat; not challenging the status quo? Why are our most "functional" members of society the ones who are causing the most human misery?
To decide not to take medication is a political statement. To decline to have my body violated - simply to conform with a political system that I don't agree with - makes me into a kind of political prisoner. I'm a victim of "fit in or f**k off" culture.
It seems to me like most people depend on substances - alcohol, tea, coffee, energy drinks, cigarettes, nicotine e-liquids, antidepressants, anxiolytics, tranquillisers, sleeping pills, painkillers - and very few of us are able to live life substance-free. What is it about modern life that pushes us onto these addictive substances and keeps us dependent on them? Why should it be mandated to use psychoactive substances, just to live my life?
It seems deeply immoral to have constructed a society that's unbearable except with something to 'take the edge off'. It seems like a complete car crash of a situation that we have to reach for chemicals just to be able to function and fit in. It seems like bullying and coercion to me. I have deep ethical objections to a world that forces me to put substances into my body against my will.
I fought hard to free myself from my dependence on caffeine. Quitting coffee was challenging. Quitting tea was relentlessly difficult. Avoiding caffeinated beverages is tricky.
I had the good fortune of never becoming addicted to nicotine, except when addiction was forced upon me by my parents breathing their second-hand smoke all over me in a confined space, which was wicked and immoral.
I deliberately spend lengthy periods without alcohol, to clear my mind of all substances. Alcohol is ubiquitous and hard to avoid. There's huge amounts of peer pressure to drink.
Finally, I find myself fending off prescription medications. Without prescribed pills, life is very hard. It's almost expected that modern life is going to induce anxiety and depression in most of us, and so it's us who must change rather than us changing the circumstances that produce the unbearable mental health problems - we consent to having mind-altering substances put into our bodies, because we have little choice in the matter.
If you want money - and I imagine that you probably need it - then you're going to have to slurp tea & coffee, suck on your e-cigarette, get drunk and pop pills. We've arrived at a state where life is so utterly depressing and shit that we need all these chemicals to pretend that it isn't.
In the face of so many obvious problems in the world, is the answer to take pills that allow us to be wilfully ignorant and carry on regardless? In the face of the whole shambolic mess threatening to crumble into dust at any moment, should we be so coerced and bullied into medicating ourselves?
We live with incredible insecurity. Our jobs are utter bullshit and we could lose them at any moment. Our wages barely cover our living expenses, and in many cases they don't. Payday lenders and other legal loan sharks put us into a constant state of debt-laden fear. Our livelihoods are under constant threat; our homes. Where's the security? Where's the comfort? Where's the contentment and relaxation and happiness going to come from, in this bullshit merry-go-round of horrible jobs and insufficient money to ever escape from the rat race?
Eventually, it's all too much and we capitulate. "Give me something to make me feel better, doc" we say. We swallow our antidepressants, anxiolytics, tranquillisers, sleeping pills and painkillers because we can't afford to take time off to get better. We can't afford to drop out of the rat race. We can't afford to show any weakness. We can't afford to catch our breath.
The capitalists have got us right where they want us - numb and dumb. We're so f**king doped up that we don't realise how awful we've let things get. We don't dare to imagine a better world. We just keep chasing that ever-elusive dream that one day we'll get to quit the rat race, but we never will because we're all doped up to the eyeballs with enough drugs to tranquillise an elephant.
That's why I don't take the damn pills. That's why I'm going through the shit I'm going through - I want to experience reality and I don't want to be yet another dull-eyed slave.
Tags: #capitalism #politics #depression #medication #alcohol #caffeine