This is a story about social coercion...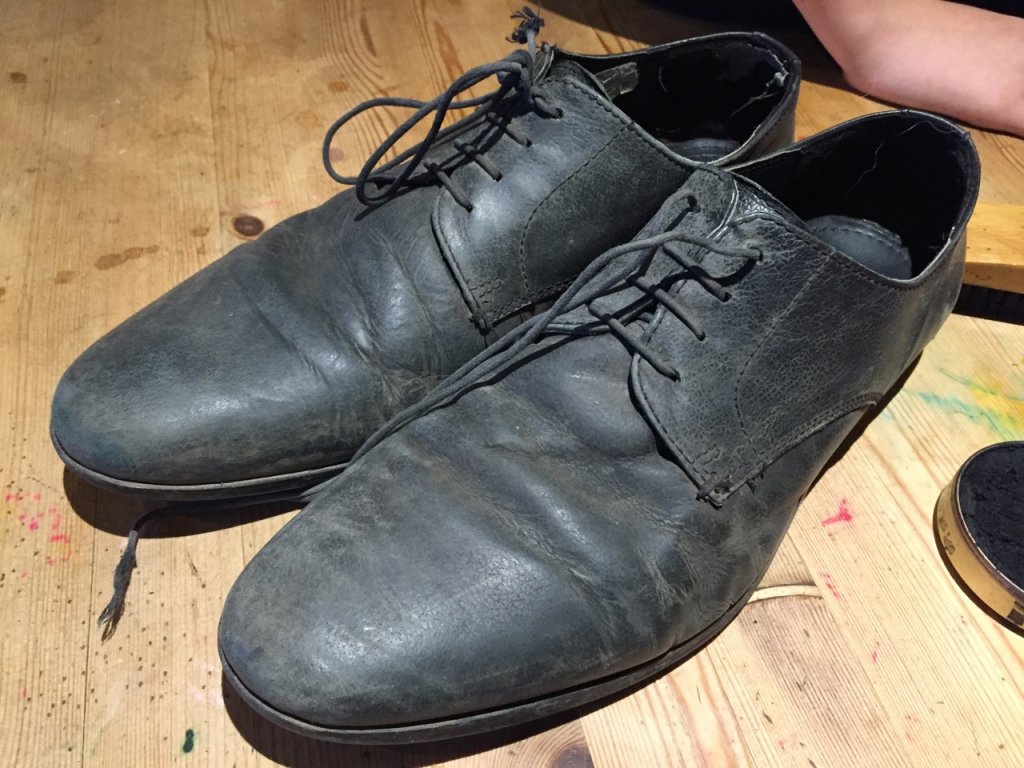 You might not feel like working and that's fine - it's a personal choice - but how do other people feel about your idleness? Although most jobs are utter bullshit and produce nothing of any value to humanity, there is immense social pressure to work anyway. Try not working for a bit and see how people react. You'll see quite a nasty, aggressive, bullying side to people's character, if you tell them that you're not going to work because you can't be bothered. It incenses people that you might make the smart decision not to bother with your bullshit job. It enrages people that you'd be smart enough not to just go along with the madness of pointless makework.
Thus, we see people continuing to 'work' when it's patently obvious that there isn't really a job at all - the tasks that are being performed are entirely superfluous to anybody's needs. Do we really need any more spreadsheets and powerpoint presentations and emails and meetings about meetings?
"Everybody's got to work"
No they don't.
"But how else are we going to get money?"
We don't need money.
"Yes we do"
No we don't.
You don't need to get a job as a baker, so that you can get paid a salary so that you have money to buy a slice of the bread you just baked. Capitalism's argument that money is more efficient as a means of exchanging value, is demonstrably absurd. Yes, it seems obvious that barter is inefficient, but so is a system where we spend our lives on packed commuter trains and in offices, having our children raised by strangers while we shuffle papers around our desk, trying to look busy. There's so much busywork. It's all bullshit.
"But if we said that nobody has to work, then nobody would work"
Yes. Nobody works anyway. Did you build your house? Did you grow the food you ate? No. You work in the service industries. You sit in front of a computer, pretty much doing nothing. Only a tiny fraction of society are actually producing goods and providing services that are essential to humanity. Most people are busy doing stuff that's of no use to anybody.
To choose not to work is a smart choice. To choose not to work is to deprive society of nothing at all. To choose not to work is a protest at the insanity of being shackled to a system that provides nothing but anxiety, depression and misery. Work really isn't working. Wouldn't you much prefer to stay at home playing with the kids, or smoking cannabis and playing computer games? Wouldn't you much prefer to make music, write poetry or paint pictures? Well, why don't you? They're certainly not paying you enough for all those boring boring hours of so-called 'work'.
If we all stop putting up with boring bullshit jobs that don't pay very well, then we force society to be restructured in a way that gives us back our lives. We shouldn't be spending hours every day commuting. We shouldn't be so bored all the time. We shouldn't be wasting our precious time doing pointless made-up bullshit jobs.
Imagine what life would be life if we stopped calling each other "lazy". Imagine what life would be like if we stopped bullying and abusing each other into doing the most ridiculously menial, degrading and laughable tasks and calling it "work". Imagine what life would be like if we stopped feeling so smug and self-satisfied that we'd been busy doing the pointless bullshit that passes for a so-called job. It's madness. There's no pride in your work if your job is utter bullshit. There's no such thing as a work ethic, if your work is unethical and profoundly stupid and pointless.
Yes, there are jobs to be done, but guess what? Those jobs will get done. Don't worry about it. The fact that there are some jobs to be done doesn't mean that we all have to have pointless bullshit jobs. If you want to work, you should be a farmer or a builder. If you don't want to work, then don't. Don't go to an office and call it a job though. It's not a job. It's bullshit.
Most so-called 'work' is just new and elaborate ways of counting beans. Counting the beans doesn't make any more beans. It's far better to have a surplus of beans and not bother counting them, than to have vast numbers of useless people, idly counting beans instead of doing something more productive.
Yes, to toil in the heat of the midday sun, or in the wind and the rain, on a muddy building site or in a muddy field... it's not most people's idea of a good job. Well guess what? Good news! Hardly any of us actually have to do those jobs. We're able to use high-yield farming techniques to feed vast numbers of people with very few workers. You only have to build your house once, and then you can live in it for the rest of your life. There really isn't very much work to do.
When we remove the need to commute to our bullshit 'jobs' every day, we find that vast amounts of infrastructure isn't needed. Who needs all those offices, when office work is demonstrably bullshit? Who needs all those roads and railways? Who needs all those desks and office chairs and fluorescent lights? Who, in fact, needs to take up all that space - office space during the day and home space at night? Who needs to waste so much energy travelling between the office and home? It all becomes superfluous to requirements.
Imagine a world where you get to see your kids grow up. Imagine a world where you're not stressing yourself out of your mind, trying to get to the office on time. There's no need for any of that. Almost the entire world of work is complete and utter bullshit.
If you really think that money and capitalism are a good thing, why don't you demand a salary that would allow you to have the lifestyle you've always dreamed of? In fact, aren't you saving up for retirement? Isn't the ultimate goal to get enough money together so that you don't have to work any more? If your aim is to stop working, why don't you just stop working? Surely capitalism and money can't be working that well for you, if you're having to work when your ultimate aim is to stop working. Surely you're not being very smart, are you?
Your reaction is to bristle with annoyance at the very suggestion that you might be able to just stop working. It seems patently absurd to you, to live in a world without work and money. "Where will the things come from?" you ask. "How will anybody pay for anything without money?". It seems so obviously unworkable, to not have to work any more.
But, think about it. There's a pensions crisis and a housing crisis. Wages are shrinking in real terms. Household budgets are feeling the squeeze. Things are getting worse, not better. Your dreams of retirement are sailing over the horizon. How can we even afford all the old people who want to be idle anyway? There simply isn't enough money to pay for all the pensioners. There are too many old people and we don't pay our young people enough to allow tax receipts to exceed the bill for all those old people who don't want to work. The only solution; the only fair solution is to allow us all to stop working. Right now. Today.
Figuring out how to divide the tiny amount of labour that is actually essential, is a trivial detail. The biggest challenge facing civilisation at the moment is that the division of labour is currently so unfair, and this is creating social unrest and human misery. The biggest crime of the century is the theft of all those precious hours of our time, doing and producing nothing except anxiety, stress and depression.
Unless you think to yourself "I'm staggeringly well paid for what I do - I have everything I want and need - and I really love my job" every single day, then what the hell are you doing, you imbecile? If you think "I'm staggeringly well paid" and you want for nothing, but you hate your job, you're at least a little rational about things, but you're still an imbecile. If you're underpaid and your job is mostly pointless boring bullshit, what the hell are you doing? Quit! Do nothing!
We didn't ask to be born, and unless there's something worth living for, then what's the point of working? If there's no chance of owning a home and having some security and prosperity, then work isn't working. That 'money' that you think's so important, is actually just a mug's game. Money is supposed to represent value, but it's worthless if it can't buy the things you need.
I implore you. Be a famous pop singer. Be an actor. Kick a ball. Do those things that children do, because they're fun, and call that your job. Don't do the made-up boring bullshit. Vote with your feet. Deprive the system of your precious time - they're not paying you enough.
Only by striking, can the workers ever escape the crushing oppression of bullshit jobs.
Tags: #politics #economics