This is a story about fit for purpose...
Here are a range of prescription medications. Three of them are illegal to possess without a prescription under the Misuse of Drugs Act, because they are scheduled as "class B" and "class C", respectively carrying a 5 year prison sentence, a 2 year prison sentence and an unlimited fine.
So, 3/5ths of the medicines pictured here could see me locked up for somewhere between 2 and 5 years, if I didn't have a prescription.
The medication at the top of the picture is lamotrigine, which treats bipolar depression, as well as epilepsy. It has no abuse potential, but it does carry a high risk of causing a fatal skin rash.
The medication in the middle of the picture is bupropion, which treats addiction to nicotine. It has no abuse potential, but it also carries a high risk of causing seizures, which might be fatal.
The medication in the bottom-left of the picture is pregabalin, which treats neuropathic pain. It is addictive and can be abused. Pregabalin is a "class C" controlled substance, and anybody caught in possession without a prescription, will receive 2 years imprisonment and an unlimited fine.
The medication in the top-right of the picture is methlyphenidate, more commonly known as Ritalin®, which treats Attention-Deficit-Hyperactivity Disorder (ADHD) and Attention-Deficit Disorder (ADD). It is addictive and can be abused. Methlyphenidate is a "class B" controlled substance, and anybody caught in possession without a prescription will be imprisoned for 5 years and receive an unlimited fine.
The medication in the bottom-right of the picture is zopiclone, which treats insomnia and other sleep disorders. It is addictive and can be abused. Zopiclone is a "class C" controlled substance, and anybody caught in possession without a prescription, will receive 2 years imprisonment and an unlimited fine.
So, if I didn't have a prescription for all the medications on this table, I could be facing 9 years in prison and an unlimited fine, should the judge decide that my sentences should run consecutively, not concurrently, due to the gravity of my crime.
Yet, millions of UK citizens receive the medicinal benefits of pregabalin, methylphenidate and zopiclone, and the quality of their lives is greatly improved. These tablets were developed as medicines by pharmaceutical companies, to treat medical problems. Substantial empirical evidence was gathered in many controlled trials, to prove that these medicines were safe and effective at treating the medical problems they have been licensed for.
Indeed, these medicines have unexpected benefits beyond the purpose they were licensed for. Lamotrigine improves sleep quality. Bupropion is a fast-acting non-drowsy antidepressant, which also increase libido and enjoyment of sex. Pregabalin reduces anxiety and aids sleep. Methylphenidate improves concentration, allowing students to study harder and for longer periods. Zopiclone can prophylactically prevent psychosis and mania, by preventing sleep deprivation.
It is very hard to argue that the Misuse of Drugs Act and the Psychoactive Substances Act are successful laws, because the evidence shows that the use of mind-altering substances remains entirely unaltered by legislation which seeks to discourage that behaviour, and harshly penalises those who break the law.
If I approached my GP and asked for zopiclone to help me sleep, methylphenidate to help me concentrate at work, pregabalin (or any benzodiazepine) to treat my anxiety and zopiclone to treat my depression, they would flatly refuse all my requests.
My GP would tell me that zopiclone is too addictive, despite my insomnia ruining my life. My GP would tell me that methyphenidate is too addictive, despite my inability to concentrate impairing my ability to be productive at work. My GP would tell me that pregabalin is not licensed to treat anxiety, and it's too addictive, despite my poor quality of life due to anxiety. My GP would tell me that benzodiazepines are too addictive, despite my life-ruining anxiety. My GP would tell me that bupropion is not licensed to treat depression.
Instead, I would be offered sertraline, which would allegedly treat my depression and reduce my anxiety. Sertraline is very slow to take effect and it has an emotionally-blunting effect, as well as affecting sex drive and ability to orgasm. Sertraline is not an effective treatment for anxiety. Sertraline is not an effective sleep aid. Anybody who has ever tried to quit sertraline will tell you that it is very addictive and the withdrawal side effects are intolerable.
In short, doctors would offer me nothing.
In short, doctors would tell me to go away, even though their medicine cabinets are stuffed full of medicines which have been extensively proven to treat the ailments which ruin my quality of life. The medications exist, but I would be denied a prescription to access those medications.
This much like a man who is dying from a bacterial infection being told that he's not allowed any penicillin, because a small number of people have a penicillin allergy.
Then, there are medications such as diacetylmorphine and ketamine, which are considered essential medicines. Diacetylmorphine, more commonly known as heroin, is scheduled as "class A" which carries a 7 year prison term and an unlimited fine, if possessed without a prescription.
How can we have a Misuse of Drugs Act which puts diacetylmorphine - a medicine routinely prescribed - into the same category as crack cocaine. Crack cocaine is fiendishly addictive and has zero medicinal use. Crack cocaine is so addictive, that it might even be considered to be "instantly addictive" and the vast majority of its users commit acquisitive crimes - muggings, thefts, burglaries - to raise money to pay for their drug addiction. Addiction is a medical condition, not a crime.
How can we have a Misuse of Drugs Act which puts mushrooms into the same category as crack cocaine? In fact the law states that it's magic mushrooms which are a "class A" controlled substance, which implies that the government believes in magic. Is that not utterly terrifying? Is it not utterly terrifying that our lawmakers are so mentally impaired that they would make specific reference in law to a certain type of mushroom which is "magic". Like, are you for real? We actually have laws criminalising magic, in the 21st century.
What would be a fitting punishment for anybody possessing a "magic" mushroom? Perhaps they should be made to climb a beanstalk grown from "magic" beans. Perhaps they should be lashed to a dunking seat and immersed underwater until they drown. Perhaps they should be burnt at the stake. These are the punishments that are most ususal for involvement in "magic".
We also know that behaviours such as sex and gambling can be addictive, but nobody imagines that gambling addicts inject decks of playing cards into their veins. In fact, gambling is widely permitted, advertised and promoted throughout society, despite its addiction potential. We are allowed to have sex, even though there is a risk of contracting sexually-transmitted diseases, and there is addiction potential.
Terrifyingly, the government has now passed an Act of Parliament which criminalises:
Things that cause hallucinations, drowsiness or changes in alertness, perception of time and space, mood or empathy with others
Obviously, eating a big meal might cause you to feel drowsy. Being tired will make you drowsy and less alert. Being tired will affect your mood and make you more 'snappy' with others. It seems pretty obvious that children are a thing that causes drowsiness, changes in alertness, mood and empathy with others. Many mothers get post-natal depression (mood change) and many parents feel a great deal of empathy towards their children. Is the production of children going to carry the 7 year prison sentence, as the law states?
The law helpfully tells us that:
Food [doesn't] count as psychoactive substances.
But, hang on a second... aren't mushrooms food? If I'm a mushroom producer or supplier, am I exempt from the 7 year jail sentence?
Let us imagine that I cross-breed a "magic" mushroom with a regular mushroom, not thought of as "magic" by government lawmakers, I must surely be able to produce a non-magic mushroom, which I can supply as food, even though it might cause hallucinations, changes in perception of time and space and mood. Clearly if I used gene editing, I could produce a mushroom that was not "magic" at all - no witchcraft or wizardry necessary - and this could be bought and sold in the supermarkets as food.
Fundamentally, the Misuse of Drugs Act and the Psychoactive Substances Act are flawed pieces of legislation, which are not protecting citizens of the United Kingdom, reducing crime, reducing antisocial behaviour, saving lives or reducing the burden on public services. In fact, it is categorically clear that the UK's approach to mind-altering substances is a gigantic waste of money, which is also ruining countless lives, by criminalising people with medical conditions.
The fact that we have the word "magic" in our statute books, criminalising mushrooms that are alleged to have "magical" properties, in the 21st century, is quite absurdly ridiculous. The fact that we have put "magic" mushrooms, diacetylmorpine and crack cocaine into the same "class A" schedule, carrying the harshest punishments. Diacetylmorhine is an essential medicine, administed every day by up to 130,000 doctors and countless nurses. Picking "magic" mushrooms to share with my friends is punishable by life imprisonment.
I can understand that crack cocaine is an instantly addictive drug that drives most of its users to commit a very great deal of crime, because they are suffering from an illness. Therefore those who supply crack cocaine are committing a terrible crime, because crack cocaine exists for no other purpose than its abuse, and it's abuse is so devastating that it ruins the life of the sick person and creates very many victims of crime. I can understand why supply of crack cocaine is punishable by life imprisonment.
I cannot understand that "magic" mushrooms, which are not addictive, and its users commit no antisocial nuisance nor cause any burden on the state, and are an incredibly safe thing to eat with no fatalities attributed to their consumption, are seen as the same as crack cocaine in the eyes of the law. Those who supply magic mushrooms are no more guilty than a person who obtains a crate of beer, with which to share with their friends. 
The antisocial behaviour of people intoxicated by alcohol, the addictiveness of alcohol and its adverse health effects, makes suppliers and producers of alcohol culpable for a very serious crime, which deserves harsh punishment, if we follow the logic applied to other mind-altering substances.
To sell packs of cigarettes is possession with intent to supply an addictive harmful substance. The health damage caused by cigarette smoking and the antisocial nature of it, because of the harm caused to passive smokers by second-hand smoke, as well as the unpleasant smell of cigarette smoke, which also harms items of clothing and other property. Cigarette smoking places considerable burden on the state, who must invest significant sums of money into smoking cessation treatments, smoking prevention programs and treat the many smoking-related diseases. Smoking-related diseases shorten lives, cause early death and reduce the productive capacity of those who suffer from cigarette addiction. Cigarettes have a high economic cost to society. Suppliers and producers of cigarettes, cigars and loose tobacco are culpable for a very serious crime, which deserves harsh punishment.
When the esteemed neuropsychopharmacologist Professor David Nutt was adviser to the government on its drug policy, he suggested - based on overwhelming empirical evidence - reclassifying all drugs based upon the health risks they posed, the harms they cause to society, and the economic cost of their use and abuse. He was forced to resign. Drugs are a politcal pawn and the government has no interest in the wellbeing of its citizens, with respect to drug use.
We only need to look at Portugal, which took a scientific data-driven approach to its drug policy and has achieved:
60% increase in uptake of addiction treatment programs

90% drop in the rate of drug-injection related HIV infection

45% decrease in the murder rate

Drug-related deaths dropped to 3 per million (in comparison to the EU average of 17.3 per million)
The most [un]surprising thing of all is that drug use remained the same. People like to take drugs. LOTS of people like to take drugs. Alterations to the law do not affect people's desire to take drugs. Drug laws are not a disincentive to drug taking, because drug taking has been a feature of human life since pre-historic times. People want to take drugs, hence why alcohol, cigarette and coffee consumption is ubiquitous and legal.
2.5 million Xanax tablets were purchased on the black market in the UK. At least half a million people in the UK are using MDMA (ecstasy) on regularly, and on a single weekend, a million tablets could be consumed. Almost one million UK citizens are using powder cocaine, and most of them are affluent professionals.
What we can learn from Portugal is that punitive drug laws have no affect on citizen's behaviour. The criminalisation and harsh punishments are not a disincentive to illicit drug purchase and consumption.
Legislation to criminalise the sale of alcohol - prohibition - was tried in the USA from 1920 to 1933, and it was an abysmal failure. Industrial alcohol was deliberately made extremely poisonous in 1927, causing innumerable deaths and making people blind. But people drank it anyway, getting literally "blind drunk". Moonshine was responsible for vast numbers of speakeasy customers being poisoned: 33 people in Manhattan, NY died in just three days, for example.
We can see from all historical evidence, worldwide, that every culture has used mind-altering substances extensively. Coca leaf chewing is common in South America. Tobacco smoking and chewing originated in North America. Betel nuts and areca leaves are chewed all over Asia. Khat leaves are chewed in Africa. Tea leaves a brewed in hot water in China and India. Coffee beans are roasted, ground and brewed in South America. Cannabis has been drunk as Bhang in India for more than 3,000 years, and the Egyptians were smoking cannabis 3,600 years ago. Opium was being consumed 5,400 years ago, by the Mesopotamians. Alcohol wins the top prize though, because it's been brewed for at least 13,000 years - since the goddam stone age.
The invention of distillation apparatus is a relatively recent phenomenon, but we should accept that human desire for intoxicating alcoholic beverages has been unwavering since the discovery of the fermentation process, and the invention of brewing methods. The body of archeological evidence overwhelmingly proves that beer and wine were present in human lives, continuously. Mass production of cheap distilled spirits pose new challenges, but we must remember that society does not adapt to scientific and technological advances with sufficient speed to avoid difficult periods of re-adjustment.
The isolation of psychoactive molecules responsible for psychoactive effects, and the laboratory synthesis of those naturally occurring compounds, has resulted in highly refined and pure chemicals. The investment in high-volume chemical production for industrial and agricultural uses, makes the precursor ingredients for synthesised compounds extremely cheap, and therefore, drug supply can inexpensively meet drug demand, through mass-production. The very poorest people in the world are often able to afford to buy very potent and pure drugs.
In 1804 Friedrich Sertürner isolated the morphine molecule from opium. In 1804 the world's population was 1 billion and the average global income was $3 a day (adjusted for inflation). Today, 3.4 billion people live on approximately $3 a day, which means that there are 340% more people living in poverty on an increasingly overcrowded planet.
We know from animal studies that stress and overcrowding affects behaviour adversely - "the behavioural sink" - and experiments have produced compelling evidence. Animals whose living conditions are intolerable, will prefer water laced with alcohol, cocaine, heroin and other addictive drugs. When the experiment is repeated with better living conditions, such as having other animals to socialise and have sex with, more comfortable bedding, exercise wheels and toys to interact with, then the rats prefer to drink the water without any mind-altering substances.
Findings from experiments with overcrowding in rat colonies found the following disturbing results:
Many female rats were unable to carry pregnancy to full term or to survive delivery of their litters if they did. An even greater number, after successfully giving birth, fell short in their maternal functions. Among the males the behavior disturbances ranged from sexual deviation to cannibalism and from frenetic overactivity to a pathological withdrawal from which individuals would emerge to eat, drink and move about only when other members of the community were asleep.

The animals would crowd together in greatest number in one of the four interconnecting pens in which the colony was maintained. As many as 60 of the 80 rats in each experimental population would assemble in one pen during periods of feeding. Individual rats would rarely eat except in the company of other rats. As a result extreme population densities developed in the pen adopted for eating, leaving the others with sparse populations.

Infant mortality ran as high as 96 percent among the most disoriented groups in the population.
Translated into human terms, we see that the majority of the world's population live in overcrowded cities. We see neglected and abused children taken into foster care. We see high infant mortality rates in the developing world. We see sexual deviancy. We see widespread manic-depressive symptoms and other psychiatric illnesses. We see men living lives of quiet, desperate isolation, withdrawn from the world and spending most of their time in their bedrooms, emerging only to grab a microwave pizza or use the toilet.
One must remember that in the rat overcrowding experiments, there were no drugs or alcohol. The behaviour of the rats was a spontaneous response to their living conditions.
Thus, we must conclude that the problems we see in society are not caused by drugs and alcohol, but the abuse of drugs and alcohol is caused by intolerable living conditions.
In the west, the social problems we have are due to industrialisation and mass-production, which required high-density housing in close proximity to the factories, mills, textile manufacturers and steel works. The social problems were compounded by the service industries building tall office blocks in the business districts of major metropolitan areas. Property developers built high-rise housing blocks in cities which were already densely populated.
Manhatten had a population of 60,000 people in 1800. Today it has a population of 1.7 million people who each earn $378,000 per annum, on average.
Hong Kong Island had a population of about 3,000 people in 1842. Today it has 1.3 million people and a 2-bedroom city centre apartment would cost about $2 million to buy.
Those are the affluent places.
In the developing world, the social problems are due to the purchasing power of "soft" currencies. Only the US dollar, Japanese yen, European euro, Swiss franc, Canadian dollar, Australian dollar, New Zealand dollar and British pound, are considered to be "hard" currencies.
Developing world nations need to build factories, mills, mines, railways, ports, power stations, which can only be paid for in hard currency, along with hospital and a university, fully equipped, staffed. The university needs a library full of books. Almost everthing has to be imported, and the suppliers want to be paid in hard currency.
The developing world nations take out loans from the World Bank, issued in hard currency to buy what they need. The crop harvest, manufactured products and natural resources are exported to buyers who pay with soft currency. Labour is also sold using soft currency .
$1 can purchase 8.3 minutes of labour in the USA. $1 can purchase 36 hours of labour in Ethiopia. The poorest and hungriest Ethiopians get paid 10 Ethiopian birr for 12 hours labour. A day's wage is the same as the cost of the day's food.
$1 is exchanged for 30 Ethiopian birr. The dollar seller can pay 3 Ethiopians their daily wage, after they complete 12 hours labour. The Ethiopian birr seller can purchase $1 of specialist goods, specialist services, or hire a highly-qualified and experienced expert, from the richest nations. $1 could purchase 1 minute of time from a prospecting geologist to survey Ethiopia's stone, ores, minerals, metals and gemstones. When the data is gathered, Ethiopia can then calculate the capital expenditure to purchase land, build processing facilities, buy equipment, and build supply infrastructure. Then they consider the cost the cost of paying for supply chain services. They calculate how soon they can be ready to start exporting. They calculate a sustainable export capacity and work out the anticipated lead time from initial purchase order, legally binding supply contract, agreed.  The operating costs are deducted from the expected income from the exports. It's pretty easy maths:

(Capital expenditure + operational costs + transport costs) - (average raw material market price x quantity of raw material available)

This equation gives three numbers,

1. How much money do we need spend before we see a single dollar

2. How much money will be earned until all the natural resource is gone

3. Proft (if any)
Wheat to make flour with is $0.46 in the US commodities exchange. Coffee beans are $0.94/kg. Orange juice is $1.17/litre. Cotton is $0.71/kg. Raw sugar from sugar cane has by far the lowest market price, of $0.13/kg.
Processing makes little difference: Alcohol made from cane sugar trades at $1.34/litre and refined white sugar trades at $348.
So we can forget growing crops. The US and EU subsidise their farmers by purchasing their harvest, then dumping it in huge silos, or otherwise paying farmers a subsidy for not growing their crop, which is greater than the amount the farmer could expect to earn by selling the harvest. That's economic warfare by the wealthy west on the impoverished developing world nations. The game is rigged.
Then stone, ores, metal, precious metal and gemstones are worth considering.
Iron ore trades at $89/kg. If you invested in heavy machinery and a processing plant: Copper trades at £3/lb, Aluminium at $1/lb. Nickel at $6/lb and Zinc is at $1/kg.
This is because $1 can purchase at least 1kg of flour, which will feed a mother and child for a day. The hungriest poorest people will exchange 12 hours labour . Therefore $1 buys 87 times more labour in the poorest parts of the developing world, than it does in the USA. So $1 is offered in exchange for enough local currency to buy 1kg of flour. It costs 30 Ethiopian birr to buy 1kg of flour,
The densest population on the planet is Tondo - a district in Manila - where you are never more than 2 metres away from another person. I'm 1.83 metres tall, so if I lay down to sleep, I would have 17 centimetres between me and the nearest person That's disturbing.
The developing world population has increased dramatically in the last 200 years, which is a lot of hungry mouths to feed, in countries which might not have clean drinking water, medicine, sanitation systems, and people live with a lot of hunger. See below: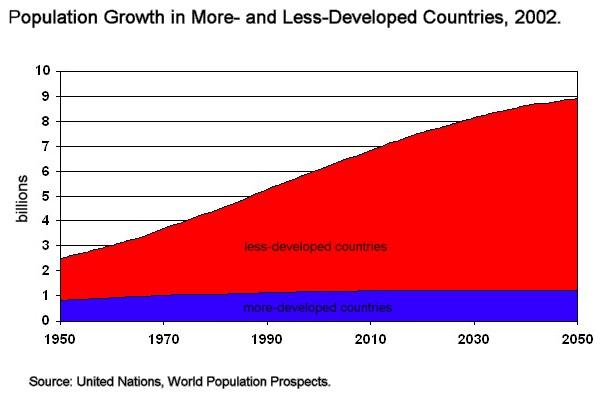 Can you see the trend? Poor nations are getting more populated, which drives down the value of their labour drives down the value of the crops they produce, and drives down the price of the the other commodities they can produce. In a system of global free-market capitalism: A hungry person will work harder for longer, than a well-fed one. A person who lives in a country with high infant mortality rates will have more children that a person with great well-equipped hospitals and doctors, in every city.
It's ludicrous to be criminalising things which would never exist if we paid more for our edible crops. For example, 1kg of opium resin is worth $2,506 if you buy it wholesale directly from the farmers in Afghanistan. That heroin has a market value of $6,600 in the USA.
The drug problem is the inevitable conclusion of exploiting the developing world's labour, crops and raw materials.
I should really have written this as a series of blog posts, but I might is this in a non-fiction book I plan to write if I can convince somebody I like to co-author it with me. Or at least get a literary agent to find me a publisher and give me an editor.
Side note: I started writing this on Saturday and it's now Monday (well, Tuesday, technically) and I've hardly slept. I must publish this now, and proof-read and edit tomorrow.
I hope you find these 4,000 words entertaining.
Tags: #economics #politics #drugs #addiction  #politics #law #criminal