This is a story about the rentier class...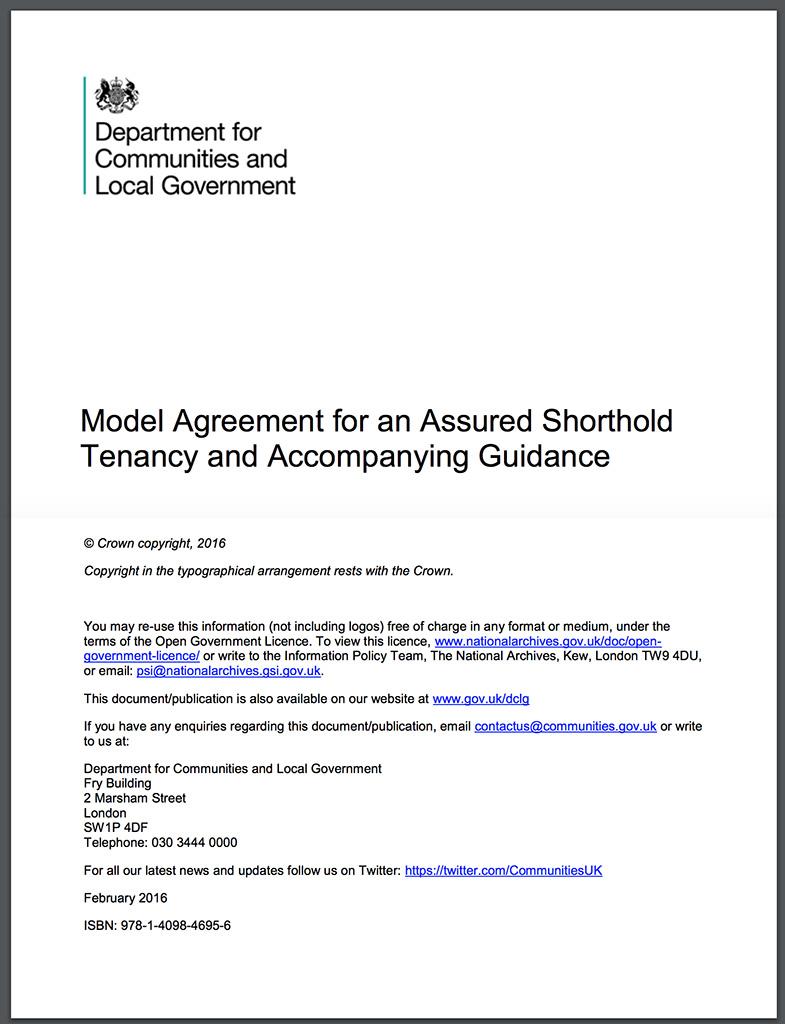 I spend a lot of time dealing with brain-dead individuals who think they should get paid a lot of money for jobs they're thoroughly incompetent at, as well as being so utterly unbelievably stupid that they would put a Terms of Service contract onto their website, which was stolen from a fast-food restaurant.
Unfortunately I have to deal with lettings agents who think it's OK to charge the best part of £400 or more, for putting a document in a photocopier and then filling in a couple of blanks, such as the name of the tenant and the amount of rent payable.
Like, I mean, how much do you actually think you should get paid for filling in 5 pieces of information onto a document you don't understand, and doing a bit of photocopying.
The UK government has helpfully provided a very nice model contract, for anybody who is looking to rent out their home. This document includes all kinds of useful guidance, such as "it's not OK to demand sex in lieu of rent" for f**kwits who think they can write whatever the hell they want into a contract, and it somehow supersedes the laws of the country.
You cannot, for example, draw up a contract that allows you to punch me, stab me and/or kill me, and avoid punishment for the crime, because I signed a so-called waiver. I cannot waive my rights using civil law. The criminal laws of the country will always take precedence over any contract law. That is to say that my statutory rights are not affected by any bullshit piece of paper that I sign.
When you buy a pair of shoes, you'll sometimes sign a piece of paper that says you can't return them and get a refund. However, that doesn't affect your statutory rights, and you're quite within your legal rights to return the shoes if they're faulty or defective in some way.
The law defends us from all sorts of unscrupulous unethical chancers who want our money but don't want to work for it - in short, they want our money, but they're not going to do any work to get it. Those people are called the rentier class who believe they're entitled to money for nothing.
The rentier class piss me off.
I just want to have a place to live. I want to have a secure home. That's all I want.
Here is an email, which I took the time to research and write on my goddam Sunday afternoon, when I'm supposed to be relaxing:
Dear XXX XXXX,

Many thanks for showing me around XXXXXXX on Saturday afternoon, and your prompt reply to my queries was greatly appreciated. I am interested in renting the property as it adequately met my requirements, but I felt I should write to you with regards to keeping a pet cat. The answer you supplied is not satisfactory I'm afraid.

I must draw you, your agency and the landlord's attention to the matter of UK law, when it comes to the keeping of pets. The Consumer Rights Act (2015) stipulates that the keeping of a pet cannot be reasonably refused, unless the pet would cause a nuisance to the occupiers of neighbouring properties or significantly increase wear and tear to the property. According to the Unfair Terms in Consumer Contracts Regulations (1999) The Office of Fair Trading deems a "No Pets" clause unlawful.

The law is very clear: "[a] landlord cannot exercise a blanket ban on pets". Your quote "the Landlord has stipulated No Pets at the property" which is an incontrovertible piece of written evidence of unlawful behaviour on the part of the landlord, you and your agency.

The property is unfurnished and has hard floors throughout, such that the keeping of a cat would clearly not increase wear and tear to the property. A cat would certainly not cause a nuisance to the occupiers of neighbouring properties. I noticed several neighbourhood cats during my visit to the property.

Given that the landlord has unreasonably refused for me to keep a cat at the property, which is an unlawful contravention of The Consumer Rights Act (2015) as a goodwill gesture I am prepared to offer a modest increase to the deposit and an additional contract clause whereby the tenant accepts any responsibility for pet damage to the property. This would give the landlord an exceptionally high level of protection, for the incredibly unlikely event that an ordinary domestic cat might cause damage or additional wear and tear. This extra money would be held in the Deposit Protection Scheme (DPS) in addition to the substantial deposit already proposed by your agency.

Naturally, the Assured Shorthold Tenancy agreement would be amended, so that it is contractually stipulated that the keeping of one single cat was permitted. Any additional pets would require consent from the landlord, which is standard practice.

It is not my intention to turn the landlord's property into a zoo. It would be perfectly reasonable - for example - for the landlord to refuse the keeping of a large dog, which would be likely to bark loudly and thus cause annoyance to the neighbours.

My request is most reasonable and the UK courts will robustly defend my legal right to keep a pet cat. I hope you will forgive me for reminding you again that it is not lawful for a landlord to "exercise a blanket ban on pets and should not turn a request down without good reason". 

I humbly suggest you and your agency thoroughly familiarise yourself with the laws of England and Wales pertaining to landlords, tenants and letting agents, such that your future business is conducted lawfully. The necessary statutes which you and your agency should familiarise yourself with are: The Landlord and Tenant Act (1985), Consumer Contracts Regulations (1999) and Consumer Rights Act (2015).

I advise you to inform your client of any laws which he or she might not have been aware of, such that any more unlawful behaviour might be avoided in future. Perhaps you might then be so kind as to respond again to my question about keeping a pet cat, when you are next able to speak to your client.

It disappoints me that your agency who charge fees of £311.54 for the simple preparation of an Assured Shorthold Tenancy agreement, should be so woefully ill-informed of the laws of the United Kingdom. Ignorance of the law is no defence in court. I am especially disappointed that you are charging a substantial professional fees for your services, when you are conspiring with your clients to break the law.

My advice is offered at the cost of a leisurely Sunday I could have spent spent relaxing, so I hope you appreciate the effort I have made in providing you with a comprehensive summary of how to conduct your business and advise your clients, without breaking the laws of England and Wales, which would be financially costly and reputationally damaging. Consider my free advice to be a goodwill gift.

I assure you that my only intention is to rent a property, with the statutory protections afforded to me by UK law, such that my right to live in peaceful enjoyment of the property as my home is not legally infringed. It seems like a reasonable request to me. Would you agree?

I trust this message finds you well and I hope to receive a reply at your earliest convenience.

I hope you had a good weekend.

Kind regards,

Nick
That's my politest possible way of saying you can't fuck with me, you rentier class c**t. And demanding to enjoy the same freedom in life that those who were born with a silver spoon in their mouth get. We should not have a two-tier society, where the rentier class don't have to work, and the rentier class should not make unreasonable demands, such as disallowing the proletariat the comfort of having a pet.
Rant over.