This is a story about ethics...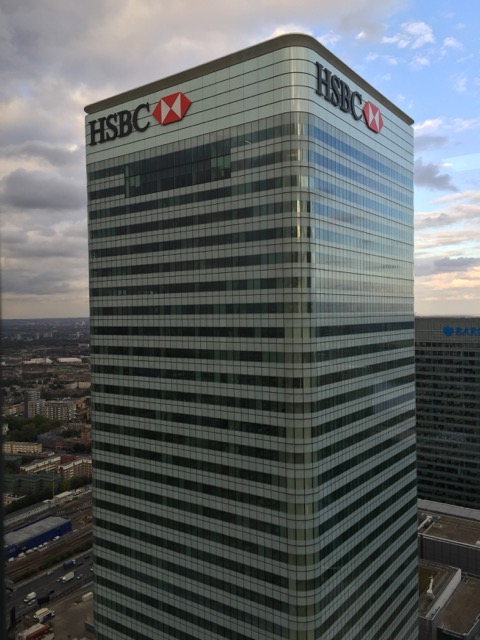 Imagine if you or I got caught laundering the best part of a billion dollars worth of drug money. We'd get sent to jail for a very long time, right? What if a bank got caught doing it, and there was so much evidence that there was clearly a case for criminal wrongdoing that could be prosecuted? Well, maybe you'd get given a chance to get rid of some of your dodgy customers, and nobody would go to jail. Does that sound fair?
Let's think about the financial crisis of 2007/08, when reckless trading meant that the whole banking sector had to be bailed out, causing austerity for ordinary hardworking people. The people who have paid the highest price - with lower wages, job insecurity and cutbacks for frontline services - would never be able to go begging for interest free loans if they behaved so irresponsibly.
Bankruptcy is not a criminal offence. It's OK for a private citizen to run up huge debts, find out they could never hope to possibly repay their creditors, and declare bankruptcy. You don't go to jail for bankruptcy.
So, arguably, what the banks did in 2007/08 wasn't that bad. It wasn't criminal. They had their risk underwritten by governments, so why wouldn't they take huge risks with public money? They were economically incentivised to take those risks, because the precedent of the "too big to fail" bailouts meant that there was no downside risk.
But what about money laundering? What about facilitating payments for drug gangs, dealers, traffickers? If you or I were involved in any of that as a private citizen, the courts would throw the book at us. They'd lock us up and throw away the key. It's criminal.
So, what about the banks? If the biggest bank in Europe - HSBC - was well known to authorities for helping a couple of major drug gangs to launder the best part of a billion dollars in dirty money, wouldn't that be criminal too? Wouldn't people go to jail?
Well, no. Enter the concept of "too big to jail". Just like the financial bailouts that the banks received, banks can also receive Deferred Prosecution Agreements. That is to say, even though you got caught doing criminal stuff, you'll get let off so long as you take some steps to stop doing it in future.
And how long would you have to get rid of your dodgy customers? Well, say the US Department of Justice were thinking about prosecuting you in 2012, you might still be botching the IT project that is apparently 'essential' to get rid of your dodgy customers 4 years later... in 2016.
How much do HSBC really know about their customers anyway? Well, from their electronic records that they already have on file, they know about 6% of what they need to know. So basically, they don't know 94% of what they need to know.
Now, you might not be an IT project management expert, but you'd have thought that it's more important to find out the missing 94% of what you don't know, than even to bother with the 6% that you do know. Sure, it's pretty embarrassing to have to ask your customers where they live again, but what you really need to know is this: where did you get your fucking money?
In Customer Due Diligence terms, this is called Source of Wealth. You might have inherited the money (legit), you might have won the lottery (legit), you might have sold a priceless artwork (legit) and you might have trafficked vast quantities of illegal narcotics (not legit). Basically, HSBC had 4 years to ask all their customers "is your source of wealth drug money?". Did they manage this? No.
I'm quite spectacularly offended by just how badly they botched a simple project to ask all their customers to fess up: are you in the illegal drugs business?
Sure, it's true that HSBC had to cough up a couple of billion dollars in fines, but for them that's just the cost of doing business. Their profitability was barely affected.
Arguments were made to the US to defer prosecution, and to allow HSBC to keep its banking charter and continue to do business in the United States. These arguments were made on the basis of maintaining stability in the financial markets. The Deferred Prosecution Agreement came with stringent terms, that a court would appoint a Monitor to make sure that HSBC actually cleaned up their act. I can tell you now, Michael Cherkasky, that the project to clean up HSBC's customer base was a total sham. A shambolic waste of time & money, mismanaged to the point that the whole thing was laughable.
Do you think that message that is sent to "too big to fail" organisations, that they're above the law and they can never go bankrupt because they'll always be bailed out, is looking like the right one, today, now, in 2016?
The argument that has been made is that we need to prop up the share prices so that the pension funds are protected, and we need to maintain financial stability. Isn't that just utter bullshit, in the face of austerity and extreme volatility in the markets? We've had round after round of Quantitative Easing (QE) and other attempts to breathe life into markets that have lost their minds. There is nothing at all rational or efficient about the global markets that we see today.
And to round it all off, it's corrupt as hell. To allow banks to ride roughshod over the rule of law is the final step in handing over the nations of the world to the multinational corporations who have driven us into a position of financial ruin, much to the pain of the vast majority of ordinary working people. It stinks of the worst corruption ever perpetrated on Western civilisation, does it not?
Somebody has to call time on the lack of ethics and accountability for the too big to fail organisations, and their board members who are too big to jail.
When we allow the likes of Stuart Gulliver to be the CEO of HSBC, when he doesn't even keep his wealth in the bank he manages, but instead keeps it hidden in the Cayman Islands and Switzerland, clearly we have corruption right from the top down.
David Cameron, outgoing Prime Minister of the United Kingdom said, as recently as April, that "[I] can't point to every source of every bit of [my] money" but yet we would have the likes of you or I have to prove that our filthy lucre was not ill-gotten gains from some criminal enterprise. The corruption comes from the very top of both Government and organisations. It stinks.
Who is going to grasp the nettle and hold Government and large enterprise to account for having run us into economic ruin, while busily siphoning wealth offshore?
There needs to be accountability. There needs to be jail time for corrupt executives and government ministers.
Tags: #banking #capitalism #hsbc #politics