This is a story about biding your time...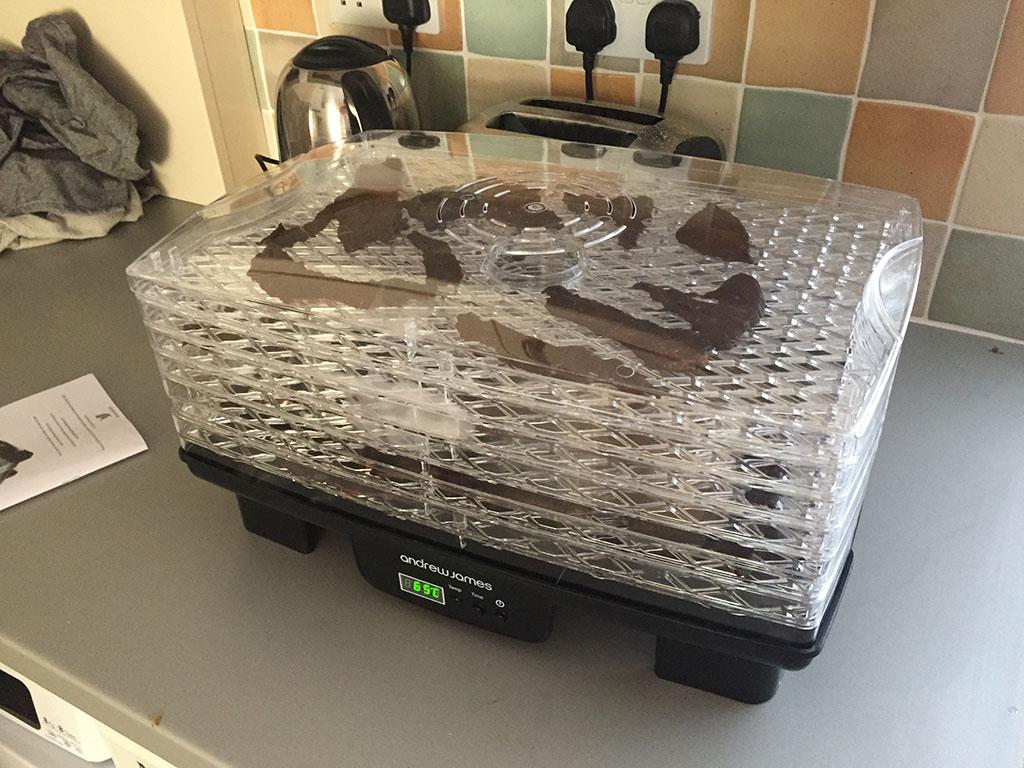 One of my favourite things to make and eat is beef jerky or biltong. Mixing a marinade, lovingly covering the meat and then slowly drying it is something which can take 30 hours or more. The smell is quite tantalising throughout the process, but there's no short-cut to the end. If the beef is marinated for less time, it will be less flavoursome. If the beef is dried too quickly it will be cooked instead of dehydrated, and it will be brittle, not chewy.
My life has become a game of waiting. I'm paid for my attendance, not my contribution. I'm paid to be present, but also paid to be quiet. The more I'm present and the quieter I am, the greater my financial reward, but it's pretty unbearable. I literally just have to watch the clock and think of the money. If I tried to make myself useful, people wouldn't like it and it would cause problems.
The situation is ridiculous, because even a small child could see that I don't have to do anything and I will be handsomely rewarded with desirable things, such as cash, houses, cars, holidays, clothes, gadgets and suchlike. It's very easy to extrapolate and say that it's almost inevitable that I'm going to earn a staggering amount of money, for doing almost absolutely nothing.
The situation is hard to handle. I can see every single step in-between here and the 'finishing line'. It's as if there's a well-lit staircase that leads to the top of Mount Everest, and I know exactly how many steps there are, and also that theoretically my body is capable of climbing that many steps, but it's psychologically distressing to know exactly how many steps there are between me and the summit. Sometimes it's not a good thing to know the way. Sometimes it's not a good thing to be so aware of the journey ahead.
I'm aware that human bodies only last a finite amount of time before they fail. I can comprehend the number of sleeps that I have left before I expire from old age. A friend pointed out that 9 years is 108 months, which seemed like an interesting way to break down a decade - making it more bite-size - but the idea of living for another decade is not inviting to me. Getting to the end of this month will be an achievement.
My perception of time is warped. My sense of boredom is heightened. My attention span is ruined. I feel anxious all the time. I have terrible anhedonia.
Life's not very liveable but life must go on. I have to choose between the rat race and the endless exertion to keep my head above water, or else I will be turfed out onto the streets and will have to live a pitiful life of begging and sleeping rough.
My thoughts turn to suicide often.
Suicide is the obvious choice, because it ends the struggle completely. No more anxious waiting. No more slow plodding towards the inevitable. No more unpleasantness.
I'm aware that I'm frustratingly close to a major breakthrough. I'm aware that I've rebuilt myself fairly miraculously and I'm a completely different person from the junkie I was 2 years ago. It seems brutal that I would lose the love of my life, lose my amazing apartment, be forced out of the city I called home and end up attempting suicide, only to end up surviving and clawing my way back from almost-certain bankruptcy, only to give up at the point I was at break-even. It seems ludicrous that I'd claw my way back from so-called "rock bottom" and then decide that it wasn't worth it, except to die with a bit more pride and dignity.
I was chatting to a friend and we wondered whether we had screwed up our brains and our bodies too badly to ever recover. We both reported feeling a lot of physical discomfort and health problems, as well as terrible depression and anxiety. Ironically, he has all the things that I think I want: a girlfriend, hot weather and freedom from the rat race. The thing we have in common is bipolar disorder and substance abuse, so perhaps the evidence is pretty clear - drugs will mess you up and leave you in a miserable state.
The annoying thing is that my life isn't filled with drug abuse. My life is filled with 9 to 5 Monday to Friday commuting and office routine. My life is filled with paying rent and bills. My life is filled with supermarket shopping and doing laundry. My life is filled with mountains of paperwork. I've been well-behaved and I've made healthy choices, but it hasn't made any difference - I'm still depressed.
I suppose my depression can be explained away by events such as a breakup and a lot of stress - moving house - as well as the sustained problems I've faced in the past years, as I've attempted to restore my health and my wealth. It's hard not to lose patience though. It's hard not to give up, given the sustained effort that has been required to get where I am, and the way I feel at the end of it all.
After all the effort and the uncertainty and the horrible things I've had to endure, when I think "was it worth it?" I'm not sure that it was. In fact, I'm pretty certain that I wish I hadn't bothered. I'm pretty certain that I'd like for the pain and suffering to end sooner, rather than later. I cannot see any reason to carry on, when the reward is only more pain and suffering.
I'm kinda worried about keeping myself safe. I started thinking about places in my house where I could hang myself. I started thinking about cutting some major blood vessels in the bath. I started thinking about obtaining highly toxic poisons from the internet. I started thinking about practical considerations, such as the effect on my sister.
It's not good when a considerable part of your waking day is spent thinking about ending your own life.
I'm aware that I've probably unbalanced my delicate brain chemistry, through stressful events as well as medications. I binged on some pills. I self-medicate with other pills. The demands placed upon me by moving house and working a stressful job have driven me to feel suicidal before. I don't have any friends in the city where I live. These things are not conducive to good mental health.
I know that if I keep forcing myself to go to the office, my bank balance will continue to improve, which opens up a whole world of possibilities and reduces the amount of stress and pressure in my life. I know that as long as I stay alive, the days are getting longer, the nights are getting shorter and the weather is improving. I know that depression doesn't last forever. I know that anxiety has only ever come into my life as a result of abusing alcohol and benzodiazepines. I know these things, but it doesn't make the present day any more bearable.
There's no way to hurry things along. I either have to wait, or kill myself.
Tags: #suicide #anxiety #depression #bipolar