This is a story about body dysmorphia...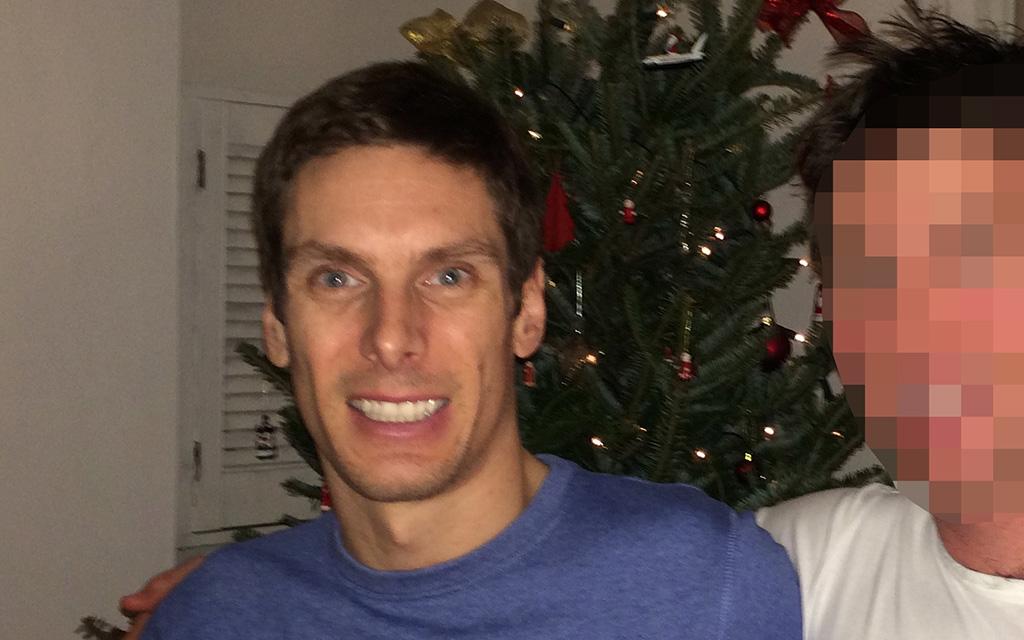 It's strange to look at a photo of myself with an old friend from not-too-many-Christmasses ago - at least according to my faulty memory - and not really recognise the face looking back at me as my own. It's not that I'm younger. It's that I can clearly see in many features of my face that I'd failed to escape from an abusive relationship and an acrimonious divorce unscathed. My life reboot had been sabotaged and it seems as plain as day to me that I was very sick.
My eyes appear at first glance to be bright and alert, but in a stimulant-induced way, so I wear a glassy stare into the distance, not looking at anything in particular. On closer examination, there are tell-tale signs around my eyes that I've been sleeping both too much and too little.
It surprises me how easily I can see from my face that I have hardly any body fat. In 2013 I had my body fat very precisely measured at circa 2%.
The body I'm in today feels very alien to me.
But the face in the picture above is also a different person, I feel.
Every couple of weeks I start skipping breakfast, having light lunches and smaller, healthier evening meals. Every couple of weeks I take a break from drinking alcohol. It doesn't make any difference.
For more years than I care to remember, I've woken up and I've dreaded going to work, and I've felt oppressively burdened by debt. My life is very simple, and in many ways very enviable, but it's also thoroughly awful. Theoretically the awfulness is only a temporary situation, but somehow it's turned out to be a nonstop nightmare lasting half a fucking decade.
The nightmare could be lazily attributed to drug addiction, but you might be surprised to learn that the truth is far less conveniently simple.
Having spent more than two decades trapped in the rat race, being a very stoic, quiet, boring, obedient and subservient tiny cog in a massive machine, and suffering the incredible boredom of going to bland beige offices, attending endless interminable meetings about nothing, shuffling paper around a desk and pretending to look busy, it was fucking exciting to go insane and embark upon a drug-fuelled rampage.
You might think that police, paddy wagons, Accident & Emergency, high-dependency wards, psychiatric hospitals, police cells, intensive care, sleeping rough and hostel dorms would be the worst thing imaginable - and those things probably were terrible at the time - but you need to understand the psychology of a person who wants to jump out of a perfectly good airplane and plummet towards the ground at terminal velocity. If you think that only stupid people get addicted to drugs, it's you who is stupid, because you haven't appreciated the value in calculated risks.
I would thoroughly advise every person on the planet to avoid supercrack like the plague, but it would be remiss of me to not acknowledge some attributes of my experiences of the last 5 years, which might be considered surprisingly beneficial.
Weight. Loss.
We'd all like to be a bit skinnier, wouldn't we? We'd all like to lose a bit of that hard-to-shift belly-fat.
I look in the mirror at the slight gut which has appeared in the ten months which I've been working, without the interruption of a drug-fuelled rampage, and I think "where the fuck did that gut come from?"
It depresses me that I've put on weight.
It depresses me that my appearance has changed.
I'm not fat. I'm not overweight. I'm just kinda 'normal' for a 39-year-old bloke, but that fucking sucks, because I took for granted the fact that I was as skinny as a racing snake on a diet. There's something attractive about an 'athletic' body, and that's not the body I have anymore... or rather, that's not the body I have at the moment.
One of the reasons I kept ending up in hospital, is because my body ran out of fat to break down to keep itself alive, so it started breaking down my muscle. When my muscle was broken down to provide energy to keep my cells fuelled and save my life, there were a lot of toxins released too, which totally fucked my kidneys. Basically, I was starving to death but dying of kidney failure faster than I was dying from lack of glucose, because I was so unnaturally lacking in body fat. My body made a very tough decision at a certain do-or-die moment, to destroy muscle allowing my heart to keep pumping for a little while longer, at the expense of my kidneys.
I eat.
I eat a lot.
I drink.
I drink a lot.
I eat and drink whatever the fuck I want and however much I want. I have juicy fatty steaks with butter sauce, washed down with lashings of red wine, every single night of the week.
I'm a disgusting old man.
I've been so depressed and oppressed by my awful circumstances, that I've barely been outside all summer. My skin is pale. One of my arms is covered with ribbons of self-harm and suicide attempt scars. One of my wrists has a big lump where a bone was broken by police who were kindly assisting me in getting to hospital. I've got this gut. This fucking gut. Where the fuck did it come from?
Have you heard of DNP?
It's a fat burner.
I'm highly tempted to take a week or two off work and just burn off the fat using this drug which increases your metabolic rate. Of course, a side-effect is malignant hyperthermia, but that's nothing I haven't already experienced a great deal of, as a supercrack addict. Also, insomnia, anxiety, panic attacks, tachycardia, organ damage and death... all risks I'm prepared to accept in order to be skinny and gorgeous again.
Although I'm crippled by mountainous debts, I drive a wreck of a car which is worth less than my phone, I live in rented accommodation and my body is covered with scars from drug-fuelled insanity, self-harm and suicide attempts, the most damaging thing to my self-esteem is what I've done to myself during this period of so-called health and wealth. While I've been earning megabucks for massive organisations and being mostly abstinent from supercrack, my life has materially improved massively - I've earned an absolute fortune - but psychologically it's been awful, and my body has suffered far more than even the very worst days of my supercrack addiction insanity.
I don't think supercrack is a solution, although the weight-loss is arguably a very desirable side-effect, in much the same way as a bout of explosive diarrhoea or a tapeworm infestation might be. Unfortunately, society worships the skinny, just as much as it worships the bipolar, even though those people might not be very healthy people at all.
As a single man - and rapidly approaching 40 years old - of course I want to feel sexually attractive. While girlfriends have always said "I like a bit of meat on your bones" fnarr fnarr, they have had a vested interest in my health and robustness as opposed to my raw attractiveness, in terms of a skinny athletic body.
The temptation to restore my athletic figure with a week or two of unpleasant suffering, taking a fat-burning drug and feeling like shit, seems like a small price to pay for the prize of being more sexually attractive. With the insecurity of feeling like I'm a washed-up has-been loser, dirty old man filthy pervert, useless debt-riddled, asset-less waste-of-space, with nothing to offer womankind, it's sorely tempting to take some short cuts. What happened to my house, sports-car, yacht, speedboat, cash pile and other desirable material things, which would be highly coveted? What value is there in a 39-year-old who's pale and average build? I'm ten a penny.
This is the calculated gamble. Presently, my gamble is to get rich quick, or more precisely, to pay off my debts incredibly quickly at the expense of my health, social life and mental wellbeing. The price I pay is my appearance: I eat and drink too much; don't exercise.
Of course, I have no plans to resume my supercrack-fuelled insanity, but to not acknowledge the rewards and unexpectedly positive benefits of better living through chemistry would be disingenuous.
Tags: #supercrack #fat #diet #food #sex #dating #addiction #homeless #police #hospital