This is a story about out-of-control spending...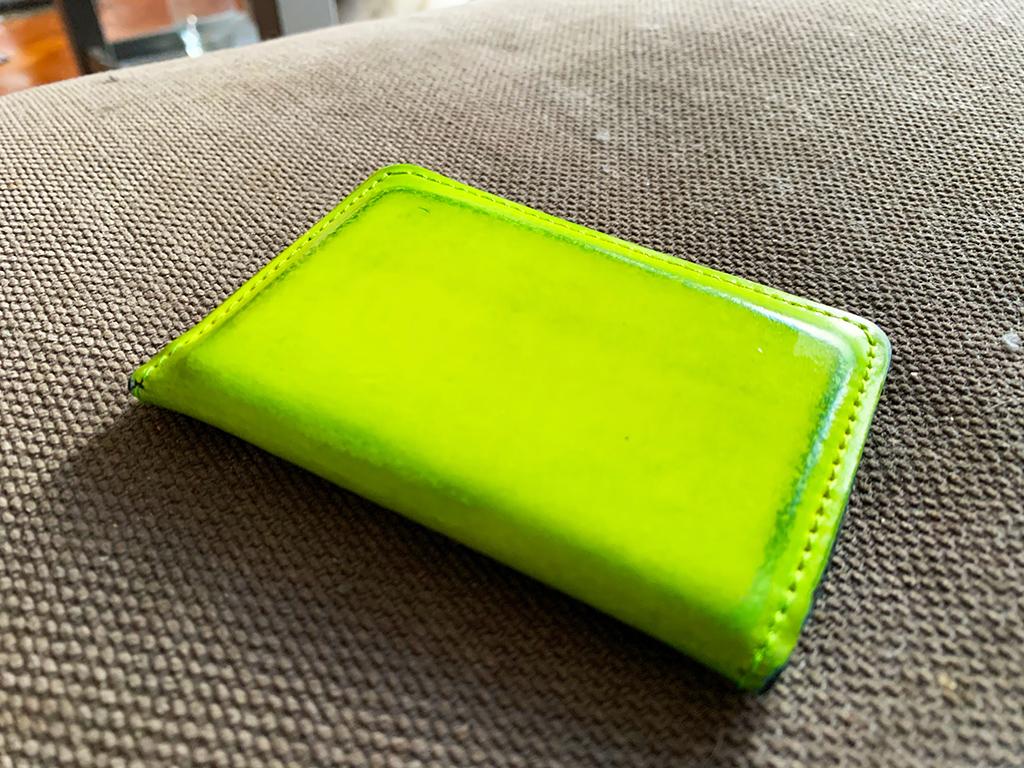 This is my wallet. It doesn't contain any cash. In fact, it doesn't contain very much at all. It's very thin, although not as thin as my favourite wallet, which unfortunately wore out. I like having a thin wallet.
My wallet contains a 'debit' card for my personal account (known as a checking account in North America, I think), a 'debit' card for my business account, and two credit cards. Also, I keep my drivers license as photo ID, and some stamps, in case I need to mail anything. So, that's 4 bank/credit cards and a card-sized driving license: 5 cards in total. That's all I need.
Sure, I need a little cash from time to time. Frustratingly, I had used the small amount of cash that I carry to pay for something, when I needed to pay the guy who cleans the windows in our street, so I had to live with dirty windows for a little while longer than I would have liked to.
Cash tends to stay in my pocket for so long, that often it ceases to be in common circulation: the UK is replacing all of its 'paper' banknotes (they were actually more like a kind of fabric, but that's just a geeky fact for you) with 'plastic' ones. The UK is probably the world's number one place to launder money, so of course we need to have wipe-clean waterproof money.
Anybody who's used a plastic banknote to insufflate a powdered substance into their nose - not me, obviously - will tell you that the new banknotes will damage the delicate membrane of your nose and cause it to bleed, quite often. However, at least you can wipe the blood off. Paying for stuff with bloodstained banknotes is rather embarrassing (but not the reason why I don't carry much cash - I just don't need/use the stuff, for any purpose).
If you've followed my blog, or you know me as a close friend, then you'll know that I've suffered from depression which has been quite relentless and uninterrupted; interrupted only by suicide attempts, I should probably add. My will to live has been long absent.
I was starting to give up and abandon all hope of surviving for more than a few more months. I was certain that if Christmas didn't kill me, like it almost did last year, then I'll certainly die in April or May next year. Basically, I could see no future for myself; no point in suffering any longer.
Then, I had a great idea: I'll buy a really fancy gaming computer, so I can play driving simulators, flight simulators, turn-based strategy games on a big monitor, and retro console games... generally get into gaming in a really big way.
But.
It was not a good idea.
Part of the reason for my depression, is because I'm home alone, in front of a screen all day. Part of the reason for my depression, is because of my sedentary lifestyle. Part of the reason for my depression, is that I lack real-world social interaction with people.
In short: the gaming PC was a bad idea.
But.
Then I had a really great idea, which was to buy a mountain bike.
I mean, I already have a mountain bike, so why would I buy another one? The mountain bike I have is the best that money can buy (to me at least) so why would I buy another one, if I couldn't buy a better one?
Good question.
Mountain biking is hard work. I used to be young, skinny and fit, but now I am old, fat(ter) and unfit. I am by no means obese and I am by no means so unfit that I can't do exercise, but my health and fitness have been grossly neglected during my interminable depression, as well as during lockdown, which made things even worse. I did try to finish the lockdown fitter, thinner and generally healthier than when I started, but, it was very hard. The best I managed to do, was to stop the rot, a little bit.
Pedalling a mountain bike uphill is hard work. You have to move the weight of the bike, the equipment, your clothes and your body, uphill. My super nice mountain bike weighs 24 pounds (11kg), my equipment could be zero I guess, if I was going for minimum weight, my clothes, including shoes, could be as little as 4 pounds (2kg)... but the heaviest thing is me. I weigh at least 22 pounds (10kg) more than I did when I used to ride my mountain bike regularly. So, basically, if I was to ride up a hill, it would be like me riding up that hill with a whole extra mountain bike on my back. Plus, I'm unfit too.
So what's the solution? Lose weight, right? Catch 22.
The best way to lose weight is to exercise, but if your favourite form of exercise - mountain biking in this case - has gone from something which is difficult but enjoyable; rewarding... into something which is so exhausting that it will destroy you to just go up one single hill, then the barrier to entry is too high.
What did I do? I bought a mountain bike which assists with my pedalling, to make it feel like I'm 22 pounds lighter. In fact, the mountain bike I bought can also assist with the pedalling so much, that it's like I'm young and fit too! Of course, I still have to pedal, and that still requires energy, so I'm getting the exercise I need to lose weight and to get fit again.
What I also did was buy a bunch of other stuff: waterproofs so I can go out in the rain, super-padded underwear to protect my ass (because it got soft since I didn't ride a bike for a long time) and a whole bunch of other really expensive stuff. Could I have done without that stuff? Sure. I guess I could carry a heavy mountain bike for miles and miles because I got a puncture. Sure. I guess I could get soaking wet, because it's autumn now and will soon be winter. Sure. I guess I could get run over by a car on the way to/from where I'm riding, in the dark autumn/winter bad weather. For sure, I could have avoided getting that stuff and said "I'm not going out on my bike today, because it's raining/dark/I've got a puncture or whatever".
You bet I'm worried that my spending is out of control. I spent a whole month's income.
Every. Single. Penny.
Like, no money for rent, no money for food, no money for bills, no money for transport... no money for anything except my bike, and the stuff to go with it. I spent every single penny of last month's 'wages'.
So, am I stupid? Am I rubbish with money? Am I a lost cause.
Well, I wanted to commit suicide for a very long time, but now I'm just excited about riding my bike; now I've got a reason for living again. I'm not sure how long that's going to last, but money really can buy happiness, it seems; or at least money can get rid of depression, temporarily. Maybe, like a drug, the depression will only go away for a really short time and I'll have a terrible hangover/comedown. I expect that's true, but let's not be too hasty. Last time I did something like this, I got fit, healthy, happy, more social, more attractive athletic body, identity, self-esteem, and I had a lot of fun. Let's wait a while before we start calling me stupid for doing this.
Tags: #bike #health #fitness #depression #suicide #mentalhealth #friends #mountainbike #mtb