This is a story about stress...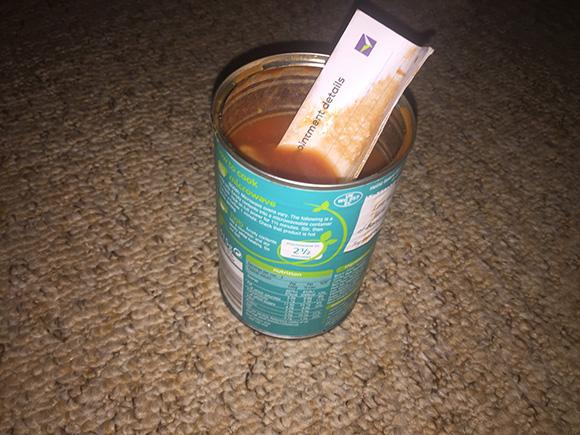 We all experience periods of stress. Most of these are short-lived. There's a natural limit to how much stress we can take, for a given period of time, before we have a breakdown.
This snapshot in time - eating beans directly out of the can using the business card of a lawyer specialising in mental health cases as a spoon - tells an interesting nonlinear story.
We like our stories to be linear.
I have no idea where to begin my story.
If I start my story on the day when I first slept rough, I would say that things got worse before they got better. Sleeping rough was not "rock bottom" at all, and I find the whole notion of "rock bottom" to be ludicrous and unhelpful.
If I start my story on the day when my homelessness ended, again, the arc of the story is complicated. Although I never slept rough again, I would say that my life was - at times - a lot worse than when I was no fixed abode; homeless.
If I start my story on the day when I got myself into my latest period of employment, uninterrupted for 3 years as of today, then the photograph above is a confusing one. Why the hell was I eating uncooked beans directly out of the can, in the dark, using a business card as a spoon?
I can't think of any good time to start my story. This year started with a hospitalisation for kidney failure and a breakup. There is no time which I can point to and say "THERE!" to indicate the point where my life got steadily better and better.
The problem with a precarious existence, is that it's incredibly draining. I live in a hypervigilant, hyperalert, super focussed and energised state, where I haven't been sick for many years, except to be hospitalised in a near-death state... although frankly I would have carried on working if I could. I just want to dig myself out of the hole.
Perhaps I've done OK at times, allowing myself to have a few holidays in recent years, which has been awesome for my health and sense of wellbeing. The prospect of a sustainable life has seemed more within grasp, having granted myself the luxury of a few holidays, but also we must accept the facts: security continues to elude me, despite many years of hard work; my life still hangs by a thread.
Thinking back to when I first escaped homelessness, the first time I recovered within a matter of months; unencumbered by debt or other problems. The second time, I seemingly bounced back quite quickly, although my finances never really recovered. The third time was bound to sink me - without a trace - but a few lucky breaks and I've been able to cling on by my fingernails for a few years... but I always ask myself "was it worth it?".
We shouldn't underestimate the toll that the desperate attempts to regain stability, health, wealth and prosperity, have cost me. To live on the edge of losing everything, and being cast out from mainstream society, is an unbearable burden that nobody should have to endure; yet alone for years and years on end, unrelenting.
Presently, the situation is particularly unbearable, because I am seemingly on the "home straight" where everything seems to be within my own power to succeed; the only person who can screw things up now is me...  or so it seems. In reality, it's not like that. The demands of recent years are catching up with me. You can't put a person under such extreme pressure for such a very long time, and not expect them to crack under pressure eventually.
My worst fear - of course - is that I will crumble before I reach escape velocity. Many people feel this, but few have a story to rival my own.
It's strange. Seeing the finishing line is worse than when I was just plodding along with the vague hope that at some future point I might recover. Living eternally in a "nearly but not quite" state is unbelievably exhausting.
Tags: #depression #anxiety #homeless