This is a story about carelessness...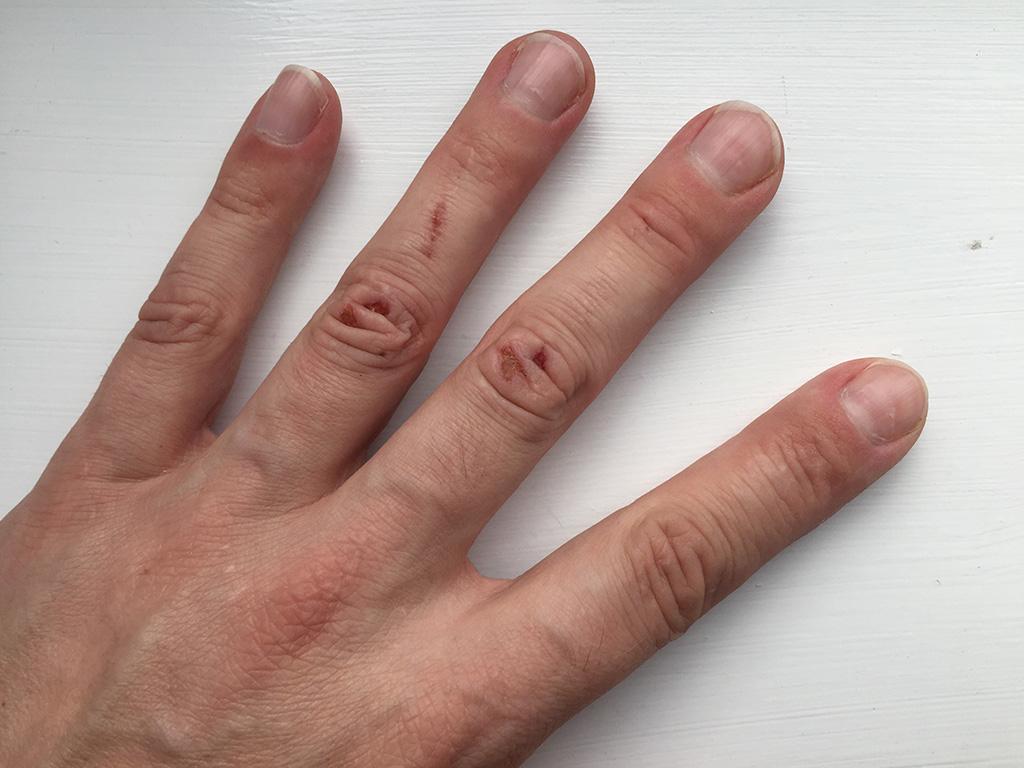 I'm a regular at my local corner shop. During the month when I wasn't working, I think I visited the shop every single day to buy a bottle of red wine. The weekend before last I was buying some unhealthy snacks and my usual bottle of red, when I decided at the last minute to grab a bottle of white from the fridge, which was near the counter. My usual bottle of red was balanced precariously on top of the snacks I was buying, which then plummeted towards the shop floor where mercifully it bounced off the linoleum; the glass didn't break. Last Friday I grabbed both a bottle of white and a bottle of red. As I walked up the steep hill back to my apartment, I wasn't paying attention to my footing and I tripped over. I grazed my knuckles as I attempted to save my precious cargo of wine from being smashed on the tarmac.
I've definitely become a functional alcoholic.
I woke up on Saturday morning and I had a slight tremor. I don't get hangovers because I think my alcohol tolerance is so high. I can drink two bottles of wine and I feel fine. Obviously I'm not fine.
I've started to skip meals because I'm getting enough calories from all the wine. I could drink 5 bottles of wine over the course of a weekend, and the only 'food' that I would eat would be some salty snacks - crisps and suchlike.
I examine my eyes for any sign of yellowing. I prod and probe my abdomen for tenderness, firmness or any subcutaneous fluid. Surely my liver is taking a battering from a month and a half of extreme alcohol abuse?
Over the weekends I show no restraint at all. I'm making no attempt whatsoever to be the slightest bit healthy. The crap I'm putting into my body - unhealthy snacks and copious quantities of alcohol - combined with my sedentary lifestyle must be lethal. I'm either sat down or lying down. According to my step counter I've dropped from a peak of 15,000 steps per day to a paltry 2,000.
I need to figure out which broken part of the vicious cycle to fix. Stress leads to feelings of tiredness; depression leads to demotivation; anxiety paralyses me - I could start with fixing my mental health. Self-medicating with vast quantities of alcohol seems like the solution to anxiety, stress, boredom, loneliness and isolation, but it's pretty clear that alcohol is affecting my physical health and probably my mental health too. Exercise seems like a ridiculous suggestion, given how badly I'm coping with the basic demands of everyday life. I can't figure out if I'm too tired and stressed to exercise, or if exercise will bring a net benefit once I get fitter - which I know it will - but it seems unthinkable to get fitter when I'm so dependent on alcohol as a crutch.
I'm changing far too many things at once. I've only just started my 3rd week in a new job and I'm still finding my feet in the new organisation and ingratiating myself with my new colleagues. My memory is shot to pieces. I can't even remember how long I was taking sleeping pills for before I ran out. I had some leftover painkillers, which helped to reduce my anxiety enough to be able to sleep, but then I switched back to sleeping pills last week. All I know is that the second half of May was a big mess, June was a near-disaster and I only started getting myself sorted out a week before starting the new job in the middle of July.
The surprising thing is that I keep moving forward. I didn't lose my job despite a few really shaky weeks when I was really sick. I've managed to start this job and things are going OK. Well, when I say that "things are going OK" of course I don't include my mental health, mood stability, brain chemistry or any of those other things which I pretend are OK during office hours. It's a miracle that I've been able to cover up a major relapse, alcohol abuse, abuse of prescription medications and of course my rather worrisome mental health problems.
How long did my writing go erratic for? I know that I had to delete a lot of blog posts in the period between my relapse and the day I finally regained enough of my rational mind to see that I was picking fights which couldn't be won and saying things which shouldn't be said. I don't usually delete blog posts, but I'd lost my mind and I was meandering up dead-ends; I was unhealthily obsessing over things and acting carelessly.
My carelessness has manifested itself at weekends recently. I get super drunk and I write with a lack of care for coherence and storytelling. I've written at weekends in the knowledge that I have fewer readers on Saturdays and Sundays, which has made me feel like I can just ramble, complain, moan and write complete and utter crap. I've considered deleting or rewriting my daily blog posts which I've published at weekends, because I've wondered what the hell am I going on about? I've written and written and when the word count goes over 1,000 words then I decide that I'd better not write any more, but I haven't considered whether what I've written is any good.
Of couse, the end is in sight. I'm so close to a million words now. In fact, if we included the word count of all the deleted blog posts, then I'm well over a million words. The current total word count that's actually published on the public internet on this website is now in excess of 950,000. I'm repeating myself, but only because it's important in the context of my alcoholism. The last few months have been a blur. In my mind, the relapse, the breakup and the period of insanity that followed was over in the blink of an eye. In reality, I've been an intoxicated mess; I've either been doped up on pills or drunk.
Sometimes I hear myself speak and my voice buzzes in my ears and the sound vibrates my head. It feels like somebody else is speaking and they're using a megaphone directed at my head, which is so loud that the sound hurts and I can feel the vibrations. It's a dreamlike state. It's akin to an out-of-body experience. I feel like this when I think I'm completely sober but I think it's actually due to the fact that there isn't much blood in my alcohol-stream. God knows what other crap is still circulating in my body. I've abused a mixture of diazepam, clonazepam, alprazolam, pregabalin and zopiclone during the last couple of months, as I attempted to wrestle back control of my life before my supercrack addiction destroys everything I've worked so hard to rebuild.
Yes, that's right. The dreaded supercrack was back. I had relapsed.
To put things in context, I've worked a full-time job for 9 months out of the last 12. I've moved house 4 times. I've been hospitalised twice. I've been sectioned. I spent the best part of a month locked up on a psych ward. The main headline that most people would pay attention to is that I've earned a lot of money and done a lot of work. To all intents and purposes I've been a thoroughly productive worker and a valued member of the teams and projects I've been part of. This does not reconcile.
In my head, I'm brushing off serious problems with mental health, addiction and alcoholism like they're nothing. In my head, I'm as invincible as I ever was. In my head, I'm immortal and the evidence very much backs up that ludicrous idea.
I really don't want to have a reality check one day, where I find out that I've done irreparable damage to my physical health. I really don't want to keep testing my mortality to breaking point.
Yes, the numbers look incredibly good. Despite the insanity of my life during the last 12 months, I still managed to work 9 months out of 12 and my gross income has probably been well in excess of 3 times the national average. Somehow, I've managed to write more-or-less every day and churn out over 300,000 words since this time last year. How the hell did I manage to earn so much and how did I manage to write so much? How do the numbers look so good when my life has been a complete shambolic mess?
The numbers don't tell the complete story.
Yes, without good numbers my story wouldn't be very interesting. The world's full of junkies who went bankrupt. The world's full of alcoholics who drank all their profits. The world's full of people who have fascinating stories but they never write them down. I'm gunning for the convergence point where one million words meets one million pounds. I'm aiming to be an outlier: the guy who beat drug addiction, alcoholism, mental health problems, homelessness and - most importantly - bankruptcy. I've got the archives; I've collected the data. Plenty of people lost their house, their car, their wife, their cash and everything else, but how did they get it back? The game; the sport, if you like, is to have kept this narrative going through a 3-year period which accurately captures the false starts, the setbacks and the struggles... and at no point did I wipe the slate clean; at no point did I run away; at no point did I switch to a different tack.
Why would I change my approach? The numbers look good.
I'm going to reach a million words on my blog because I'm in control of my destiny and I can work as hard as I want; I can write as much as I want. I can choose when my project is complete, because I know the word count I need to achieve every day to make sure I hit the target.
Whether or not I clear all my debts and reach a thoroughly impressive gross income for the 3-year period covered by my blog, I'm not so sure. There's no way that hard work will bring the finish line any closer - it's simply a waiting game. All I have to do is sit and look pretty and the money flows in. I just need to be patient. It's an agonising wait, but it's profitable.
Being drunk all the time seemed like a solution to the waiting game; to make the time pass quicker. However, I need to be clean and sober when I reach the finish line otherwise it was all a waste of time.
I'm going to see if I can resist the temptation to get drunk. I'm going to sober up for a few days, to try to clear my head and get some perspective. I've been intoxicated for far too long.
Tags: #alcohol #addiction #drugs #supercrack #relapse #sobriety #mentalhealth #bipolar #depression #suicide #homeless #career #debt #writing