This is a story about the brain drain...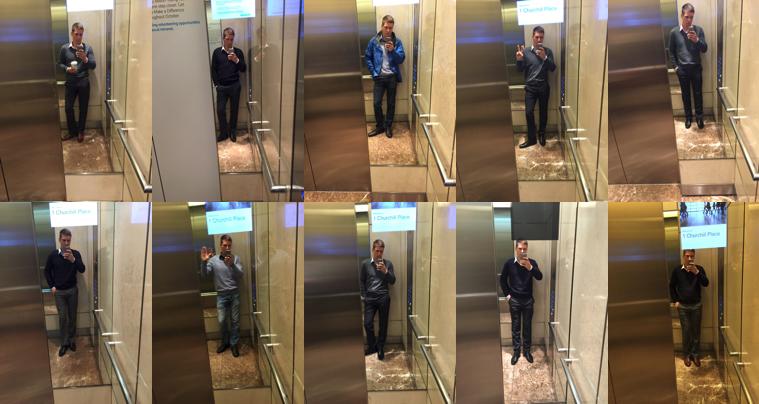 I should keep photos of myself wearing my ordinary work clothes off my blog. I should take more care to separate my professional identity from my blogging identity. I should ensure that Nick "Manic" Grant and the name that's written on my CV can never be connected.
To even write my proper name - as it appears on my passport and birth certificate - onto this website would risk appearing at the top of Google searches that prospective employers might do. I've been careful to separate my LinkedIn and never mention my consultancy company name. I rarely mention client names, and certainly not the names of clients who I wish to continue working for.
However, I'm starting to slip. I'm starting to not care so much. I'm starting to prefer my real identity to the fake one that's necessary to get a well paid job. I was finding it cumbersome to try to pretend like everything was A-OK in my world, and attempt to stop rumours spreading about me in the companies I used to work for. It was exhausting, trying to cover up my indiscretions. It's been exhausting, leading a double life.
One of the biggest double life issues I have is that I have nothing but contempt for capitalism and banking, and I completely fail to see the utility of computers and apps and software and data. Yes, in our super tech-heavy world, it seems inconceivable to say such a thing, but I definitely think humanity's headed in the wrong direction. The mechanisation of farming and the industrialisation of food production are two examples of tech's potential to feed the world's hungry, but we're not using tech to do that, are we? Instead, we're using tech to create artificially inflated asset bubbles and an ever greater rich:poor divide. It eats me up inside that I'm involved, but I'm also shackled with golden handcuffs to the cash cow that provides a hefty income. What am I supposed to do?
Many people think it's churlish that I bite the hand that feeds me. Many people seem to think it's not possible for me to have ethical concerns about what I'm involved in as a day job. Why don't I quit and do something else? It certainly seems to upset me and cause me a lot of angst and anguish.
As I've written before at length, I'm economically incentivised to get the most bang for my buck. I'm economically incentivised to sell my labour to the highest bidder. I need a place to live and food to eat, don't I? So of course I'm going to plump for an employer who's going to give me enough money to live, rather than one who would leave me starving, homeless and impoverished.
I should be rich & retired by now. Here's how my strategy to become rich went:
2005

Me: I'm going to invest all my money in gold

Her: no

Result: gold plus exchange rate of US dollar would have delivered 500% return on investment

2008

Me: I'm going to quit my job and write iPhone apps

Her: no

Result: we broke up. I made enough money from my iPhone apps so I didn't have to work... until I got back together with her

2011

Me: I'm going to be CEO of a tech startup worth millions of pounds

Her: no

Result: my company continued to trade profitably and win big customers... without me

2012

Me: I'm going to invest all my money in Bitcoin

Her: no

Result: each Bitcoin is now worth $15,000. I would have paid about $5 for each Bitcoin. A $5,000 investment would now be worth $15 million

2013

Me: I'm going to invest all my money in Bitcoin

Her: no

Result: we separated and divorced. I've hardly had to work since then.
In the absence of any good ideas to get rich quick, I always fall back on IT consultancy. I was getting £40 an hour when I was 19 years old, and then £470/day when I was 20. I was on-track to retire at 40, if I stuck with the consultancy gig, even though it was soul destroying.
Now, it galls me that I've been so close to serious wealth so many times. It galls me that my ex-wife was such a toxic person that she's fucked up a whole bunch of very decent ways I could've made a fortune. It galls me that I'm back doing the soul destroying day job, because my ex-wife held me back and sabotaged some very smart and shrewd plans I had. It galls me that I'm doing a job that I mastered a long time ago. It fucking sucks to only earn six figures and have to work like, maybe 35 whole hours or whatever, doing a really easy job.
Of course, I'm deliberately writing in such a way that might cause offence. Many people dream of earning decent money, or having a shot at getting rich. Well, here's the solution: do a job you really hate.
I hate my job so very very much. I can't believe just how flipping easy it is. I also can't believe just how awful it is to be part of the capitalist machinery that's wrecking the planet and the wellbeing of humanity. I'm involved in legal loan-sharking. I'm an accessory to murder. I'm guilty by association.
I started out my career in defence - the military - so I'm no stranger to the ethical dilemma of working for a weapons manufacturer. I had to wonder to myself how I'd feel when lives were inevitably lost as a result of my software. It seemed wrong to think that I'd succeeded as an engineer, if I successfully brought about the death of the so-called 'enemy'. My software was very definitely going to be used to kill people; nothing defensive about it at all.
What should I be doing? Working for a charity? Working for an NGO or some other kind of humanitarian cause? What, like your chum Hugo from private school, who went off and built a school in Africa... he put that on his CV and now he works for a fucking bank because he's not fucking stupid. Hugo tells all his chums that he's done important work in the developing world, because he's an insufferable tosspot; he's a smug spoiled little shit, who's never known anything other than wealth and privilege.
You might hear my posh accent, or see the big name multinational companies I've worked for on my CV, and you might be mistaken for thinking I'm posh and spoiled and entitled and all the other things you don't like very much. In fact, I've had to spend my whole career with ethical conflict in my heart. I'm a bleeding-heart liberal who puts on a sharp suit and pretends to be a banker. I have to think about the part I played in the 2007/8 financial crisis. I have to think about my part I played in the whole stinking shitpit that is capitalism. I could hide behind the defence: "I'm just an engineer" but I can't.
"I make the rockets go up. Where they land is not my department"
I don't think it's a valid defence for an engineer to say that they're apolitical; amoral. I write software that's unopinionated, but I know what it's going to be used for. I know that I'm donating my brainpower and brawn to an evil cause. I know that ultimately, I'm helping the rich get richer.
I spend my days somewhat outraged that my time's being wasted on trivial bullshit, that contributes nothing to society except for improving the apparatus that oppresses the planet's poor people - tools to better extort money out of the 98%. I spend my days frustrated - I want to be doing something worthy, but I can't.
Of course I'm not going to jack in my job and go work for a charity. Charities pay shit money. Of course I'm not going to work for charity. Charities have failed to deliver any meaningful change. Impoverishing myself is the world's most stupid first step towards any meaningful change.
I'm frustrated and upset, because my ingenuity was thwarted so many times by my ex-wife that I'm now exhausted. I'm not a young man anymore. I was lucky enough to have a couple of moments of glory that proved my point - I can build valuable stuff that works - but now I don't have the energy or the financial security to make another foray into something more worthwhile than the bullshit that passes for my day job.
I'm trapped by debt that I ran up when I got sick. I'm trapped by the capitalist trap of high living costs. I'm trapped by the need to speculate to accumulate, but I've got nothing to speculate with. I'm hoisted by my own petard. The irony is not lost on me, of course.
It's torturous agony, working a job that I mastered 21 years ago. It's torturous agony, solving the same problems that I already solved a million times over, knowing full well that everything is doomed to the same fate. Of course the global financial markets are going to collapse again, imminently. Of course, the whole bullshit system can't be propped up anymore. Of course, the bubble has to burst. Bubbles always burst eventually. It's physically painful in a way that's hard to describe, knowing that the whole ridiculous house of cards is going to come crashing down again at any moment. I know it's just anxiety and stress and depression, but it's not made any better working for an investment bank, doing the same bullshit job that I was doing - I was so close to ground zero when the whole fucking financial crisis happened. I was feeling ethically challenged 10 or 11 years ago. I was feeling ethically challenged 21 years ago. Fuck my life, that I'm back doing the thing that I hate most, because it's an economic necessity.
Who's to blame? Me presumably.
Fine, pin it on me. I'll take the rap.
Imma kill myself.