This is a story about drug dependency...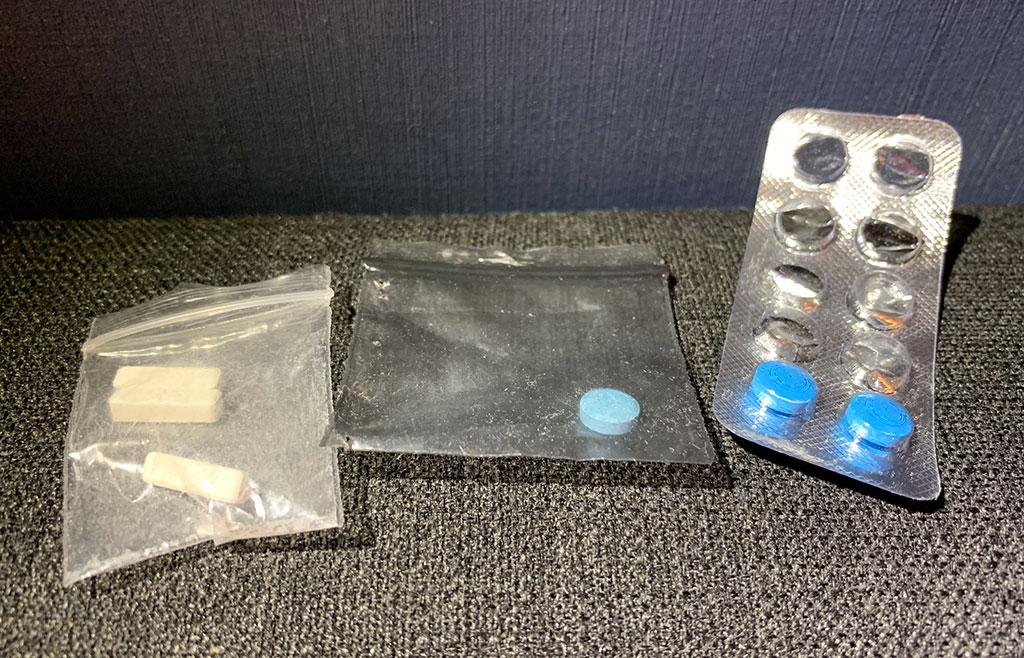 This is how I function. This is how I normalise myself. This is how I comply with society's demands. This is how I cope with social jet-lag. In our fit-in-or-fuck-off culture, this is how I conform. These are my crutches. I might appear functional and unimpaired. It might be somewhat insulting or offensive to describe myself as struggling in any way - perhaps I should instead talk about my wealth and privilege and acknowledge that since being born with a silver spoon in my mouth, my life has been uninterrupted gilded luxury; I've never known pain; I've never known suffering.
Think about the starving African children.
I comparison with the 8 or 9 bottles of red wine I was consuming every week - drinking alone - my use of a few sleeping pills and tranquillisers seems relatively safe and healthy.
This is all I have left.
I've had to eke out my dwindling supplies for far longer than I'd expected to. My opportunities to "re-up" have been constricted and constrained. I've been forced into drug withdrawal, which mercifully has been bearable because of my successful rationing strategies.
Insomnia has been the price I've paid for economising; suddenly cutting back on the medications I've become dependent on. Hypomania has been a very real and tangible consequence of the brain chemical destabilisation.
Perhaps I shouldn't meddle with my mind? Perhaps I should put my faith in the medical community? Perhaps there are people who know what's best for me?
Ironically, I'm using these medications - obtained on the black market - to plaster over the cracks and blend in with the very people who are specifically tasked with deciding what's best for you. I'm a member of the paternalistic elite. One should always remember that the people dishing out the advice and prescriptions are just as fucked up as everybody else.
My hypomania constantly threatens to boil over and create a disaster. My hypomania is a constant threat to all the health and wealth I've managed to accumulate this year. My hypomania is almost impossible to conceal, constantly attempting to sneak out from under the cover and camouflage I've carelessly draped over it, in the hopes of it being ignored and not talked about by my discreet, polite and extremely civilised colleagues.
Unable to sufficiently bludgeon my brain into submission to society's demands, using powerful psychiatric medications, my mask slips.
Exhaustion from the toll of 11.5 consecutive months desperately attempting to re-enter civilised society has reduced me to surviving on my instincts. I speak without thinking. It is only my well-practiced and well-rehearsed routines which allow me to continue to appear functional, when my mind has crumbled and descended into outright insanity internally. If I could only sit mute in my office chair at my desk, I would be fine, but unfortunately stuff pops into my head and pours out of my mouth before I have a chance to hold my tongue.
My medication dependency is a cruel mistress. My anxiety skyrockets in the late afternoon and evenings as my short-acting tranquilliser wears off. My insomnia robs me of refreshing and energy-replenishing sleep, leaving me almost paralysed by panic attacks about the simple task of getting out of bed, having a shower, getting dressed and going to work. Unless I take the right amount of pills at the right time, my mask of sanity quickly slips. The illusion of a functional productive member of society quickly evaporates, the moment that I skip a dose or start reducing my medication.
Of course, I'm hopelessly dependent. I admit it. So what?
My life revolves around my regular medication doses. So what?
Doesn't anybody's life revolve around cyclical things? Life and death, sunrise and sunset, summer and winter, weekdays and weekends, work and leisure, awake and asleep, hungry and satiated, horny and spent, love and loss. Some of the cycles are societally and culturally enforced to remain the same year-round, when it's clear that it's unnatural. Why the hell don't we sleep more in winter, when the days are shorter? Why the hell don't we sleep more when we're tired? Who the hell invented the fucking alarm clock and the 9 to 5 office job anyway?
I am quite literally tyrannised and oppressed - abusively coerced - into compliance with health-damaging social rituals, lest I be excluded from society; marginalised. It's in my rational economic self-interest to comply, but it's in the interests of my mental health to refuse to comply. Non-compliance will be met with harsh and intolerable economic sanctions.
Of course I seek out and consume the pharmaceuticals which 'normalise' me and allow me to cope; to function.
You might be surprised that I'm a junkie who needs his fix so that he can work a boring office job. You might think that junkies take drugs to feel pleasure and otherwise get high, but my drug dependency is mandated by the otherwise unbearable awfulness of the 9 to 5 grind.
You might think that people get rich off drugs by selling them. You might think that drugs will ruin your life, my drug dependency has been a mandatory part of repairing my life. Do you really think that it's humanly possible to achieve the kind of comeback - the recovery - which I've managed to complete during the past 11.5 months of turning up at the office and acting normal, without access to the full range of pharmaceutical options?
I've done the impossible: gotten off the streets, where I was sleeping rough, gotten out of the hostels, gotten off the terrible drugs, gotten out of the psych wards, repaid unimaginably huge debts, got myself a place to live of my own, got myself a respectable good job, held down that job, impressed my colleagues, delivered high quality work on time and on budget.
You think that was possible without performance enhancing drugs? Are there laws that say I can't use the very best of medical technology to allow me to function at my very best in a workplace environment? I'm not an athlete. I can use whatever the fuck I want and I have done.
It might seem logical to presume that I must now have a massive drug habit, because I've leaned so heavily on unhealthy coping mechanisms to get me to the point I'm at today.
I use the word "dependency" very carefully.
It's true that technically I am dependent on medications. It's true that abrupt cessation of the 2 or 3 medications I use on a regular basis would be catastrophic for my career, my reputation, my finances, my stability and all the other things in the house-of-cards which constitutes my life.
However, the doses I take are laughably negligible.
Instead of being in a horrible mess, the dose which maintains me in a functional and stable state is totally reasonable and acceptable. The problems I've stored up for the future - by becoming dependent on medications for normal day-to-day functioning - are pathetically tiny insignificant problems compared with the goddam mountainous obstacles I've had to tackle to get this far.
It concerns me that my stash is now critically low, because my whole happy healthy wealthy future hinges upon the continuation of the well-established routine for another 6 to 12 months, at the very least. If I can carry on with my dirty junkie medication dependency for another 18 months I will be rich as fuck compared to the struggling masses, which would be an unexpected result for anybody who's been brainwashed to believe that junkies like me are no-hope losers.
I don't go to the doctor. I don't have a psychiatrist. I don't have a psychologist. I don't have a community mental health team (CMHT) or a crisis team. I do what the fuck I want.
My experiments with being completely medication-free earlier in the year were a total disaster. I do hope that one day I'll be able to quit the pills, but I don't see how I'll ever be able to do when my health needs directly contradict capitalism's need to exploit me as an expendable commodity. There is a fundamental incompatibility between human needs and corporations' needs. There is a systemic inability to cope with anybody who deviates from the top of the bell curve.
I'm different, and I no longer expect society to accomodate me. I accept that I must alter myself - with pharmaceuticals - so that I can accomodate society's inflexible demands for homogeny and conformity.
I swallow a sleeping pill so that my social jet-lag is medically corrected. I swallow a short-acting tranquilliser so that the existential dread of working a pointless bullshit meaningless office job is bearable. I'm not overjoyed or happy to be doing it. In fact, I'm not happy at all about any of the situation. It would be fucking weird if I was artificially happy all the fucking time, because there's not a lot to be happy about during the death-throes of late capitalism.
You know what makes me happy? Spooning. Kittens. Holidays. Sex. Dreaming about going to live in a cabin in the woods. Delicious food. Binging on mindless entertainment. Extreme sports. Writing.
Should I be attempting to live the dream? Should I be trying to have it all? Should I mix work and pleasure?
Yes, I'm going to do all those things but you have to pay to play and it costs a fuckload of cash to make dreams come true.
I'll leave you with this quote:
"The power of inclosing land and owning propriety, was brought into the creation by your ancestors by the sword; which first did murther their fellow creatures, men, and after plunder or steal away their land, and left this land successively to you, their children. And therefore, though you did not kill or theeve, yet you hold that cursed thing in your hand, by the power of the sword; and so you justifie the wicked deeds of your fathers" -- A Declaration from the Poor Oppressed People of England, Gerrard Winstanley
It's up to the reader to decide whether I'm a Lord of the Manor, born into wealth and enjoying inheritance from my ancestors who plundered and stole. The fact that you've persevered reading this text in English using a computer or smartphone puts you into a certain socioeconomic set and suggests a level of academic achievement, which might suggest you might have benefitted equally from "the power of the sword" although you did not "kill or theeve" yourself.
All I can say of myself is that I'm trying to play by the rules in a rigged game. Nobody said I wasn't allowed to use performance enhancing drugs. This isn't sport, it's survival.
Tags: #medication #bipolar #mentalhealth #sleep #insomnia #career #addiction