This is a story about rushing...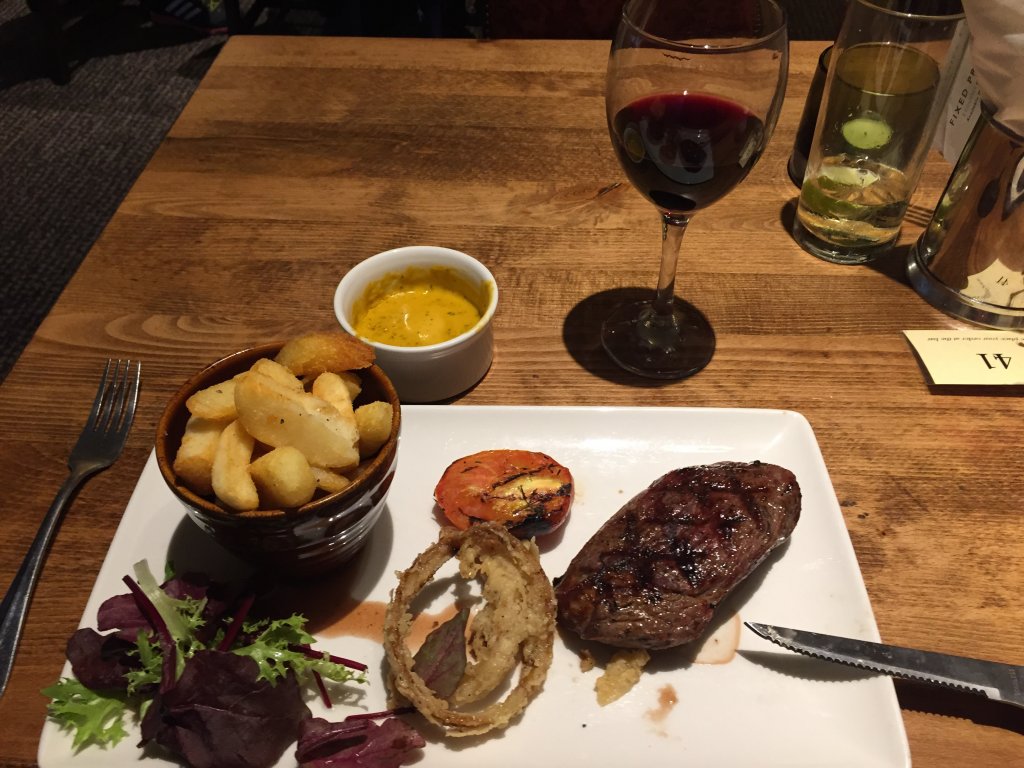 My life doesn't have a lot of highlights. I'm struggling to get up in the morning. I'm bored at work a lot of the time. I'm trying to eat fewer calories, so I'm skipping breakfast and having a very light lunch. My writing has become a bit of a marathon slog as I attempt to write the final few thousands words to reach my 1-million target. The only thing I've got to look forward to is my evening meal.
Because I try to do my writing before I go to the gastropub to eat, I'm always in a bit of a rush. It's a challenge to write ~2,000 words in between a full day at my desk in the office, and the ideal time to arrive at the pub in order to get a table and eat. I write doubly quickly, because I know that the sooner I've finished my daily blog post, the sooner I can go and choose my meal. With that incentive, I have no difficulty pounding out the words very rapidly on the keyboard, before rushing off to enjoy the highlight of my day - pub grub.
You shouldn't do your supermarket food shopping when you're hungry, because you will strip the shelves of products and buy far more than you could ever hope to eat, before the expiry date of the perishable groceries which you've purchase. My eyes are always far bigger than my belly when I've been hungry for a while. I think that being hungry also affects the speed with which I do everything, and my attention to detail. I'm rushing everything and being sloppy, because I just want to get things done as quickly as possible.
I need to earn money, lose some weight and cut down my drinking, but I expect instant results. My writing target is within spitting distance now, but I'd have never reached this point if I tried to do it too quickly - I've had to pace myself. My finances are improving but I'll never get financial security if I don't keep turning up at the office every day - even though it's torturously boring - for many many more months. I'm really not enjoying my semi-sobriety, but I'm not going to feel the benefit unless I keep it up for a decent length of time.
It's been a month since I started my new job in a new and unfamiliar city. For a whole month I've been living in a hotel midweek and eating in the same pub every night. For a whole month I've been dividing my time between the city where I have my apartment and the city where the office is.
In the last month I've managed to quit the sleeping pills and painkillers I was using to cope with stress and anxiety. In the last month, I've managed to cut down my drinking drastically. In the last month, I've stopped being so antisocial and wasting the whole summer indoors drinking wine. I've earned some more money, which is slowly making a dent in my debts. It's reasonable progress.
I don't feel particularly good.
My working day is a struggle. My living arrangements are a struggle. My life lacks an adequate amount of things to look forward to; moments of joy. I keep losing hope that I'll be able to maintain the stability and keep up the routine, because there are so few moments when I'm happy and content. The struggle to get up in the morning is not just a phase - it's going to be a struggle every morning for months, if not years. The struggle to get through the working day is not just a temporary struggle... it'll be permanent while I remain trapped in a career which I outgrew very quickly when I was young.
There's no obvious reason why I shouldn't be able to keep up the routine. What's so bad about a well-rehearsed sequence of actions which starts with me washing and ironing my clothes for the week ahead, packing my bag, driving to the office, checking into the hotel, eating in the pub, driving home. What's so hard about that? The problem is the lack of all the other 'stuff' which makes a liveable life. Where's my social life? Where are the holidays? Where are the hobbies and interests? Where's any of the 'stuff' which gives my life any meaning?
Work is meaningless because it's the same old crap that I've been doing full-time for 21+ years, which was easy and boring when I was in my late teens, let alone now. Work cannot be the thing which defines me and is all-consuming, because that's unhealthy and I know I'm never going to find fulfilment as a member of a huge team in a gigantic organisation. I feel a lot better about the morality of what I'm doing since I quit investment banking and moved into the public sector, but the waste is pretty sickening. Of course the public sector was never going to be particularly dynamic and fast-paced, but it's not that much slower than most of the big private sector organisations I've worked for. I know that startups are too demanding and too much risk though, and they'll make me sick by using and abusing me.
I need to get to the point where I've served my time and been thoroughly miserable for enough years that I have a substantial sum of money saved up, such that I can dare to dream. Perhaps things will be better when I'm financially secure enough to be able to spend my boring days in the office planning my next holiday. The misery of the unchallenging office job was much more tolerable when I spent my weekends kitesurfing, and I was jetting all over the globe looking for the best kitesurfing locations in all kinds of exotic locations. Perhaps my misery is largely due to the fact that all I do is work work work - I'm on a very tight budget.
There's no rushing my finances, unfortunately. There's no way I could earn money any quicker than I am doing. Money floods in at a fairly obscene rate, but I was very very deep in the hole, so it also costs a lot of money just to stand still. I can't believe how much money I'm earning, but yet it's still taking agonisingly long to get ahead.
Playing the waiting game is awful. I'm clock watching all the time. My alarm clock is the most dreadful intrusion on my day - the worst moment. Sometimes I'm not even tired, but knowing that I have to go and sit at a desk and be bored out of my mind is thoroughly depressing in a way which is soul-destroyingly exhausting. Mid-morning I panic about how slowly the day is dragging. Lunchtime is over in the blink of an eye, especially since I started having a super-light lunch which always leaves me still feeling hungry. The period from 2pm to 3:45pm is the very worst - at 2pm I can't believe how much of the day there still is to go, with nothing to occupy or entertain me. I often think I'm going to have to walk out, because I can't stand it. It doesn't matter how much I'm earning - it's not enough. Finally, it's a respectable time to leave the office - even though I'm frequently late for work - but all I have to look forward to is another long wait until it's a respectable time to eat my dinner. It's 6:23pm right now, which is very early for an adult with no children to eat.
My evenings were also unpleasant, and especially so since I've drastically reduced my alcohol intake. My cravings for booze were pretty incessant and it was hard to read or watch TV when all I could think about was how much I wanted to get a glass of wine. However, I've found some stuff that I'm enjoying watching and I'm starting to find it easier to relax and enjoy my solitary leisure time in my hotel room, without getting drunk.
I had planned to get drunk every single night until I'd regained financial security. Getting drunk was going to be my reward for doing a job I hate in a place where I don't want to be, all alone living in a hotel. I was prepared to put my entire life on hold so I could earn as much cash as possible as quickly as possible, and I'd have virtually unlimited quantities of alcohol to help me white-knuckle my way through to the end. The problem is that my health was being destroyed surprisingly rapidly - I was putting on weight and feeling very unfit and unwell. If I'd kept drinking as much as I was until the end of my contract in just over a year's time, I wouldn't be able to enjoy my hard-won wealth because I'd be fat and quite possibly have some very serious health issues to deal with as a consequence.
Comfort-eating is my only pleasure at the moment, as I'm single, living away from home, trying not to drink, not socialising and generally in a temporary state of suspended animation. I can fulfil the very few demands of my day job with less than 1% of my brain and I'm just waiting for enough paydays to restore my financial security. I've stopped everything except for the few core things which keep the hamster-wheel turning.
It's not particularly as if it's worthwhile making friends and getting a local girlfriend. It's not particularly worth investing in life in a place where I have no intention of staying beyond the maximum I absolutely have to in order to achieve my purely financial objective.
I pound out the words on the keyboard every evening after work, in groundhog day repetitive scenario. I pound out the words because it's a fleeting distraction from the endless waiting. Waiting for the money. Waiting for the end. Wishing my life away.
Some people would imagine that I'm impatient and impulsive, because of my mental health problems and my struggles with addiction. Stimulant abuse is particularly bad for damaging the pre-frontal cortex of the brain, which is responsible for executive decision-making, and importantly the ability to curtail stupid impulses. In fact, I spend my whole day suppressing the nearly-overpowering instinct to get up and walk out; to walk away from the torturous bullshit boring job. In fact, I'm one of the most patient people you know. Why do you think I get paid so much? If my job was pleasant and easy, everybody would be doing it.
I spend all working day in front of the keyboard and screen, then I flip open my laptop lid and spend some more time in front of the same type of keyboard and the same type of screen. The clock is in exactly the same position in the top-right hand corner of the screen, which my eyes instinctively flick up to, constantly aware of the slow passage of time.
Since I wrote what time it was, nearly 20 minutes have elapsed. I'm 20 minutes closer to my meal. I'm 20 minutes closer to the day when I've earned enough money to start to dare to dream. I'm 20 minutes closer to the moment I die, when I can finally enjoy some peace from this torture.
I'm off to the pub. I'm tempted to have a drink.