This is a story about the bitter end...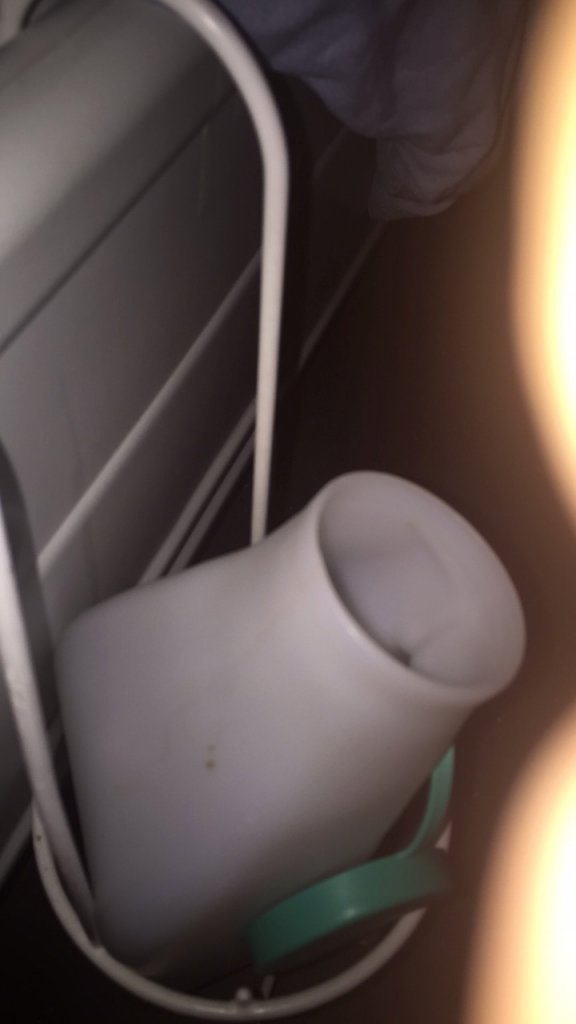 For a devout atheist, I can be surprisingly superstitious. I seem to have survived Jinxed January without losing my job, becoming homeless, going bankrupt, being hospitalised, getting sectioned, getting arrested, getting anybody pregnant, committing any crimes, taking any illegal drugs, contracting a terminal illness or dying. Epic win.
I looked in my photo archives to see what I was doing this time last year. Apparently I was pissing in a bottle, hospitalised on a high dependency ward with kidney failure. On my blog, I was writing about "what would Jesus do?" so I was clearly pretty deranged, but then I was on dialysis for several hours a day, which was not exciting so I'm sure my mind must have been wandering a lot. On Facebook I was jabbering about a cocktail of painkillers, sleeping pills and tranquillisers I was taking to try to get some sleep on the ward. I feel relatively sane and happy by comparison - my life looks quite peachy compared to that unfortunate period.
I looked back two years ago to see what was going on at the end of January and there's a gap. I simply ceased to exist for a few days, before popping up and writing over 3,000 words about all manner of things. It looks pretty conclusive that I was in the vice-like grip of madness and shenanigans.
I can't look back three years on my blog, because I only started two and a half years ago, but I do know that three years ago today I was staying with friends in County Cork, Ireland. My contract with Barclays had been terminated early, I'd broken up with my girlfriend, lost loads of friends because of the breakup and I had been evicted from my apartment in Swiss Cottage. I needed to escape from London for a bit, because I couldn't take any more, and so my friends looked after me in rural Ireland. Not so jinxed, but pretty jinxed because my life was still totally messed up.
I can see from an email that four years ago I was receiving inpatient treatment for dual diagnosis - bipolar and substance abuse - after the messiest and most acrimonious divorce you can imagine. My life was profoundly dysfunctional - I'd only just managed to escape "the poison dwarf" and the relationship that nearly killed me. My stuff was in storage and I was living with friends in Kentish Town. My new business had been put on hold because the divorce and house sale had been too much for me to handle. I'd been surviving by mining bitcoins, but the price had crashed and I was in big trouble, even though I'd managed to cash in at $1,100 per bitcoin.
I can't see my email from five years ago, because I lost my original Google Mail account, which I'd had since soon after GMail launched for public beta testing. I can see that I was late for my appointment to see a psychiatrist who I'd found (albeit a week later) so I imagine that things were pretty dire... although I clearly had the presence of mind to find a private psychiatrist and arrange my own treatment, so I'm guessing this was the beginning of the descent into Hell. This time five years ago - roughly - my new wife told me that she wanted to be a widow and that she wouldn't let me have the treatment I needed. This time five years ago, I was trying to find people to help me, while my wife and my parents broke my heart. This time five years ago, I realised that I needed to get my parents and my wife out of my life at all costs - I realised they're toxic people and that if I wanted to have any kind of future, they couldn't be part of it.
Five years of insanity is a hell of a long time. In those five years, things got a lot worse before they got any better. In those five years, I sorely missed my house and my cat. In those five years, I sorely missed the life I'd built for myself, with my friends and my good reputation and my good job. I threw away a lot, taking a gamble that I'd be better off in the long run. The last five years have been insane, but I don't see how I could have extricated myself from the situation any better. I've played the best I could with the cards I was dealt.
I'm sick and tired of Jinxed January, and I hope I've seen the back of it; I hope I've broken the curse.
Of course I tempt fate by saying that now I've had one un-jinxed January then I've got things sussed and it'll all be plain sailing from here. Of course there are going to be Foul Februarys and Miasmic Marches but January has been my nemesis for so long. I don't want to get cocky and complacent, but it's a big deal that I've beaten this dratted month. February and March are going to be dreadful, but at least I have a few quid in my pocket, no imminent threat of homelessness and nothing particularly awful on the horizon. I have another month of paid work ahead of me. For once, I have a few things going in my favour.
You might see that my biggest fight is with myself. Of course, there's work available year-round and my skills mean that I'm never going to go hungry and homeless, except through spectacular self-sabotage. It seems obvious that I should just quietly and obediently pop the pills and behave myself. It doesn't look that hard to just get my head down and concentrate on working hard to get myself back into a position of financial security. To say that by the end of the year I could be well and truly wealthy again, seems like no time at all to you. However, you must remember that I march to a different beat. My timescales are not the same as your timescales.
I'm not going to get paid for the whole of February. A very Frugal February beckons. The weather's just as dark and miserable in February and my job will be just as isolating, lonely and boring. The unfavourable conditions very much remain unpleasant and unconducive to any mood improvement. However, the so-called short month of February does seem like a less daunting proposition than Jinxed January was. I'm cautiously optimistic.
Another month without an almighty fuck-up is a huge achievement, in the context of my messed up 5 years of Jinxed Januarys. If I'm being superstitious, so be it, because it's helped me to avoid going off the rails.
I'm really pleased with where I'm at actually. Drink and drug free, unmedicated, as sane as I'll ever be, relatively settled in my home life, regular(ish) income and gainful employment. There aren't too many loose ends to tidy up. I'm on top of my taxes and my paperwork. To be in this position, at this dreadful time of year, where I don't have anything looming that's of major concern, is a really big deal.
I submitted another invoice to my client, and even though I lost over £4,000 of potential earnings this month, I'm still in profit after expenses. The money's not in the bank yet, but it's on its way. Perhaps it will be good to spend another month being a little thrifty - money after all, can be something that's triggering.
Of course, I'm getting ahead of myself. I'm imagining that by the end of February, my financial woes will be mostly ended. I'm imagining that by the end of March I'll be feeling positively wealthy again. I'm projecting into the future, and that's bound to end up making me miserable. I still have a whole month more of my miserable boring contract to do. I need to start looking for the next job, at some point sooner rather than later. I can't make tomorrow come any sooner, and I shouldn't wish away today.
What can I say, except I'm slightly glad that I didn't throw away a perfectly salvageable situation. I'd still rather be dead, because it's been a lot of stress and hassle, but I'm alive so I'll carry on for a bit longer and see what tomorrow brings.
Tags: #depression #suicide #divorce #career #mentalhealth #bipolar