This is a story about individualism...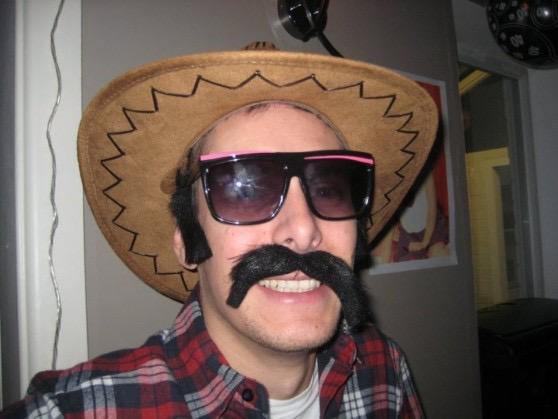 It's fun to dress up. It's fun to put on a silly voice. It's fun to wear make-up. It's fun act camp; to mince around. It's fun to belong to a subculture; to be able to identify with your 'kind' - your clan or tribe. It's fun to think of yourself as special and different. It's fun to have a sense of belonging and a strong sense of identity.
Take a walk down Old Compton Street in London's Soho and you'll see lots of men with shaved heads and moustaches wearing white sleeveless T-shirts. They call them clones. The clones are kinda über-masculine - they're generally stocky, muscly men and their bald heads and moustaches accentuate their extreme masculinity. They're so masculine that they live in an all-male world. There's a kind of hyper-sexuality to the clones coupled with a general sense of aggression and strength. It's notable that the clones appeared on the scene before the acronym LGBT started to gain all the additional letters, and vast numbers of teenagers started to become non-binary and pansexual.
In a world of toxic masculinity the pressure on cisgender (i.e. straight) white middle-class men has become unbearable. Born with original sin which means that to whisper "me too" when entering the highly charged arena where everybody claims to be an oppressed victim, is to be aggressively abused by every identity group, from feminists to LGBTQQIP2SAA gender-queers. "Check your privilege" we are told, when it's blatantly obvious that only a very tiny minority of white straight men are the ones who wield any power and control. It's highly unpleasant to be blamed for a situation that I neither created nor supported and I have no power to change.
Viewed as a "success object" I'm regularly asked about my ability to provide, which is like having somebody lecherously staring at my breasts. "Do you own your own home? What car do you drive? Do you have a well-paid job? Do you have a prestigious job title?" I'm asked, with a complete lack of subtlety that I'm being probed to find out if I'm wealthy and conventionally successful or not. It's like having my bum pinched or squeezed. It's like having a lewd pervert mentally undressing me.
I cringe with embarrassment that I wrote a blog post [now deleted] entitled "Feminazi" once, with only a hint of irony. I was trying to annoy an ex because I was in a messed up state - very unwell - and I was suffering some rather strange thoughts and ideas. I'm making excuses where none can really be made, but that's what I did, and I'm ashamed of myself. In the blog post I listed all the many disadvantages of being a man, such as 97% of workplace deaths, 99% of combat deaths, 79% of suicides etc. etc. Those things are all very good evidence that modern man has a pretty tough gig, but I was flirting with misogyny at times and presenting my beliefs with an unhealthy amount of anger and bitterness driving what I was writing.
I wish I was gay.
I've wished I was gay for a very long time. I've tried my very hardest to be gay but it's just not for me, unfortunately.
The reason why I want to be gay is that I've found the homosexual world to be more to my liking than the world in general. I like the quick and easy casual sex of Grindr. I like the flamboyancy and femininity of acting camp. I like the 'scene' and the identity that being gay brings - they don't have "hetero pride" parades, do they? I mainly like the fact that I can be ogled as a sex object and be passive, with potential sexual suitors buttering me up and massaging my ego, and all I have to do is decide who I want to have sex with. In the hetero world as a cisgender man, it's stressful taking risks, making the first move, trying to impress and having horrible knock-backs; it's a lot of pressure to present yourself as eligible and successful, and having gone to all the effort of getting a girlfriend there can be power struggles, with sex and children used as pawns and men are the usually the ones who lose out.
Of course by now, you're probably screaming at the screen that it's harder being a women, gay, trans or whatever particular thing it is that you identify as. You're probably very offended. You probably believe that my opinion is somehow encroaching on your rights and that I'm stealing valuable airtime which needs to be used exclusively by oppressed minority groups.
Everything I write, I worry that I'm somehow veering dangerously towards opinions that would be more at home on Brietbart. I consider myself to be an open-minded lefty liberal who's been through bi-curious periods of life and is quite comfortable with my identity, insofar as I don't think I'm homophobic or transphobic. I really don't think I'm a misogynist, although I admit that I rather bristle with annoyance that men's issues cannot be openly discussed without aggressive hostility being directed towards men who are suffering some very real and extremely horrible issues, and simply want to share their opinion and experiences. Obviously, to be lumped together with the likes of Donald Trump because I'm also a wealthy white man, is quite offensively racist - I'm not part of the so-called patriarchy just because of my skin colour and socioeconomic circumstances.
All these things are unspeakable.
I'm quite well aware of experiments such as this one: Two groups of psychiatrists are given identical case notes on a fictitious person, but one group is told that the person is black, and the psychiatrists in that group will view the fictitious person as much more violent, suspicious and dangerous, even though the only difference in the available evidence is skin colour. Clearly, people of colour still experience dreadful prejudice and discrimination, but we should be able to discuss other instances of prejudice, discrimination, oppression and abuse without considering certain things to be 'off limits'. I know that anybody who said "all lives matter" in response to the Black Lives Matter movement, was heavily criticised for seemingly undermining the central point: that black people suffer a grossly disproportionate amount of police brutality, incarceration and general mistreatment by the criminal justice system. I don't write in reply to movements which seek to reduce rape, sexual assault, discrimination, racism, bigotry, homophobia, transphobia, hate crime, oppression, exploitation and all the other awful things that are going on in the world; I write in addition. Holding and expressing my opinion does not diminish, discredit or undermine anybody else's struggle.
I'm on extremely dodgy ground.
I feel vastly outnumbered. I can't count myself amongst the angry white working-class disadvantaged men who swill lager and spout racial hatred with a St. George's flag draped around their chubby shoulders. I can't count myself amongst the highly-educated metropolitan liberal middle-class elites, although this is the group I most closely identify with. I can't count myself amongst the homeless addicts and alcoholics, although this is the group I'm most socioeconomically closely related to, surprisingly. I've tried my very hardest to be gay but I'm clearly not able to join the LGBTQQIP2SAA club, despite my best efforts. I know that there are men like me - at least in terms of gender, sexual preference, skin colour, education and wealth - who have successfully infiltrated feminism and groups of Social Justice Warriors. Perhaps I could ally myself with a group of outraged individuals and add my angry and aggressive voice to the unified noise that they create. I would certainly like to feel that I safely belong to a group, rather than being an outlier who holds very untrendy opinions which could even be mistaken as similar to those held by horrible gangs of knuckle-dragging thugs.
Am I a racist, bigot, homophobic, transphobic, misogynistic fully paid-up member of the patriarchy, responsible for the oppression of all the very many minority identity groups who'd gladly queue up for an opportunity to abuse me? I certainly lose a lot of sleep at night worrying that I've unwittingly wandered into the less extreme fringe territory of the groups that I detest: the right-wingers.
I'm somebody who's had a lefty liberal multicultural upbringing, and who has been open minded to the point of being almost a terrorist apologist, so desperate am I to distance myself from the Islamophobia sweeping the UK and US. I'm somebody who's always aspired towards equality in the workplace and at home, and has lived and worked in environments more diverse than any other place on the planet: 110 languages are spoken in London, which is twice as many as the next most multicultural city. Is it possible that I'm actually the enemy? Is it possible that I don't know myself at all, and I'm actually chomping at the bit to get swastikas tattooed all over my body and then go tell some women to get back in the kitchen, before kicking a transexual to death?
What has happened in the world where I feel like I've done something wrong and I'd better keep quiet for fear of causing offence and becoming a target for abuse? Why do I feel like I'm speaking the unspeakable? Why do I feel like I'm uttering heresies which no member of the lefty liberal metropolitan elite should ever utter? Why do I feel like I'm risking further isolation, loneliness, exclusion and being viewed as the enemy by people who I like and respect?
I wonder what my right-thinking right-on friends would say if they read this. I fear that they think I've been driven into the arms of the Brietbart brigade and I've become a nasty horrible right-wing scumbag. Is that possible? Have I missed something? Am I sleepwalking into enemy territory?
Tags: #gender #sex #gay #racism #bigotry #identity #politics #feminism #sexism #patriarchy