This is a story about nerve damage...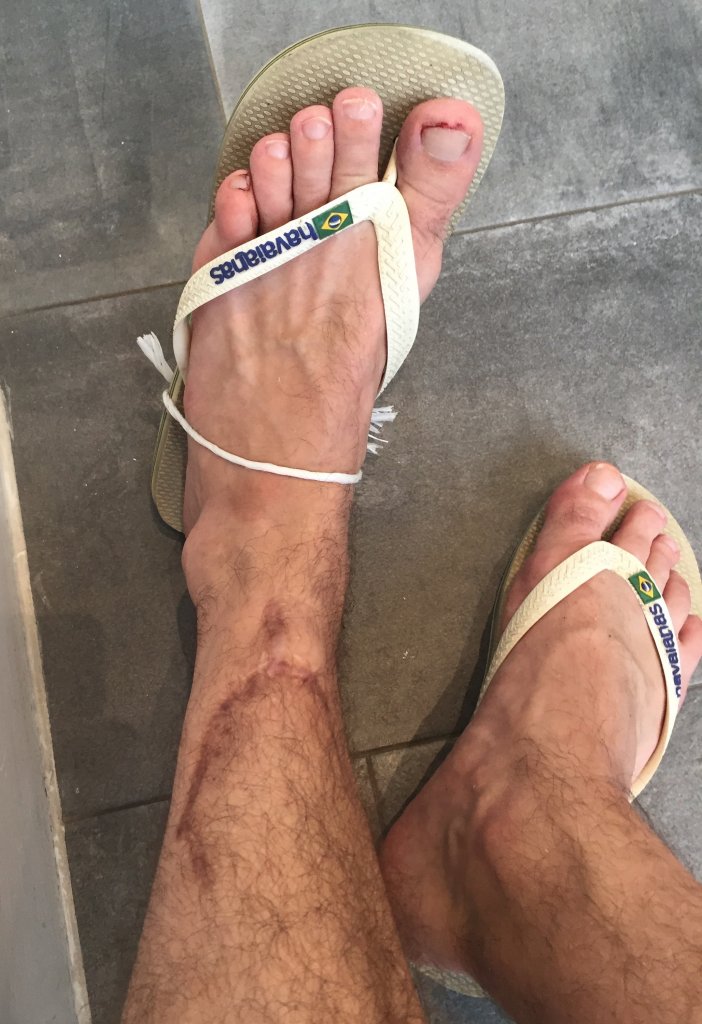 As you can see from the picture above, I had a very bad injury to my left leg. What you might not know is that the massive lesion to my leg healed perfectly. Some nerves were severed when a piece of mirror glass guillotined its way through my shin, but the nerves managed to regrow. The severed tendons and muscle was sewn back together and my leg had completely recovered.
Then I got DVT (deep-vein thrombosis).
The first I knew about the DVT was that my ankle looked a bit swollen and my foot went numb. It was the fact I hadn't needed to urinate for several days which prompted me to go to hospital. On the day I decided to go to hospital, my foot, ankle, leg and knee were swelling at an alarming rate. By the time I was examined in Accident & Emergency, my left leg was almost fully twice as large as the right leg.
My weight soared from around 80kg (176 pounds or 12½ stone) to 95kg (209 pounds or 15 stone) which is a heck of a lot of weight gain for 5 or 6 days. It took many many sessions of dialysis to get that fluid out of me, while the hospital anxiously waited for my kidneys to start working again.
Unfortunately, the blood clot/thrombosis and other complications caused nerve damage. Presumably the blood vessels which had been surgically repaired and the nerves which had managed to re-grow and re-attach themselves, were quite fragile versus normal physiology. My foot went numb.
To be more accurate, my foot was left numb after many months of excruciating pain.
I had a nerve condition study and an MRI scan, but there was still a lot of swelling and other damage, making it unclear whether a surgical intervention might ever return the feeling to my foot. My main concern at the time was pain management, because it was too painful to walk any great distance, and pain kept me awake at night very badly. I was taking the maximum dose of tramadol AND codeine, plus supplementing prescribed painkillers with dihyrocodiene and other opiate medications, which I bought on the black market. I was briefly a very heavily dependent opioid painkiller user.
Opiates have weird side-effects. I couldn't tell whether the nausea, itching, constipation, cramps, sweating, diarrhoea, and intense anxiousness about maintaining my supply of opiate painkilllers, was a result of their effects or the effect of withdrawal. All I knew was that I would have periods where I felt incredibly rubbish, and then periods where things were more bearable, despite dosing myself regularly throughout the day.
The thing which made the greatest difference - other than a loving, caring, attentive and wonderful girlfriend - was a topical ointment containing diclofenac, which is a NSAID (non-steroidal anti-inflamatory drug). Because of the earlier complications with my kidneys, many medications were contraindicated. Perhaps I shouldn't have used the diclofenac gel, because it's not very kidney-friendly, but it was the only thing which gave me any reliable relief.
It's possible that most of my pain was related to opiate withdrawal and strange interactions between the tramadol, codeine and dhydrocodeine, which I should not have been combining, but I did so out of desperation for pain relief. It's possible that in my desperation for pain relief, I actually made things worse. Perhaps tramadol alone would have been more effective.
Eventually, I decided that I hated all the effects of the opiates, so I decided to go cold turkey. I had been heavily opiate dependent, for a period of several months, so I was expecting to experience pure hell quitting the opiates. Certainly a lot of noise has been made about the addictiveness of OxyContin, Vicodin and other painkillers which have been implicated in the opiod addiction epidemic sweeping the United States, declared a nationwide public health emergency by President Obama on October 26th 2017.
Back in July 2017, I tried to walk from my apartment to my local Chinese takeaway in flip flops - a distance of about 500 metres. I could not walk more than ten paces without the flip flop coming off my left foot, because it was so numb and my toes were somewhat 'clawed' such that I couldn't hold the flip flop on my foot or tell when it was slipping off.
For almost all of 2017 I was taking a neuropathic painkiller called pregabalin - marketed as Lyrica - which I found to be quite effective. However, it occurred to me that this painkiller might have been preventing the natural nerve re-growth which had successfully healed my severed nerves once before. After 9 months with no improvement to the numbness in my foot, I was becoming quite depressed about the prospect of never regaining any feeling in my foot, and consequently never being able to wear flip-flops again, without tying them onto my foot as pictured above.
I like wearing flip flops. They're an important part of my beach bum seaside-dwelling kitesurfer identity.
I decided to stop taking pregabalin.
If anybody tells you that pregabalin is not addictive, they're just plain wrong.
Pregabalin quite recently became a scheduled drug in the UK, making it illegal to possess without a prescription. Pregabalin affects the GABA system of the brain, just like alcohol, Valium, Xanax and GHB/GBL, which are all considered to have a high abuse potential, so naturally pregabalin is no different.
Of all the drugs I've quit and medications I've withdrawn from, pregabalin is one of the worst. Because of its tranquilising and sedating effects, the rebound when withdrawing creates a state of insomnia, anxiety and induces the general sensation that the world is about to end, which lasts for months.
I quit pregabalin under the supervision of doctors, tapering the dosage down gradually, but it was a pretty aggressive schedule, which was chosen by me. I wanted to quit pregabalin as quickly as possible, because I wanted to find out if it would help my nerves re-grow and allow me to wear flip flops again, or indeed be able to feel a kitesurf board underneath my feet.
Pleasingly, I can report that I put on a pair of newly-purchased flip flops tonight, and I was able to walk around without the left one falling off.
My left foot feels different from the right one, but I do have some sensation restored and I don't have the aches and pains which troubled me during a lot of 2017.
It might seem like a minor point, but it's actually something that has disproportionate imporance in my life: To be able to wear flip flops again is a big deal.
Life is better in flip flops.
Tags: #accident #injury #dvt #hospital #kitesurfing #beach #summer #sun #holiday