This is a story about repetition...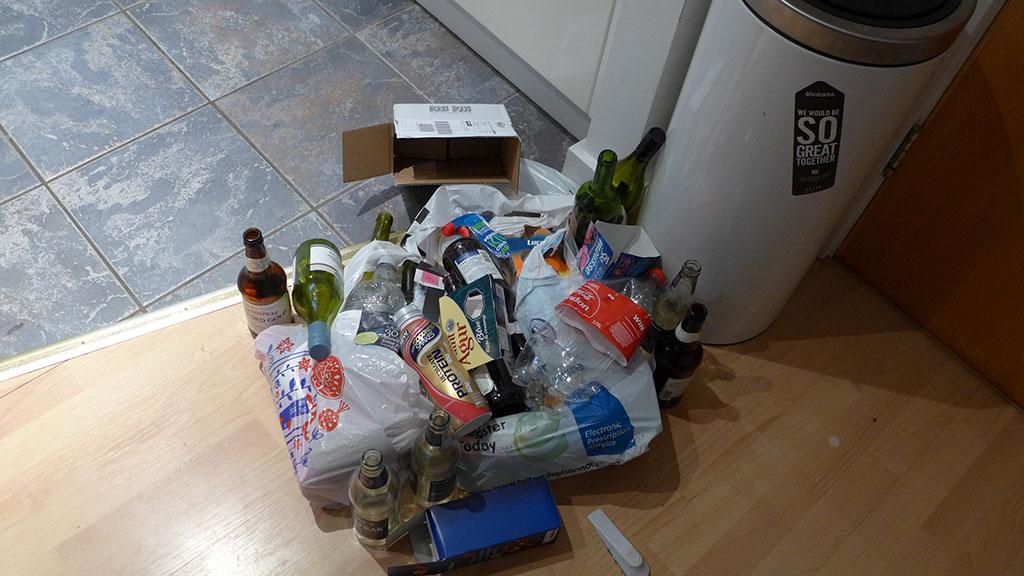 Drug addicts and alcoholics know a lot about relapses. What dreadful consequences they suffer when they fall off the wagon. Am I immune from such things? Am I the first person in the history of humanity to outsmart addiction? No. Of course not.
Readers who have followed any of my story might wonder if I've started drinking again, or have become addicted to sleeping pills again. No. No I have not.
I went to the supermarket yesterday - a big fancy supermarket with lots of lovely things to choose from - and it was difficult to stay away from the alcohol aisle, but not impossible. The whole point about being an alcoholic or an addict is that you're powerless over the substance(s) that you're abusing. I do not offer my successful self control as evidence of my immunity to addiction and alcoholism, but it does prove that I'm in control, which cannot be said of those unfortunate wretches who are in the grip of active addiction and/or alcoholism.
Rehabs are full of charlatans who claim that they have a magic cure for addiction and/or alcoholism, but all recovery comes from within - how bad do you want it? I'm not saying that those who are killed by their addiction and/or alcoholism didn't want to be clean and sober, but they clearly wanted to be drunk and high more than they wanted to avoid their inevitable demise, or else they wouldn't have died. Unfortunately, the self-reinforcing draw of addictive substances can overpower the best of us, and although I do view addicts and alcoholics as "victims" of a disease, it's also demonstrably clear that people who have no problems with drink and/or drugs - including those people 'in recovery' - were simply lucky enough that the scales were tipped marginally in their favour.
My life has potential which would be churlish to deny. It's not fair for me to say "everything is ruined so I give up" when clearly I have high earnings potential, and with money comes opportunities to escape a miserable life and get a better one. Sure, I can get overwhelmed and decide that I don't have any energy left to keep fighting, and I would quickly be wrecked and ruined by our over-competitive coercive and exploitative society, which would dearly love to trample me underfoot, but I stand a better chance than most people of escaping the rat race.
Yep, I cheated a couple of times this week. I used a sleeping pill on a couple of nights to help me force my sleep pattern into the one which capitalism demands. I used a sleeping pill to combat the incredibly negative side-effects of social jetlag, caused by the toxic demands of office hours, contrary to human health and welfare.
Did I relapse? Nope.
What does relapse even mean for me? I've never been an alcoholic.
What does relapse mean in terms of mental health episodes? My mania-driven achievements are widely celebrated and cheered on by the capitalists who've been assisted by my immense productivity, which has been almost superhuman, but has come at great personal cost. My mental illness has been on public display for many years, yet my paymasters don't care because I'm delivering the goods - so long as I keep up the successful results, my violent mood swings are tolerated, and the results of my manic episodes are highly prized by all involved, especially by those who provoke me into doing high-pressure projects with unrealistic deadlines.
I hope - eternally - that the repeating patterns are not on a downward trend. I attempt to learn from each mood cycle, and to hold onto the gains and not give up so many losses. I try to limit the downright outrageous negative consequences of unrestrained mania, and I try to fight through the devastating depression that follows, forcing myself to keep inside the artificial constraints of some reasonable tramlines, knowing that it will be ultimately beneficial for me and help me to escape from the boom and bust... most importantly to escape from the bust!
Self medication with the occasional sleeping pill is infinitely preferable to routine intoxication with copious amounts of alcohol, although it's easy to convince myself that neither has any long-term ill effects, clearly my health will suffer if I drink heavily on a regular basis, even if my wealth and professional reputation are not impacted.
It's all a bit boring really. Uneventful. I'm very good at putting one foot in front of the other, I just don't like it very much, especially when going on a journey I've done a million times before. There's not much pleasure left in renting a house, moving my stuff, starting a new job, impressing new colleagues or delivering a project which is exactly the same as every other project I've ever delivered in my long and illustrious career. I just do it for the money.
Some might accuse me of being a dry drunk but they are idiots. Every day that I struggle through the rat race puts a significant amount of pounds, shillings and pence into my pocket. Every day that I force myself to do the intolerable shit that I have to put up with, is a large step closer to freedom. I have no need to adopt a significantly different life at the moment, because the life I have is staggeringly lucrative, which unfortunately means that it's the quickest route to financial independence and housing security, which is the most important thing for my health and wellbeing.
Sobriety between now and the end of October is something quite welcome - it will help my health immensely. Working between now and the end of my contract, on Halloween, is something that will help my wealth immensely. It's incredibly dull and boring, but it's got to be done. It's easy, but it's repetitive. When was the last time that you put up with a shit job that you hated? Probably never. When was the last time you spent years doing boring, repetitive, easy stuff? Probably never. You just wouldn't put up with it.