This is a story about being trapped...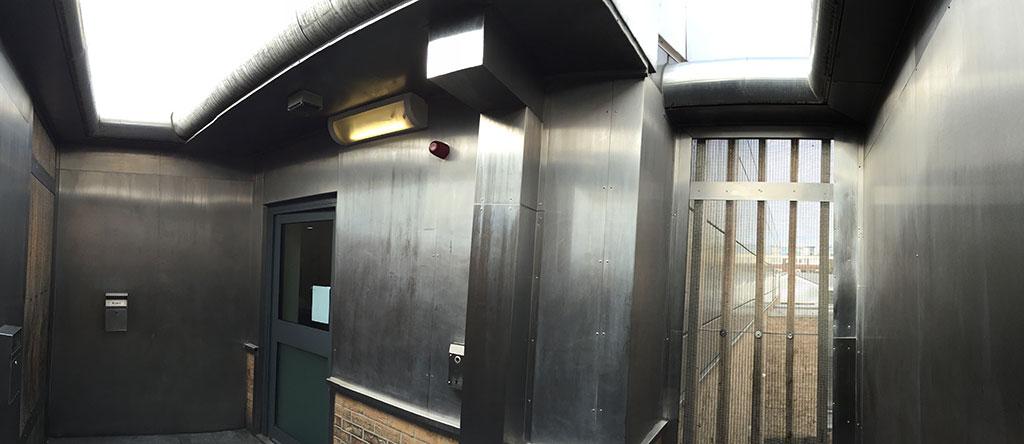 Believe it or not, I took this photo inside a locked psych ward. Looks like an inviting place, right? Looks like a calm therapeutic setting for sick people, right? This isn't Broadmoor Hospital for the criminally insane - this is a regular psych ward for sick people.
I keep wondering about what went wrong in 2015 that meant I ended up in that psych ward.
I keep seeing worrying similarities with then and now.
I was working on the number one project for a big organisation - same then and now.
I was playing a pivotal role in an important part of the project - same then and now.
I was getting stuff done and playing by my rules, and nobody was stopping me. Indeed I was being encouraged and applauded - same then and now.
I was irritable, impatient and intolerant of fuckwits - same then and now.
I was incredibly annoyed by anybody who got in my way or slowed me down. I had no time for distractions or anything which wasn't going to contribute to the success of the project - same then and now.
To all intents and purposes, it looks frighteningly similar.
But.
I think the straw that broke the camel's back was that I had to move house. I had to lay out about £6,000 in rent, deposit and other fees, and I then had the pressure of earning £500 per week, just to pay my rent. It was stressful - as moving always is - and it was also an incredible amount of pressure to make that kind of money, just to keep a roof over my head.
I'd been living in a hostel and then a hotel - I had been homeless. OK I hadn't been sleeping rough since earlier in the year, but homeless is homeless. I'd had a very rough year. I'd been homeless for 8+ months, before I finally managed to get a place to live that wasn't a sleeping bag in a park, hostel bed in a dorm, or a hotel room. It's rough, being homeless.
I didn't have any financial cushion back then. I don't really have a financial cushion now, but my credit cards aren't maxed out and I don't have tax bills to pay until the end of the year, so I'm in slightly better shape than I was in 2015.
My brain chemistry had been very badly messed up back then. I hadn't had any stability. My life had been chaotic. My mental health had been atrocious. At least this time round I have been working nonstop for the best part of two straight years. The problems I've had recently have been short-lived and not caused any major problems. I can't remember the last time I was too sick to work. My mood is pretty damn unstable, but probably not as extreme as it was back then.
What's going to make me wake up one day and decide that I need to be sectioned and re-admitted to a psych ward? What's going to break me and render me unable to carry on going? What's going to be the straw that broke the camel's back?
Interestingly, I quit drinking back then, like I've quit drinking now. I think being sober was part of the reason why I became unwell - I had nothing to help me self-medicate.
Maybe I've stopped drinking and stabilised soon enough to allow me to be alright this year, but I already see warning signs: I did something really dumb in the office, which has damaged my reputation and made colleagues unwilling to help me out; to support me and to want me to stick around. I'm making a mess of things, now just as much as I did back then.
Does being aware of this repeating pattern of behaviour make me any more able to avoid it? Not really. Things are so hectic and intense, and I'm so tired and stressed and anxious, that I'm surviving using instinct. The stuff that comes out of my mouth, which is the reason why I'm doing so well, because it's useful stuff that's getting a project delivered, has turned into dumb stuff which makes people not like me very much. My engineering expertise is now being peppered with dumb stuff; regrettable and unprofessional. After an enormous amount of effort to get a very difficult project over the line, I'm exhausted and my mask is slipping; I'm making mistakes. I can't help it - my instincts are all I've got left, because I'm spent.
I'm definitely going to keep pushing ahead with this sobriety thing, because my alcohol consumption had gotten out of control really quickly. However, I don't want a re-run of exactly what happened in 2015, because it undid all my hard work; all my valuable contribution was wasted - all anybody could remember was that I got sick. All the hard work that got the project delivered didn't matter in the end. All that mattered was how things finished up. I might as well be yet another plodding idiot, doing a fucking mediocre shit job, and concentrating my effort on not saying anything objectionable, rather than busting my balls to get shit done and deliver something really hard for an impossible deadline. Why did I even bother?
I'm not quite sure how to navigate the tricky waters of the next couple of months. I have enormous challenges, in trying to rescue my reputation and help my colleagues to remember that I made a massive contribution, and not just see the recent screw-up I made when I was exhausted and strung-out. I have an insane amount of pressure to get another contract sorted and keep the money rolling in. I have a huge risk that I'm going to collapse, have a breakdown and be unable to work, which will ruin everything. It's almost intolerable.
The next 5 or 6 weeks are going to make me or break me.