This is a story about doing a rushed job...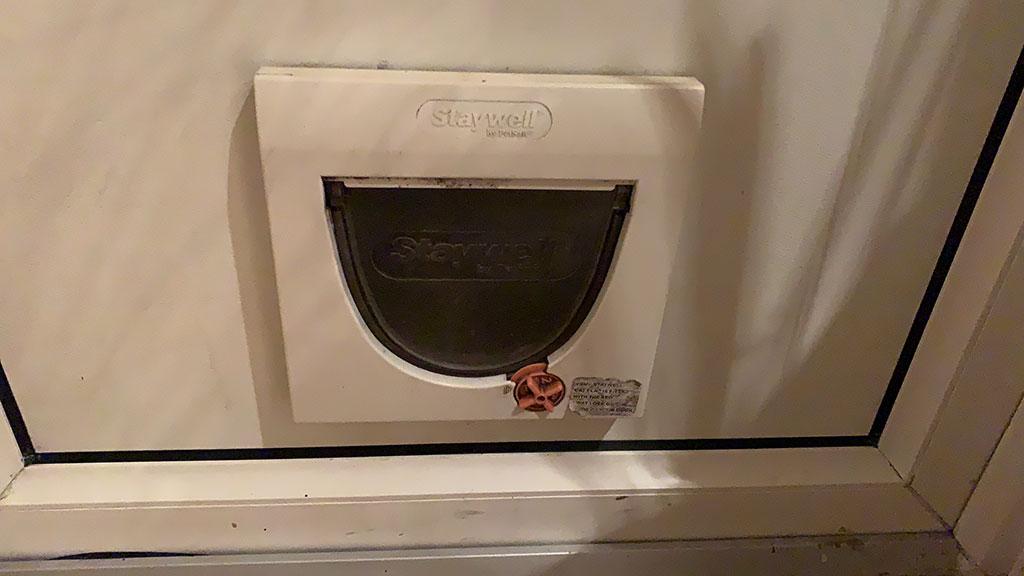 Here is a picture of my cat flap. I've been thinking about getting a cat because I miss having a furry friend and I think it would improve my life to have a pet in my life. Undoubtedly, having contact with pets is something which is beneficial to my mental health - I find it really stress relieving to stroke a cat, and I enjoy sharing my life with other living creatures. I think I would find it greatly comforting to have an animal to nurture.
I'm working very hard and my colleagues are super pleased with what I'm doing, but I can't let my job totally define and consume me.
I'm trying very hard to find a girlfriend, but such things can't be rushed. I have very limited control over when and where fate is going to match me up with somebody who's got mutual feelings for me, worth embarking upon a relationship.
I'm trying somewhat less hard to make friends outside of work, because I'm simply flat-out.
My house is filled with mountains of boxes of unassembled flat-pack Ikea furniture and all of my stuff which still remains mostly in the cardboard boxes I used when moving. Some of the boxes have been opened and rummaged through for long-forgotten treasures, but some boxes are still sealed up with tape.
My clothes are mostly organised using the floordrobe system, where dirty clothes are piled up in one part of my bedroom, and clean ones in another.
I have more Ikea furniture arriving soon and I need to at least assemble a guest bed before I have my first visitor.
I'm hurriedly writing this, well aware that my sleep patterns have gotten out of sync with the corporate demands of capitalist society. It's late. I'm tired.
I'm not saying a whole lot that's very interesting or insightful, but these are my thoughts after a pretty punishing - although productive - week at the office. I veer violently from suicidal despair to arrogant delusions of grandeur, depending on whether I'm doing some really cool piece of work at the office, or whether I'm struggling to secure myself a romantic companion via the local dating scene.
I'm spending money like crazy, but it seems unavoidable given my need for a furnished home, plus I need to phone all the utility companies and tell them that it's just me living here in this giant house all on my own, so they stop charging me zillions of pounds for supplying energy, water and other services which I barely use. I'm spending money on dating. I'm spending money on replacing some of my threadbare worn-out clothes.
It seems crazy to get a kitten, but it also seems like something which would bring a flood of much-needed oxytocin, given my rather isolated existence. It seems like something I could be in control of: I just need to find a kitten for sale locally and adopt it, and then I can immediately enjoy my new pet. Having a little kitten to lavish attention on, and to brighten my day, sounds so lovely. I think I would be really overjoyed to come home from work every day and be greeted by a tiny furry friend. I think my life is sorely missing an outlet for my nurturing side.
I'm producing great work at the office and I'm not doing too badly in the dating game, but both things are unhealthy to do obsessively, and neither can be rushed.
Sometimes the sun shines, like it did this evening, and I feel like life is going really well. Most of the time I feel overwhelmed by the enormity of the task of meeting new friends and getting a girlfriend, which are going to be essential pieces of the puzzle if I'm going to have a happy life here in this new city.
My writing is suffering, but I'm trying my best to juggle everything. It's pretty impressive that I've done so much in such a short space of time, but it's still unfortunately not quite enough to have yielded a life which meets my basic ordinary and realistic needs, such as secure relationships, financial security, stability and suchlike.
It's well past my bedtime. I'm struggling to catch up. The extra demands placed upon me have tipped the balance unfortunately to the point where I'm not quite managing to stay on top of everything. I'm balancing on a knife edge.