This is a story about self perception...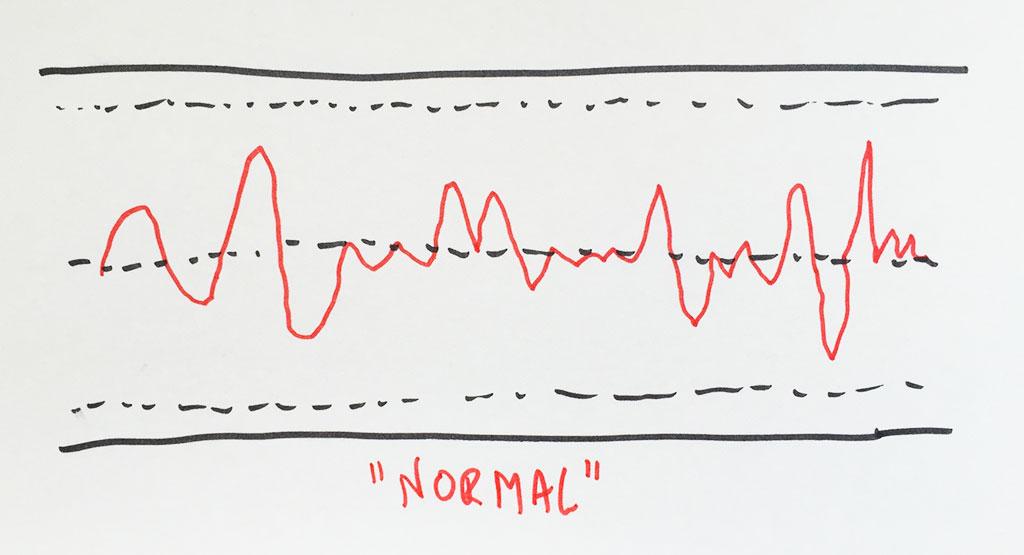 If somebody wants to patronise and annoy me, they'd be well advised to talk about what excellent "insight" I have into my own madness. Of course I can step back and examine my own behaviour - to see how it measures up from an outsider's perspective - and of course I can pinpoint problems. After all, it's me who's had to live with a mood disorder my whole life.
The times that I forget that I have a mood disorder are the ordinary everyday ones. When I am lacking in energy and motivation, when I am consumed by anxiety and when I am otherwise decimated by depression, I remain functional and productive, so it's easy to assume that I'm healthy, happy and normal. Because I do an excellent job of carrying on regardless of how terrible I feel, even I can assume that I'm not suffering any dangerous mood fluctuations, even though I'm stalked by powerful suicidal impulses.
When I suffer bouts of mania and paranoia, I'm well aware that my perceptions are warped and that I'm not thinking normally. It's much more easy to identify pathological thinking rooted in deep mental health issues, and to compensate accordingly, because at least those extreme problems are easier to isolate. Sure, during impulsive moments I might lost control and let my issues get the better of me, but I've become very practiced and adept at self control and techniques to prevent meltdown and disaster.
Currently, my productive, creative manic energy gets ploughed into a big complex project, at work. I'm unhealthily obsessed with the project, but of course that's the reason why I'm getting so much done. I need to regularly remind myself that "it's only a job" and that I need to take regular breaks, and holidays whenever I can. Nothing will ever be as intense as founding a tech startup, so I feel pretty immune from burnout, but of course I'm at risk, just like anybody.
My mood no longer seems to follow a predictable alternating pattern of episodes, flipping between depression and mania. Instead, my mood is provoked into a state by external factors, such as stressful events. My mood is not under control, but instead it is bludgeoned into compliance with the predominant need of the day, which is to earn money. I simply can't allow my mental illness to get the better of me, lest I face financial ruin.
Of course, the net result is that beneath the thin veneer of a man in control, competently and capably carrying out his duties in the course of his career, there are violent mood swings which require an incredible amount of effort to keep in check. How on earth I manage to get up and go to work when I'm suicidally depressed, I do not know. How on earth I manage to keep my big mouth shut when I'm manic, I do not know. All I know is that I spend about 80% of my energy forcing myself to comply with behaviours which are not compatible with my mood.
I have no mood stabilisers to help me. I have no antidepressants. I've decided from many years of experience that it's easier to manage my moods without pharmaceutical intervention. Yes, antidepressants help in the short term, but it's impossible to get off them without a crash. Yes, mood stabilisers help in the short term, but it's impossible to get off them without mania. Instead, I have opted to "feel everything" - I ride the wave of every extreme mood, as it see-saws up and down.
I've attempted to make lifestyle changes to help with my mood disorder. Instead of earning dog-sh1t money and being exploited, I'm well paid for what I do. Instead of rotting in some dead-end job, I'm valued for what I do. Instead of scraping along with hardly any money, impoverished, I have opted to earn enough to not really have to look at my bank balance very often. What I really need is a substantial lump of cash in the bank, so that I don't worry about taking time off when I'm sick, exhausted or depressed, but for now I'll settle for at least not having to worry about money while I'm working. I do of course worry about what will happen when I'm forced to stop working, but I hope that the work keeps coming. My stress around my income security causes me problems, but I can't fix everything all at once.
I got bored of obsessing over my mental health, like I got bored over obsessing about my bank balance. It seems to me to be better - healthier - to concentrate on the things which bring home the bacon, instead of things that aren't profitable. Budgeting is always stressful and never profitable. My life is so much better since not worrying about spending and not worrying about medications, although obviously there are still major problems.
Hopefully I'm well positioned, given that I'm not doped up to the eyeballs on a bunch of psychiatric medications, so as soon as my circumstances improve, so will my mood.
Of course I will always have a predisposition towards mood instability: it's in my nature. However, for most of my life and now included, I do a really excellent job of managing a very difficult mental health condition, although of course I do struggle when I'm under extreme pressure and stress, like I am at the moment.
Tags: #bipolar