This is a story about paranoid schizophrenia...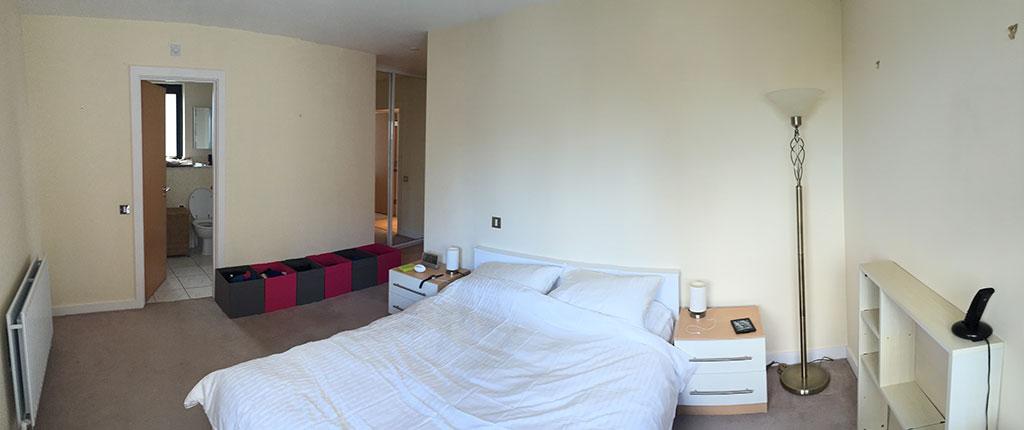 I've lost my mind in all kinds of places, but the place where my sanity most eluded me was in this bedroom. I moved into this almost-ready-made perfect home, which only required a few bits of bedding and storage boxes to turn it into one of the most tidy and well organised places I've ever lived. I had stability and eventually I had security. I had my own front door, which I could lock and double-lock and be safely protected from the outside world and anybody who wanted to intrude.
The story begins in the midst of an unhappy relationship, several years earlier. A toxic mixture of mental health problems and drug abuse combined with an abusive relationship, to leave me barricading myself into rooms for my own protection, while my long-term girlfriend and later wife screamed abuse, kicked and punched the door which was my flimsy defence from the onslaught, which was seemingly unending.
The situation got so bad that I retreated to my summer house, where I drank water from a hosepipe and defecated in a bucket. I had no food or access to anything other than cold water. I couldn't take a shower. I was cornered.
To her credit, my ex-wife relented and I was able to come out of the summer house unmolested, unharassed and somewhat reassured that she was a safe distance away. We separated, but I was badly traumatised. The psychological torture had lasted for nearly 2 years and I was deeply damaged.
The extent to which I had been traumatised was not apparent to me. I moved away from the area to be away from her, and I assumed that my mental health was intact enough for me to start a new life without any problems. I assumed that having escaped from that abusive situation where I was cornered, I would be quickly on the mend.
What I discovered was that I carried a kind of post-traumatic stress which was thinly concealed by my generally sunny and upbeat positive mental attitude. I set about rebuilding my life and didn't think too much about the past. However, stress, exhaustion and drugs all had the capability of plunging me back into flashbacks of those awful moments when I was cornered. I experienced episodes of extreme paranoia about the kicking and punching of the flimsy door that protected me, and the torrent of abuse and violent anger which was a constant source of threat on the other side of whatever barrier I could find to protect myself.
It seems obvious that drugs are bad, and certainly the problems I had with drugs unleashed the very worst of the psychological trauma I had sustained. One might be tempted to say that the paranoia was caused by the drugs, but in fact the origin of my paranoia was much easier to explain. Few people would be psychologically strong enough to withstand the torment of being trapped somewhere with only one exit, and an angry violent abuser screaming and hammering on the single door with punches and kicks. Few people would escape without post-traumatic trauma from such events.
It seemed obvious in my perfect safe protected stable microcosm that nobody was going to hurt me. It seemed obvious that my front door was sufficiently robust to resist kicks and punches, and that I had escaped my abuser. It seems perfectly obvious in retrospect, but you have to understand that the trauma was deeply ingrained in my subconscious.
While I was able to function reasonably effectively and act mostly normal, I struggled with paranoid thoughts, unusual beliefs and strange behaviour, when I came under great financial pressure and and had a great deal of stress in my job. When I became exhausted, physically and mentally, I began to form paranoid beliefs. I struggled to maintain my ability to be objective and grounded in reality. My sanity suffered during moments of great difficulty.
I had a long period of drug abuse which demonstrated to me - beyond any reasonable doubt - that my original paranoia was no longer grounded in any past trauma, but instead had grown into something which was self-fuelling. While the original seed of my traumatised behaviour - barricading myself into rooms - was well understood, I had a lengthy period of time where I would suffer dreadful paranoia, only to eventually have to face the fact that my feared abuser was never going to turn up.
Strangely, that period I spent barricaded into my bedroom, hundreds of miles away from my abuser, did actually 'cure' me of my paranoid psychosis. Every time I desperately piled up furniture against the door and could never quite manage to create enough of a barrier to satisfy myself that I was safe, I eventually realised that nobody was battering on the door. I took down my barricades and I was surprised to find that my tormentor was nowhere to be found.
It was incredibly dangerous, and it cost me very dearly, but eventually I was left with nothing except drug-induced paranoia, which went away as soon as I stopped taking drugs.
I'd had periods where I'd been clean and sober, but they'd never cured me of my paranoia. My post-traumatic stress was still very much unresolved and the psychological damage was a deep and bloody wound. Even after long periods where I had been abstinent from booze and drugs, my mental health was fragile as hell and I could be tipped into insanity by relatively trivial stressors.
Two years in my lovely apartment, barricading myself into my bedroom and my ensuite bathroom, and I was cured by the most unusual and unlikely of things. The very behaviour which an outsider might assume was the root cause of all my problems, turned out to be a cathartic exercise which rid me of both the paranoia and the drug addiction.
I expect today if I were to spend several days and nights abusing powerful stimulant drugs, I would begin to suffer from paranoia, but I have been through some incredibly stressful events lately and my mental health has been reasonably robust. In comparison with the many days which I would spend not eating or drinking, barricaded in a room with only one exit, fearing for my safety, the few problems I've had in the last year have been nothing... hardly worthy of consideration.
A breakup and a house move were enough to unseat my sanity and cause me to be absent from work for a week. My brain chemistry was messed up for a couple of weeks following that episode, but the damage was contained and I've been able to hold onto the substantial progress that I've made, without slipping too far back down the greasy pole.
The demands placed upon me are almost unthinkable. I live amongst unpacked boxes of my stuff and furniture that needs to be assembled. I live with all my suitcases of clothes strewn around my bedroom, because I haven't built the furniture to put things away yet. My mail piles up and administrative chores are left ignored, because it's taken an unimaginable amount of effort to get myself from the point where I was homeless, jobless, penniless and detained against my will on a psychiatric ward, to where I am today, with a house, a car, a job, money in the bank, my reputation and my liberty preserved. The tasks which still lie ahead, such as making new friends and finding a girlfriend, plus putting in place the hobbies and interests and weaving the social fabric which will make my life worth living, is not something that should be underestimated.
Not all those who wander are lost, and I have decided that I wish to make this city my home, but it's not as simple as just deciding. There is considerable effort involved in surrounding yourself with the things which meet your human needs, such as the web of relationships which support you.
I'm convinced that the very worst of my mental health problems were caused by the circumstances of my existence. Psychiatrists would refer to my condition as adjustment disorder which is just a fancy way of saying that human beings will struggle under incredibly stressful conditions. My problems have been acute - not chronic - and can clearly be seen and understood in the context of the extremely toxic circumstances of my life. Certainly, quitting drugs and staying clean are essential to any hopes I have of continuing to rebuild my life and improve my circumstances, but drugs are just a small piece of the puzzle, which is mostly about having secure housing, financial security and a support network. Anybody would crumble to pieces if they were put under the kinds of stresses and strains that I've had to endure in recent years.
I now live in a brand new place. I've had a clean break. My home is untainted. This city gives me a fresh start.
London is big enough that you can lose your mind and nobody will notice or remember. London is big enough that you can go completely crazy and you'll never manage to screw up your life, because there are so many people that you get lost in the noise. It was good to be in London during those difficult years where I was barricading myself into rooms for no reason, except that I was so post-traumatically traumatised that I simply had to do it as part of my recovery.
I face the difficulty of starting afresh from almost nothing, but I don't carry a single bit of paranoia that somebody knows about my difficult past. I really feel like I have a chance to totally start anew without anybody knowing anything which might prejudice me. I'm judged totally as the man I am today, not at all on who I was during the dark moments I endured in the past.
It might seem crazy to write and publish this, given my opportunity to escape my past and re-invent myself, but I don't want to run away from my own history. I need to acknowledge that bad things happened in my life, and they have shaped me. I need to acknowledge that even though I am healthy and functional today, I will carry a lifelong risk of problems if I become complacent. I need to make sure that I keep my stress levels and energy levels within safe ranges, and I need to put in place the things that will help and protect me when there are inevitable hiccups in life.
My bedroom looks nothing like the neat and tidy bedroom in London, pictured above, but my mind is far more neat and tidy, ordered and robust. I feel far more in control of my behaviour and my thoughts. I feel far less troubled by anything even remotely like paranoia. To all intents and purposes, I have very good mental health, but still very poor life circumstances, but at least there are practical remedies for things like my lack of local friends.
It's a somewhat positive outlook, especially considering how frequently I suffer from suicidal thoughts, but despite my tendency to become depressed and overwhelmed by the enormity of the task ahead, at least most things seem to be within my control. I can choose between going on dates or trying to make new friends. I can do things to get the stuff I need in my life. I feel relatively safe from traumatic events that are beyond my control.
Tags: #friends #relationships #suicide #mentalhealth #paranoia #depression #london