This is a story about a charmed existence...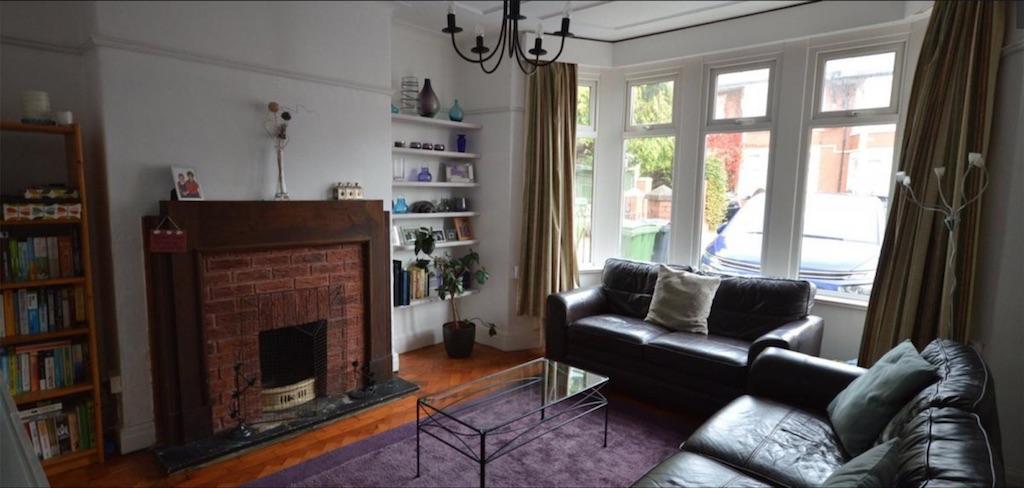 Despite much whinging and complaining about the anxiety being caused by house-hunting and the difficulty of getting through all the vetting procedures, credit checks, references and suchlike, I have managed to secure myself a lovely big house to live in.
The house is unfurnished.
This isn't even my furniture.
I stole the photograph from the rental agent's website.
However.
Wherever I go in the world, I have friends. Even though I hardly know anybody in the city where I currently live, or the city where I'm moving to, or the city where I work, I will always have friends. Why? Because I have so many people who care about me in the world. I'm such a lucky guy that my lovely global friends write to me, leave me lovely comments on my blog, or even just leave a little 'heart' on something I've written.
I know that some people might feel like social media, blogging and the internet in general is a virtual reality. In their mind's eye, the internet is populated with shy introverts, who never speak to each other and never make meaningful lifelong friendships. They're wrong.
A huge percentage - the vast majority - of my friendships began online, and then progressed to meeting in person and staying in touch regularly. My best friends and those who've been there for me through thick and thin, in times of darkness and in times of light... those friends almost all originated from the internet.
Whether those friendships were made via dial-up internet bulletin boards (BBS), discussion forums, Facebook, Twitter, Instagram or whatever social media is presently popular, is a complete irrelevance. Whether or not those friendships were first initiated using the communication medium of the internet, as opposed to a chance face-to-face meeting, is irrelevant.
I started making a list of all the people who've given me significant support during some very difficult years of my life, and the more I kept digging though the archives of the internet, the more amazed I was at how many names there were on the list.
I started trying to mention some of those people on Twitter, to thank them for being such great friends. As I sent out the Tweets I'd keep realising that there was somebody who'd perhaps gone quiet for a little while, and I hadn't been in touch with recently. Everybody I mentioned has been a hugely supportive, kind and caring friend.
I started to realise it was almost impossible for me catalogue and give thanks to everybody. How can I rank the contribution of my friends, to improving - and in some cases saving - my life? How can I even begin to comprehend just how many people I've been lucky enough to connect with, in a meaningful way, such that we could talk just like we'd known each other our whole lives?
How can I be sure I didn't miss anybody? For sure, I have more friends than my brain can cope with, which is an amazingly nice situation to be in.
The internet is an incredible thing, but it's the aggregate value of all those wonderful people that makes it so amazing. The global reach of the internet means I have friends on every continent. It feels like wherever I go in the world, I'll always have a friend.
I'm moving to a city I've never lived in before. I don't really have any friends there. I don't know my way around.
That's scary.
But, wherever I go, I have my connection to an entire world of wonderful friends, who will support me along the way. Sure, some of them live too far away to help me unload my moving truck and unpack my boxes. Sure, some of them live so far away that they're unlikely to be able to drop in for a housewarming party. However, it's an immense comfort, especially during unsettling and stressful times, to have the wonderful luck of having so many friends in the world.
I'm not sure why I put up that picture of a house which doesn't even contain any furniture.
I'm not sure if I'm insecure, and I want you to see that I'm at least going to be living somewhere nice, once I've bought some furniture and moved in.
I also wanted to share that picture, because you're all moving in there with me, because you move everywhere with me. You moved from London to Manchester with me, you moved from Manchester to Swansea with me, you moved from Swansea to Newport with me and now you're moving from Newport to Cardiff with me. You were with me when I was in all those new cities. You were with me when I was living all on my own in that hotel room, out of a suitcase, for so many months.
I'm lucky to have so many friends who go with me wherever I go. I'm lucky to have friends in every time zone, so I can speak to somebody at any hour of the day. I'm lucky to have turned so-called 'virtual' friendships into lifelong friendships, where we speak regularly on the phone, and we are intimately involved in each other's lives.
I'm grateful. Without your help, I wouldn't have made it this far. Without your help I'd have died in Manchester. Without your help, I'd have been too anxious and depressed to get through the difficult things I've been through: To move to strange new cities, start new jobs and find new places to live. Without your help, all those lonely nights living out of a suitcase in a hotel would have been unbearable.
Thank you, my far-flung friends.
Tags: #friends #socialmedia #home #moving #apartment #renting