This is a story about tailored medicine...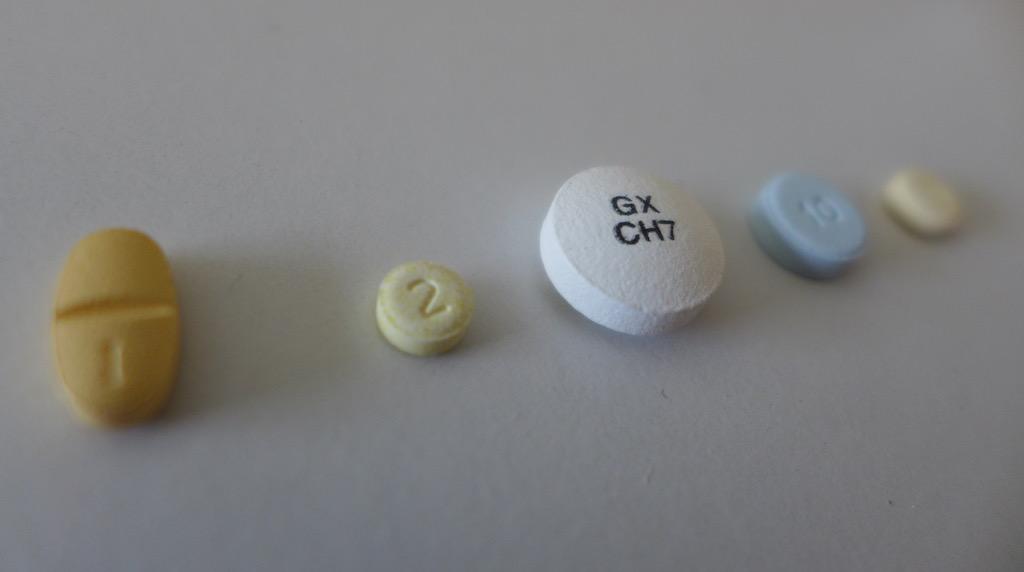 It's a subject I've written about at length before, but I was writing about my experiences with different mood stabilisers earlier today and I thought I would re-purpose that content for my blog, because I'm tired and I'm stressed, and it seems like a logical thing to do: To take something I wrote earlier and re-use it.
What I've written is in the style of advice given to somebody who's perhaps newly diagnosed as bipolar, or perhaps suspects that they have bipolar disorder. What I've written is from my own personal experiences. What I've written is not meant to be completely authoritative and factually correct, but I'm aware that it's my general writing style to present my opinions in a persuasive manner.
So, without further ado, let's get onto the list of bipolar mood stabilising medications I have known and loved (or hated, more like).
Quetiapine (Seroquel)
Horrible side effects, including weight gain, daytime sleepiness, dry mouth and constipation. When it takes effect, it's so strong that it's very hard to get to bed, or use the toilet in the middle of the night. Cannot be mixed with alcohol - the alcohol makes you feel very unwell.
Overall, this medication feels like being "heavily sedated" and it would be very difficult to carry on a normal life at dosages above 200mg. At dosages of 300mg or more, you'll be sleepy and dopey all the time. At dosages over 400mg, you'll be a shuffling zombie, good for nothing except dribbling in front of daytime TV.
Not compatible with having a job.
Aripiprazole (Abilify)
This medication had a strange side effect, where I lost fine motor control of my lips and seemed to produce excessive amounts of saliva. It was impossible to have a conversation with somebody without spraying them with spit, which was a horribly degrading experience for me.
Aripiprazole is very long-lived in the body, so it can take a week or more to wear off and get back to normal, even after taking this medication for only a couple of days (i.e. if you try it and you get bad side effects immediately, you'll have those side effects for a whole week at least).
Because of its very long half-life, I would have serious reservations about trying this one, except as a last resort.
Lamotrigine (Lamactil)
No side effects at first, but the dosage has to be increased very slowly with this one. Migrane headaches are a very common side effect, which I got, so I decided to stop taking it. The headaches are tolerable, I guess, because this is the medication with the fewest side effects.
Some psychiatrists might not consider lamotrigine to be a mood stabiliser, but in fact more of an antidepressant which is safe for bipolar people to take. It improves sleep quality so I think it's a good choice from amongst the fairly bleak options.
Also a good choice if you plan on attempting to have a normal job and work.
Olanzapine (Zyprexa)
Side effects include weight gain, daytime sleepiness and a general feeling of being drugged, but nowhere near as bad as quetiapine.
Very good at quickly stopping a manic episode, so it could arguably be used only when entering a manic phase, and then stopped a short while later, but this would require discipline.
Not recommended to take on a long-term basis.
Not compatible with having a normal job.
Sodium valproate (Depakote)
Dreadful side effects. Will turn you into a total shuffling, dribbling zombie and eventually you will get an irreversible kind of brain damage, which will cause you to make involuntary facial movements (a bit like a tic).
This is an awful drug, given to paranoid schizophrenics who are very severely sick (paranoia, hearing voices, hallucinations etc).
If you're on this, it's probably forcibly injected into you in a psychiatric institution. The injections last for 3 months. Don't ever let yourself get so unwell that this becomes necessary. Exhaust all the other options first.
Lithium
Very hard to get the dose right, and requires regular blood testing, which is annoying and inconvenient. Very effective and side effects are tolerable if you can get the dose perfect but it might take many years to find exactly the right dose, and it will be very destabilising if you start going too low with your dose - i.e. you might end up triggering manic episodes when you're simply trying to avoid side effects.
Lithium causes irreversible health damage when used long term, and is therefore "life limiting" in a way - it might reduce your lifespan by 5 years or more, which is obviously a high price to pay.
General Comments
Psychiatrists will tell you that you need to commit to a medication for at least 3 months, in order to feel the therapeutic effects and for the side effects to wear off. I have tried all the medications listed above for 3 months or more, and the side effects never wore off. The side effects were intolerable for all the medications, except lamotrigine.
If you take these medications for longer than a few weeks (with the exception of lamotrigine) then you cannot stop taking them abruptly. If you suddenly stop taking these medications, you will have horrible rebound mania and possibly psychosis too (hearing voices etc). However, I have successfully 'weaned' (i.e. tapered) myself off all these medications, without too many problems.
The worst manic episodes I've had have been when stopping quetiapine and olanzapine abruptly. When I've tapered off the medications slowly, my mood has been fine and I've not had any problems. In fact, every time I've stopped taking a medication, I've felt much better, because the side effects are so awful.
I would advise you to consider olanzapine as a treatment for acute episodes of mania... i.e. you should have some ready to take, and when you start to go manic then start taking it to make sure your mania doesn't spiral out of control.
I would also advise you to consider lamotrigine as first or second choice. I believe many busy working professionals with bipolar disorder find lamotrigine to be a good medication, because it has few side effects.
Psychiatrists will probably pressure you to be on a stronger medication, which is likely to be an atypical antipsychotic (quetiapine, aripiprazole, olanzapine, sodium valproate, risperidone, clozapine) but all of these will have very profound side effects, most notably making you feel tired and sleepy, lethargic, foggy-headed, confused, increasing your appetite and reducing your sex drive. It's personal choice, but I find those side effects unacceptable.
Alternatives to Medication
Alternatively, you can use good lifestyle choices to manage bipolar: no alcohol, no caffeine, strict bedtimes, strict work:life balance, exercise, good diet. You will probably need some trusted people around you who can let you know when your speech is becoming more pressured, you're getting irritable, perhaps you're getting a little obsessive about projects, becoming more impulsive and taking more risks... essentially, when you're heading into a manic episode, which could escalate. I find that getting 8 to 10 hours sleep each night, no more and no less, helps me to keep my mood stable. I also find that my manic episodes are much less of a problem since I quit caffeine. Recreational drugs are a terrible terrible idea, and completely incompatible with bipolar, unfortunately, especially the stimulants: legal high powders, speed, coke, crystal meth, meow meow, M-CAT, mephedrone, monkey dust etc. etc.
Stressful life events can be very triggering for mania, as well as the temptation to work hard because of a job change, promotion or exciting project. It takes a lot of careful planning to ensure that stress is kept to a minimum and work:life balance is preserved. If you want to get obsessed with anything, make it exercise and the great outdoors.
In Conclusion
I'm living a functional and complete life, with a full-time job, managing to have good relationships, managing my money, not engaging in risky behaviours or otherwise suffering many problems with my bipolar disorder. I have depressions, which are sometimes bad enough to cause me to take some time off work, but only a few days here and there. I have hypomanic episodes, where I can spend a lot of money and make impulsive decisions. However, considering that I don't take any mood stabilising medications for my bipolar disorder, my mood is remarkably stable and almost everybody would consider me to be successfully managing my condition, without having any particularly adverse effects on my quality of life.
I can highly recommend trying to go medication free, or spending a lot of time trying different medications and tweaking the dosage, because life is so much better when you're not drugged up to the eyeballs with powerful psychiatric chemicals, which radically alter you and your personality, with horrible side effects.
I'm not antipsychiatry per se, but I would advise people to make very well informed decisions and remind your clinicians that it's your body, so it's your rules, and like with every profession, there are people who are brilliant at their jobs and there are people who are not so great. You need to educate yourself so that you know whether you're getting good advice or not. You can't just trust everybody who calls themselves a doctor.
Mental health is complex. Bipolar disorder is complex. People are complex. We are all individuals and we have individual needs and individual unique circumstances. Tailor your solution to meet your needs.
Tags: #bipolar #medication #mentalhealth