This is a story about unnecessary packaging...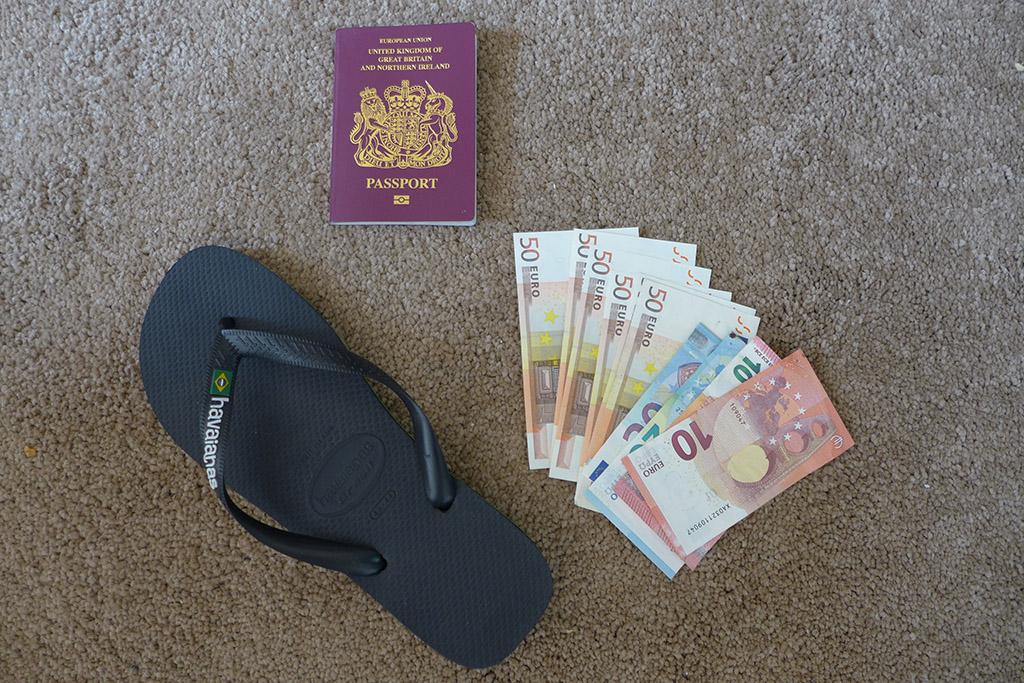 I've had a stressful morning. I had to package my Macbook carefully so that it could be safely sent away to be repaired. I had to locate the original packaging for my Virgin broadband router and box it up so it could be sent back to them, even though it's defective junk. I then had to find a UPS parcel drop-off point and a Collect+ drop off point to drop off the respective parcels. This required a trip to purchase bubble wrap, a suitable sized box and packing tape, as well as two more trips to two different drop-off places.
While I was out dealing with those chores, I also had to purchase a piece of carry-on luggage and some flip-flops. The flip flops were sold to me in a box. I don't know why flip flops need a box - just a simple cardboard clip to keep the left and the right flip-flop together is more than sufficient.
Anyway, I'm home now. I have located my passport. I have located some leftover Euros I had from the last holiday I took... 22 months ago. I opened the box containing my new flip-flops and lo and behold, there was a discrepancy in the number of flip flops present in the box - 50% of the required number of flip-flops were missing.
Do I drive back into town, park my car, walk to the shop and explain the situation in the hope that they admit their mistake and remedy it without quibble? Do I just purchase a second pair of flip-flops and then open and check inside the box before i leave the store? Do I just abandon the whole ill-fated exercise, and buy a pair at the tiny departure airport, where the shops will probably be closed? Do I take time out from the one single whole day I get to spend with my friend, without either of us having to worry about airport arrivals/departures, hotel check ins/out and all the rest of that crap, just to go looking for some suitable summer footwear?
I don't know why this is making me upset, because I don't even know if the nerve damage to my left foot/ankle is so bad that I can even wear a flip-flop on that foot. The last time I tried, I didn't have enough sensation and motor control to keep a flip-flop on my foot.
Also, my flight's delayed - French air traffic controllers on strike or something. My flight barely enters French airspace, but whatever... everyone should have the right to go on strike for better pay and conditions.
My 'holiday' is really just a day spent with a friend who I hardly ever get to see, then we both fly home on Monday. I have another week to go before my current gig comes to an end, so I need to make sure I take the money while it's there on offer.
"Have you got any holidays planned?" asked a person I spoke to on Friday, which is code for "we want you to work solidly until you drop dead". We'll have to see how badly they want me, because I really need a holiday - a proper holiday.
It seems churlish to complain, but I've had a month of hell. Breakup, losing my local job, getting sick, holiday plans pretty much cancelled, the stress of finding a new gig, the prospect of going back to London, the never-ending pressure to generate vast sums of cash to dig myself out of the hole... the hole I can never quite escape from. FML.
What was supposed to be a romantic beach holiday with my [ex]girlfriend has now turned into a very brief weekend meetup of two old friends. It'd have been far easier for us to meet in London, as he was there yesterday. He's travelled London -> Prague -> Lisbon -> Faro -> Lisbon -> Prague, and I'm travelling Wales -> Bristol -> Faro -> Bristol -> Wales. Our carbon footprint is criminal.
Hopefully I'll be in a better mood when I wake up in Faro tomorrow and I can hang out with my old friend for the whole day, free from commitments and responsibilities... I can put up with sweaty feet.
Tags: #holiday #summershoes #injury #friends #startuplife #startups