This is a story about burnout...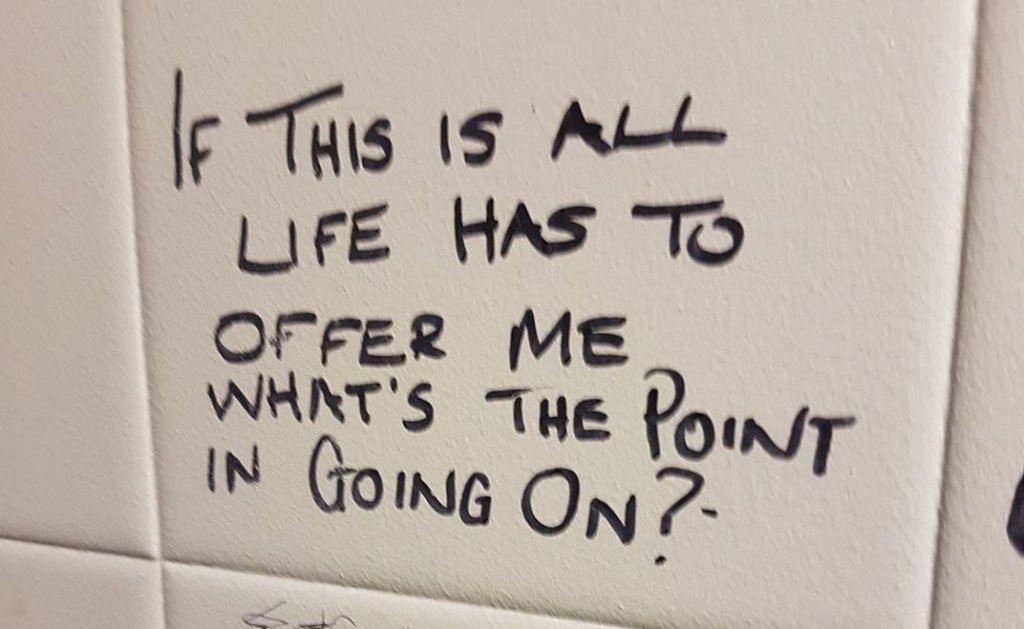 There's a lie which we're all guilty of perpetuating: Work hard and you can improve your life; if you work hard enough you can achieve anything. It's not true and it's wicked to repeat the lie, because we end up blaming ourselves for our appalling living conditions. "If only I'd tried harder in school" so many of us wail, but "if only I worked harder" is not something that a dying person ever says on their deathbed.
It's obvious that there's a grotesque disparity between hard work, dedication, passion, productivity and personal wealth. If you're going to try and argue that the owner of a large property portfolio works harder than a nurse, then you deserve a punch in the face. If you believe that the beneficiary of a trust fund, who doesn't have to work at all, is somehow more deserving than the person who cleans toilets for a living, then you must be suffering from psychosis.
I've heard it said that life is fair, because it's unfair to everybody. Human afflictions don't care whether you're rich or poor - a billionaire still needs an ambulance and a cardiac surgeon if they have a heart problem, and money can't buy them immortality. However, this does not seem to consider the great injustice of the world: that our efforts and actions will make virtually no difference at all. It doesn't matter how badly you want to study at Oxbridge and enter a lucrative profession - if you were born into the wrong socioeconomic circumstances, you're not going to be able to achieve your potential. It doesn't matter how badly you want to elevate yourself from poverty, and how hard you work - you're trapped and you'll never escape.
The media love to shove folklore heroes in our face. The media work very hard to assist our willing suspension of disbelief. Little girls think they're going to be like Kate Middleton and marry a prince - the tale that we're told is that she's an ordinary girl and that any one of us could be plucked out of poverty, but it's bullshit... she went to a very expensive private school. Little boys think they're going to become 'self-made' men, and there are plenty of examples of entrepreneurs who claim to have not received any assistance in building their business empires, except that close scrutiny reveals that they had their risk underwritten by friends and family; they have access to wealth and connections that ordinary people don't.
You show me the success story and I'll show you the unfair advantages that the person enjoyed. Nobody got to the top on merit. Nobody gets anywhere by working hard - it's a lie.
In fact, to work hard and assume that it's going to lead to pay rises and promotions is a kind of mental illness: it's called "Tiara Syndrome". It's a bit like the fantasy of a knight in shining armour coming to rescue us - a person who has Tiara Syndrome is expecting that somebody will come along and put a tiara on their head, just because they work really hard and they're good at their job. Sadly, it doesn't happen.
Behind every fortune is a great crime. The only way to get ahead in life is to lie, cheat and steal.
"The power of enclosing land and owning property was brought into the creation by your ancestors by the sword; which first did murder their fellow creatures, men, and after plunder or steal away their land, and left this land successively to you, their children. And therefore, though you did not kill or thieve, yet you hold that cursed thing in your hand by the power of the sword; and so you justify the wicked deeds of your fathers, and that sin of your fathers shall be visited upon the head of you and your children to the third and fourth generation, and longer too, till your bloody and thieving power be rooted out of the land"

A Declaration from the Poor Oppressed People of England (1649)
So, if we've been writing about this problem for the best part of 400 years, things must be alright, mustn't they? Don't fix what ain't broke and all that. Why rock the boat?
Life expectancies are starting to fall - people are dying younger. There's a mental health epidemic. There's an opioid epidemic. Living standards are declining. Billions of people live in poverty, and within our lifetime we'll witness a Malthusian catastrophe that will dwarf any other mass extinction event seen on planet earth. If you thought the Ethiopian famine was bad, wait until you see what the next few decades have got in store for us. With high-yield modern mechanised farming techniques, we have plenty of food, but we are staggeringly bad at sharing things fairly. If you believe that the present situation of wealth disparity is acceptable, then you're signing the death warrant for billions of people - a holocaust knowingly perpetrated on the human race, for no better reason than sheer unadulterated greed.
Remember that none of the Nazis were allowed to say "I was just following orders" as any kind of defence. To fail to act and to say that you're just doing what everyone else is doing, is immoral. To be passive and turn a blind eye, or to throw up your hands and say "there's nothing I can do" is not acceptable. Yes, it's our instinct to look after our own families, but the day is coming when that selfishness will backfire. Your kids are going to need a place to live. Your kids are going to end up in debt. Your kids are facing a shitty future, and your grandkids are going to inherit a completely hopelessly screwed situation - do you think they'll agree with you, that it was right that you sat back and did nothing?
If you think you're helping your kids by instilling some kind of 'work ethic' in them and getting them to study hard, you're making a mistake. Remember: nobody ever got anywhere by working hard. Hard work can be a useful thing, but we must consider what our labour is being used for - if it's making weapons and oppressing people, then hard work is immoral when it contributes to the war on humanity. Sometimes the best thing to do is to withhold labour - to deprive the tyrants of the manpower they need to conquer and achieve world domination. Sometimes the best thing to do is conscientiously object; to nonviolently protest.
I've thought long and hard about how I can make a difference. I thought about medicine. I thought about law. I thought about politics. I thought about science and engineering. I find myself in technology, and I'm desperately disappointed. No amount of smartphone apps and websites is going to address the problems at the root cause, which appears to be competition. Why must there be competition? Why do we have to measure and grade people, and declare that some of us are not worthy of consideration? Why do we have artificial scarcity and force people to fight over an artificially limited amount of so-called 'money'? Why do we put artificial limits on the numbers of people who can pursue a certain professional discipline? Why do we want to have elitism? Why do 99% have to be told they're shit and they don't matter and they're expendable, so that the 1% can feel special?
I was on the fast-track. I was made unconditional university offers and allowed to skip entire academic years. I got onto a graduate training program 3 years sooner than any of my peers. I got pay rises and promotions so quickly that I was earning six-figures by the age of 20. I'm an example of one of those success stories that you might read about, that are supposed to make you believe that with enough hard work anyone can reach the top of the pyramid - be a CEO or a prime minister or a president, or a king or queen. It's bullshit. Why would I turn on the system that's given me everything I've ever wanted? Why would I bite the hand that feeds me?
No amount of houses, sports cars, yachts, speed boats, luxury holidays and all the other trimmings of a wealthy life can ever make you quite feel like you're content with the way things are, because you can never fully insulate yourself from the suffering and poverty that surrounds us. The fact that you're reading this on a PC, laptop, tablet or smartphone, means that you're one of the lucky ones - you're somewhere that has electricity and the internet, which means there's probably clean drinking water too. If you think about those less fortunate than yourself, they're probably considerably well below your standard of living. Wherever you are in the pecking order, there's always some unfortunate who's desperately in need of help, because we've set up society to fail people - the very process of succeeding ourselves means trampling others underfoot to get ahead in life. It's a zero sum game - for somebody to win, there has to be a loser.
Life doesn't have to be like this - so adversarial. There's no limit on the number of "A" grades we can give out, or the amount of money we can print. There's no limit on the number of doctors we can have. We live in a world that's been artificially constrained to create winners and losers. There's no need to have competition so inbuilt to society. Yes, we might see that nature is full of competition - survival of the fittest - but we're not beasts. We've become super-intelligent and capable of producing vast surpluses of everything we need. With high-yield farming techniques and agricultural mechanisation, we can feed ourselves until we burst. With mass production and factories, we can have a virtually unlimited amount of goods - clothes and shoes and building materials, as well as pointless consumer crap that we arguably don't need.
Like the many utopians who I studied while doing the research for my second novel, I can see a world that's jam-packed with all the technology that we need to improve the human condition, and elevate half the planet out of poverty. I can see that we already possess everything we need - we don't need nuclear fusion or flying cars or any other sci-fi fantasies... we already have the means at our disposal, to improve our lives.
As a person who wants to make a positive difference - to effect meaningful change - I find it very distressing that those who are working very hard to improve the world are being thwarted. Imagine all the effort put in by doctors, nurses, politicians, charity workers and myriad others who do what they do because they want to make the world a better place... but it's not working, is it? The world is getting steadily more and more fucked up.
If you think I'm seeing the world through a 'blue filter' and my depression tinges my perceptions, we only need to look at the hard data - homelessness, depression, anxiety, alcoholism, drug addiction, poverty, crime and all the other indicators we have of the health of our society are telling the same story: Things are getting worse, not better. Your kids will have to get into heaps of debt to obtain their education, and then they won't be able to afford to buy a house. Your kids are going to struggle to find work. Your kids are going to struggle, full stop. Your grandkids are absolutely fucked. It doesn't take a genius to extrapolate from the data and see where we're headed. Things aren't just going to magically improve without anybody doing anything. Don't look to politicians to cure society's problems. Don't look to charity to cure society's problems. Don't look to the church to cure society's problems. If any of the existing status quo members were going to do something to fix things, they'd have done it at some point in the last 400 years, wouldn't they?
I haven't figured out what I'm going to do yet, but the best "not in my name" protest I can think of is to kill myself. The best way I can think of to register my objection with the status quo, is to end my life.
Maybe I have a lemming-like instinct to kill myself because of overpopulation. Perhaps my genes are telling me to kill myself for the good of the species. Certainly the self-preservation instinct feels much weaker than the powerful emotions that tear through me, thinking about the futility of the oft-tried ways of making a difference.
If there's no opportunity to make a meaningful contribution, why go on?
Tags: #career #banking #capitalism #politics