This is a story about quality of life...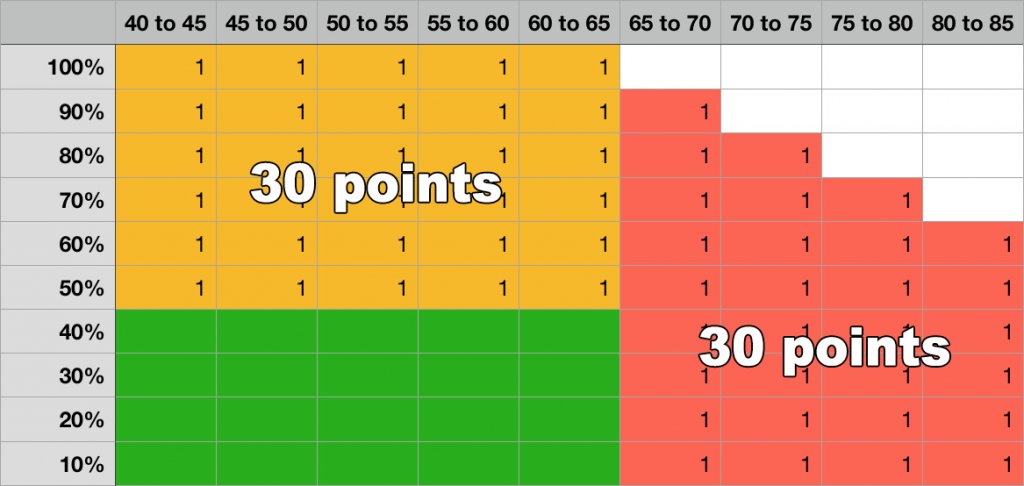 Two years ago, on this day, I was writing about how depressed I was. I was researching into how depressed people rated their quality of life - I found out that it was 70% lower than happy healthy normal people. At the time I was trapped in a job which I hated. I had serious doubts about my skills and experience, so I'd taken some work which I knew I could do with my eyes closed, but I was bored out of my mind.
I hypothesised that my quality of life wasn't going to improve until I retired, because I couldn't stand my job but I couldn't imagine being able to get another one that was any better. My job was the reason why I was so depressed, anxious, bored, demotivated and miserable, and the only alternative was to be a penniless writer, which would bring its own problems... not least how to save up enough money to be able to afford to retire.
This got me thinking about retirement.
I presume that the first few years of retirement are excellent, because old age and age-related health problems haven't started to have a major impact on quality of life. Modern medicine, safer working conditions, good diet, better air quality and a multitude of other things have improved massively for the baby-boomer generation, and those retirees will live much longer than their parents. For my generation and people younger than me, we've worked longer hours, commuted further, had far more financial insecurity, job insecurity and housing insecurity, and we have no pot of gold at the end of the rainbow - the retirement age keeps getting older and older and the prospect of an impoverished old age seems increasingly likely. Retirement looks like it's not something worth even daring to dream about.
I started thinking about how good retirement would be anyway - sour grapes perhaps - what with the inevitable demise of my health. It seems unlikely that I'm going to live beyond 85 years old, being a man.
With partial deafness, partial blindness, mild incontinence, diabetes, heart disease, lung disease, liver disease, kidney problems, back problems, joint problems and a whole host of other things I might expect to affect me in old age, exacerbated by decades of miserable office work, it seems unlikely that I'd be lucky enough to enjoy even 50% of the quality of life in my eighties as I enjoy in my sixties.
These are very conservative estimates of course. I could drop dead at age 70.
With all those things considered, I then started to do the calculations to work out whether it was worth shackling myself to a miserable job or not. I started to calculate if it was worth being miserable and depressed today, in the hope of a better life if and when I retire. My conclusion was simple: NO.
As you can see from the graphic above, I can increase my quality-adjusted life years (QALYs) by a maximum of 30 points if I live for today, or a maximum of 30 points if I live for retirement. Obviously if I was to die at age 80, I'll only have benefitted by 24 points. If I was to die at 75, I'll only have benefitted by 17 points. If I was to die at 70, I'll only benefit by 9 points.
So, I might as well plan on the pessimistic assumption that I'll die early. In fact, I can at least guarantee when I'll die, because I always have the option of committing suicide. In fact, it seems sensible to plan for the day I commit suicide instead of the day I die, because old age, sickness and infirmity seems like an undesirable fate. Why would I be miserable today, so I can spend more years as a geriatric, waiting to die?
I'm hoping to get myself into a strong position by the time I'm 40 so that I can exploit the fact that I haven't rutted and spawned offspring like a mindless beast, and I'm therefore free from any responsibility for brats I brought into existence. Soon, I won't need to shackle myself to miserable boring bullshit office jobs which I hate, because I'll have recovered my financial security and stability, such that I'm free to do what I want without a guilty conscience - I won't owe anything to anybody, and I won't be running away from any responsibilities.
By the spring next year, I should be feeling quite wealthy again, and much more free to be able to dare to dream. Perhaps I'll travel. Perhaps I'll write. Perhaps I'll create art. I can pretty much do whatever I want, once I've finally dealt with all the consequences of divorce which caused my life to collapse. It's hard on a man, losing everything - it nearly cost me my life.
It's been so hard getting to where I am today, and I can't believe there are still so many months before I get back to a truly safe and secure position. I can't believe it's taken so long and it's been so difficult. Perhaps that's why so many men commit suicide. Perhaps that's why rip-off merchants have run off with so much of my money. It's hard to do things right. I've always tried to do things the right way.
I'm now at the point where I've worked too hard for too long to see the chance of breaking free get away from me. I really think I'll just kill myself right now if there are any major setbacks, because I've been trying so hard to overcome a heap of problems and I've got nothing left to give. I deserve a break. I deserve things to pan out for me.
It'll soon be my turn to start enjoying life and the fruits of my labour; the payoff for my struggle through adversity; the rewards for my ingenuity and sheer determination to fix problems. I've overcome terrible obstacles and put up with so much suffering and I've done the miserable work that nobody else would do, because it's awful. Now I deserve to be like those spoiled brats who've been allowed to do whatever the fuck they want - follow their dreams - because they have doting indulgent parents. Maybe I'll be a student. Maybe I'll have a gap year. Maybe I'll take a dead-end job with no career prospects, because it's rewarding. Whatever. I can do whatever I want... soon.
It's been a slog. I can't take much more slog.