This is a story about invisible sickness...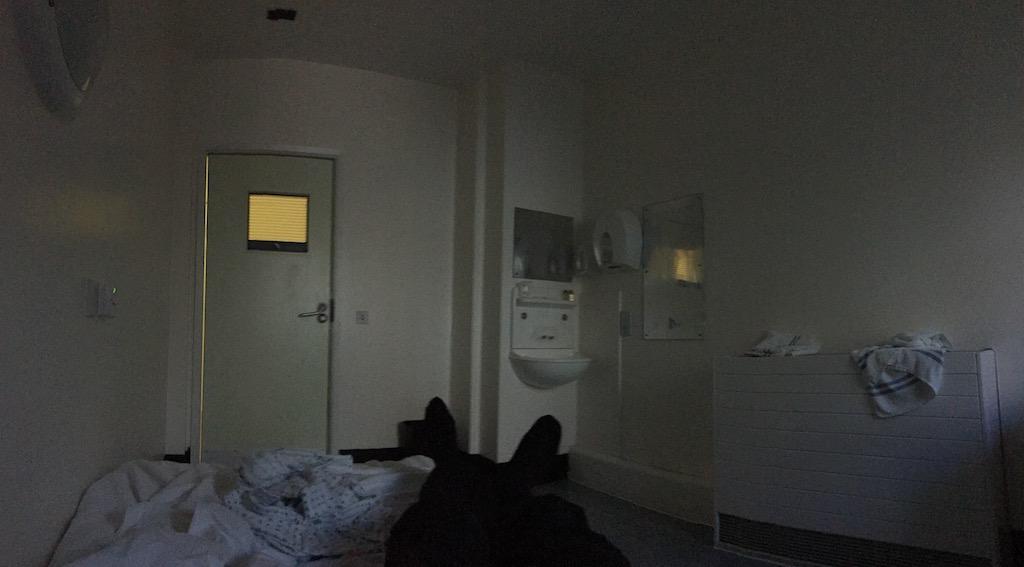 I'm not throwing up. I haven't got diarrhoea. I don't have a fever, sweats or chills. I don't ache or have physical pain. I haven't got a rash. My skin isn't discoloured. I can pass urine. I'm lucid; conscious.
Symptomatically, I'm not sick. I'm perfectly fine and healthy.
A few years ago - back in 2015 - I got so exhausted and stressed at work and I felt so unable to say "no" and ask for some time off, that the only legitimate way I could lift the pressure upon me was to be hospitalised. Being in hospital somehow legitimised the 'sickness' I was feeling, due to invisible illness. I felt protected from the relentless pressure which was being applied to me constantly, in the workplace and with mountainous debts. I felt safe in hospital.
I slept.
I slept so much.
I slept for 12 to 14 hours a day at least, for a whole week.
I was voluntarily admitted to the psych ward - I could leave whenever I wanted - but I didn't want to leave. I wanted to stay safely protected within the walls of the hospital. I wanted to stay safely protected from the world of work, the world of debt, and the world of intolerable and unreasonable expectations; insufferable pressure which was killing me.
Unless my sickness is externally validated, by a doctor, I don't feel like I've got a legitimate reason to not work as hard as I can, and bash my head against a brick wall in a futile attempt to deal with an unreasonably huge burden of responsibility placed upon me. Unless somebody tells me it's OK to not be OK dealing with the mountainous tasks placed in my path, then I work until I reach breaking point.
Breaking point in 2015 meant getting myself admitted to a psych ward. Breaking point in 2017 meant killing myself.
I've been at breaking point for most of this year.
Today, I've spent a second day in my hotel room with the curtains drawn. Yesterday, I was overwhelmed with anxiety. Today I'm just plain exhausted. I'm a little sad and regretful that I've wasted another day of my holiday, but I really think I needed the rest. I was at breaking point.
You'd think I'd get bored or hungry, just lying in bed. You'd think that the prospect of a dip in the sea and the sensation of warm sand in-between my toes would tempt me to get out of bed. You'd think that the rollercoasters and water slides, which I haven't yet ridden, would tempt me out of bed. You'd think that the excitement of having a whole week with nothing to do but enjoy myself would give me an energy and mood boost.
I have a very busy mind. I'm constantly bombarded with thoughts. I don't need TV, films, books and other distractions to keep myself entertained. My brain will constantly bombard me with invasive memories and other groan-worthy things, as well as a steady stream of things to worry about. I don't get bored, even when I spend 2 whole days in a dark room with the curtains drawn.
I probably work too hard. Fundamentally, I'm a bit of a workaholic. The root of many of my problems is working too many hours at high intensity. I never switch off. I never relax. I never plod along at a steady pace - I always tear through things as fast as I can.
The mountainous debts have only amplified my tendency to work too hard, for too long, without taking enough breaks. I cannot take my foot off the gas pedal for a single second, because I'll easily be swallowed whole and disappear into a debt black hole; go bankrupt.
Debt is with you 24 hours a day, just as mental illness is. There isn't an on/off switch which can control depression, and similarly there's no off switch on the anxiety and pressure of mountainous and unmanageable debts.
Working an 8 hour day and having weekends off provides some relief from the pressures of the workplace. Although I spend most of my leisure time anxiously dreading having to go back to work, there are moments when I relax and enjoy the fact I'm not at the office.
There's never a moment's relief from debt.
Debt just has to be paid.
If you don't pay your debt off quickly enough, it'll never be repaid. If you don't earn enough money, you'll never repay your debts. Interest accrues on your debts, even when you're sleeping.
My situation got so bad that I cannot take an average salary job. I cannot take a break. I cannot relax.
Things were headed in the wrong direction in 2015. My mental health was causing problems in the workplace - being too outspoken due to hypomania - and I was living on borrowed time. I'd recently rented an apartment, which was going to cost me an arm and a leg, heaping a load more pressure onto me when I was already struggling to cope.
Things are headed in the right direction at the moment. My important debts could be cleared by the end of the year. I could be completely debt-free by March next year.
I worry that I'm screwing-up at work. I've been far too outspoken lately. I'm sure I'm pissing people off and making myself unpopular. I'm worried that my mental health problems are starting to adversely affect my behaviour in the office.
My coping strategies are unhealthy. I eat too much. I eat junk. I drink too much. I use sleeping pills and tranquillisers, when things get too unbearable.
As far as my colleagues are concerned, I've gone off on a holiday which was pre-approved and everybody's known about it for a while. As far as my colleagues are concerned, everything's ticking along just fine. As far as my colleagues are concerned, everything is pretty much normal.
This is good.
Back in 2015 I'd had several problems with my mental health, which had caused me to be absent from the office without any notice, or otherwise acting strangely. My colleagues were sympathetic, but they were well aware that something wasn't right with me. There were issues.
If things go to plan, I'll go back to work feeling refreshed and in a much better state of mental health. If things go to plan, the mania which was spilling over into my office behaviour, will be back in-check and I'll be able to resume my tight-lipped and poker-faced game of keeping quiet and fitting in as best I can; not being noticed. It's important to blend in and not be noticed, if you want to keep hold of your job when you've got a mental illness and mountainous debts.
If things go to plan, I'll go back to work and I'll finish October, work the whole of November and December, and then take another well-earned holiday for a couple of weeks, having cleared all my important debts. It seems feasible, doesn't it? Two and a half months of working my bollocks off, then I'll have dealt with the bulk of my woes - most of this crippling bloody debt.
If things go to plan, each of these holiday breaks arrive just in the nick of time, to save me from exploding in the office and losing my job. If things go to plan, each holiday allows me to recharge my batteries and carry on going.
Previously, I had been working until I reached breaking point, and becoming so unwell that I was unable to carry on working.
This year has been unsustainable and has ruined my health. This year has been horrible. However, the plan has been working and my debts are being rapidly repaid. I've been digging myself out of the hole.
Everything's taken its toll. I suppose I should not be surprised that this year has made me so sick that I've been in bed for two whole days, when I'm supposed to be on holiday enjoying myself.
I don't look sick.
It's a shame to waste a couple of holiday days, but so far this year I haven't been hospitalised and I'd like to keep it that way.
It's my holiday and I'll spend two days in bed if I want/need to.
Tags: #holiday #depression #hospital #debt