This is a story about body-beautiful and get-fit...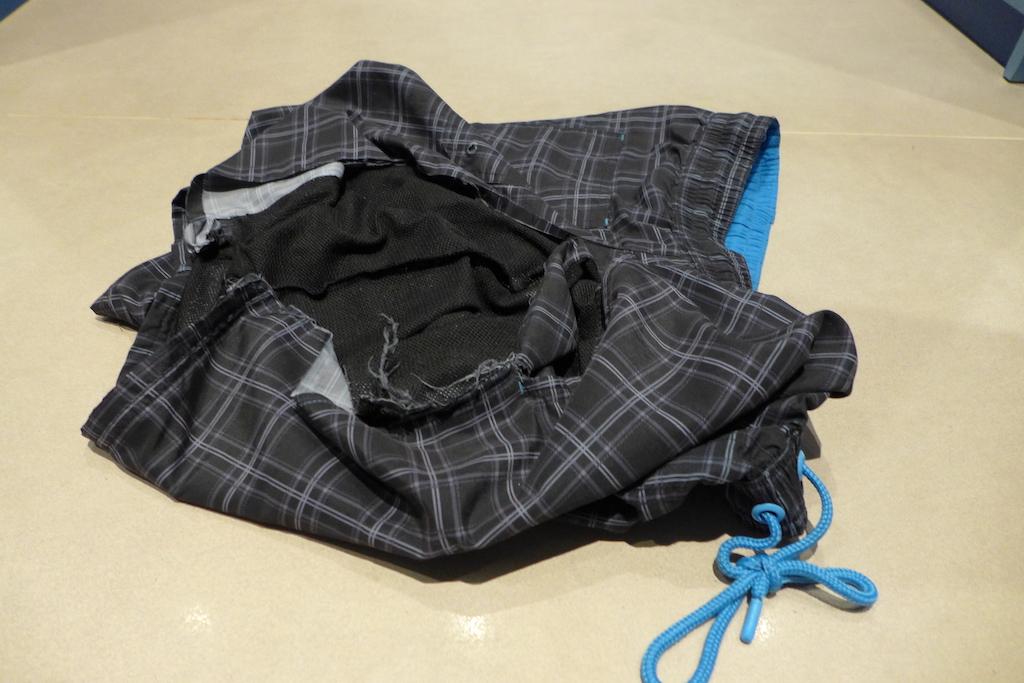 I caught a glimpse of myself reflected in the lenses of the guy operating the theme park attraction, where I spent the day. I'm very pale and badly out of shape. There were other guys around with beer guts and less-than-perfect bodies, making me feel a little less self-conscious, but I was the whitest person I've seen all day.
I was the first person to arrive at the Float Rider attraction today, having meticulously planned how to get there and beat the crowds. I was a man on a mission: to surf the wave machine. The machine is more commonly known by the registered trademark: FlowRider. A stationary wave is created by pumping water 'uphill' which can be 'surfed' with a boogie board, short-fin, or finless surfboard.
I knew that every person who rides the FlowRider asks the staff if they can skip straight to the board riding part, but I thought I'd make my intentions known. "I want to ride on a board" I said. "I can surf" I said.
Yeah, yeah, buddy. You and every other person who wants to ride the FlowRider. Back of the queue.
It didn't help that I'm old and in bad physical shape, in terms of being judged capable and competent enough to skip the demeaning preparatory step of riding on my tummy. I thought I'd uncomplainingly go along with things, in the hope that my commitment would soon become apparent and enable me to be allowed to ride a board.
Two other men my age - also equally out of shape - soon joined me, and we were all put through our paces, skimming over the surface of the wave on our tummies. I decided to up the ante in the hope of impressing upon the operator that I was capable and competent. I jumped up onto my knees and rode the boogie board in a kneeling position.
I thought that would be enough.
No.
"Practice your balance" I was told.
Fine.
I thought I'll bide my time and not harass the poor guy whose job it is to supervise an endless procession of people who are quite happy to spend 30 minutes riding on their tummy before they get bored and wander off. I thought to myself: "I'll continue to patiently demonstrate my keen intent to progress to the board-riding stage".
I'd been doing this for a couple of hours. I was very bored. I applied some gentle pressure. No luck.
In all, I spent nearly 3 hours patiently riding around on my goddam knees. I don't know why I didn't just wander off and return later; save some energy. I presumed that my continuous presence would eventually wear down the attraction operator, and he would relent and let me ride a goddam board.
The attraction was very quiet. Sometimes I was the only person on the FlowRider. I presumed that my dedication and commitment were noticed. I presumed that the guy would give in eventually.
Then, the operator went for lunch.
A little bit of background about him.
"Do what you love" we're told. "Follow your dreams" we're told. What if you love surfing? What then?
I love surfing -> surfing is not a job -> there aren't many surfing instructor jobs -> become a theme park ride operator.
This guy must have a tough holiday season. His job is basically a kind of lifeguard. His time seemed to be mostly spent policing spoiled rich children, intent on queue-jumping. Surf protocol is very clear about the line-up and whose turn it is to catch the next wave. Surfers get pretty mad about anybody dropping in on a wave that isn't 'theirs'. Also, surfing is pretty hard, given the combination of skills required to paddle out to the breaking waves, spot a good wave to catch, paddle to catch it, pop into standing position and then ride the wave. In a busy line-up, you're not going to catch many waves in a day. As an out-of-shape 39-year-old guy who hasn't seen sunshine for a couple of years, I'm the last person you'd expect to be able to ride a board.
Before lunch, I pressured the would-be surf instructor guy for a go riding the board when he returned for the afternoon session. He agreed.
When I returned, the FlowRider was the busiest I'd seen it. In fact, it was so busy that people were riding the wave on their tummies in pairs.
I worked my way slowly towards the front of the queue.
Then, at last, my chance to ride a goddam board arrived.
It's a lot easier than surfing.
The wave is perfect.
The takeoff is easy.
Perhaps it was sweeter, that there had been a lengthy buildup to that moment, but it was awesome that I was standing on a little foam surfboard, carving fairly effortlessly back and forth on the standing wave. In a lot of ways I was right - I didn't need to spend those demeaning hours on my bloody knees - but it was fine, because at least I was getting to ride right then and it didn't matter at all that my morning had been somewhat a waste of time and energy.
I spent the remainder of the afternoon riding the a board - catching endless perfect waves.
I very much enjoyed my status as "king of the kooks" - being allowed to ride the board and being cheered on by onlookers; getting big thumbs up from people; many wanting to ask me how long it took to learn to ride the board and make it look easy.
Embarrassingly, I've got more years of experience riding boards than I care to admit.
I suppose it must have been an odd sight - the old out-of-shape palest guy in the whole goddam theme park, riding the board like a pro. The photographs of a surfer riding a wave, plastered around the attraction, portrey the thing that everybody wants to be able to do right away.
The FlowRider probably gets busier in the afternoons, but pleasingly the demographic changed from little kids who wanted to ride for a short while before quickly getting bored, to a bunch of thrill-seekers who, like me, didn't seem to have any children and were in the theme park to have some unadulterated (sic.) immature fun.
For six and a half hours, I rode that wave over and over again. For six and a half hours, I exercised.
It was only light exercise. Real surfing would have quickly exhausted me.
However, it was the most exercise I've done in years.
But it didn't feel like I was doing exercise.
If I could carry on riding the FlowRider for the next 364 days, I'm sure I'd get remarkably fit & healthy again, and look like far more of an authentic surfer than the old out-of-shape old pale guy, surprising people by being able to ride quite competently and confidently.
I'm covered in bruises from various wipeouts and my shorts got ripped, but I feel really good from the exercise. My skin got a little sun, so it's not as white as it was.
I'd like to get fit & healthy again, but I'll be damned if I'm going to have to go to a goddam gym to do it. Today I did 6.5 hours of exercise by accident, which was a whole lot more fun than the mind-numbingly boring pursuit of a better body in a gym.
Pleasingly, I had the core strength and stamina to spend a whole day riding a wave. I'm pleasantly physically fatigued. The few bits of me that ache or are bruised are hurting in a way that's kinda nice. I didn't aggressively try to get a quick tan, but my face feels a bit sun-kissed, which is a great feeling - brings back so many nice memories of fun times on the water.
I just need to figure out some kind of fun physical thing to do regularly, which doesn't feel like exercise.
I know I'll sleep better and feel happier about my appearance if I can get fit again. I know that it's good to stay in shape. It's nice to feel healthy & attractive.
I'll be damned if I'll go to a goddam gym though.
Tags: #exercise #kitesurfing