This is a story about normality...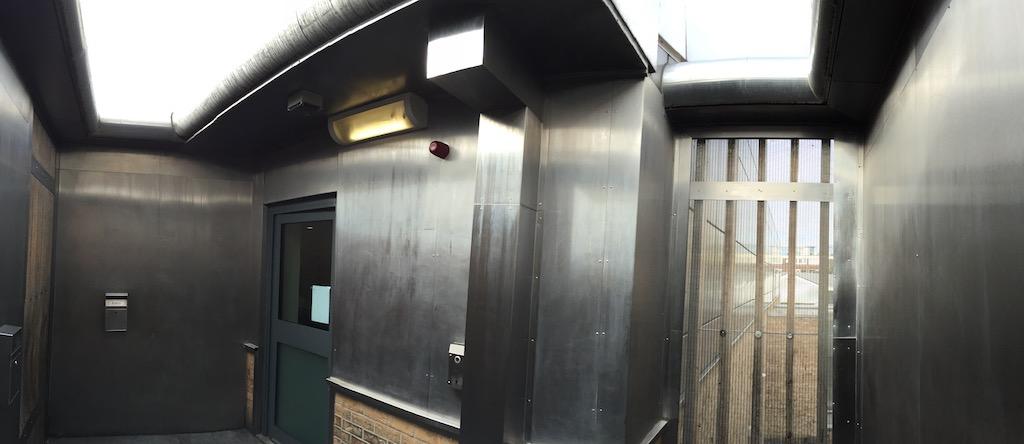 Most people want a secure job, secure housing and to feel prosperous. Most people don't care about freedom of speech and a free press. Given the choice between security and freedom, most people would choose security every time. It's only a handful of paternalistic elites who dictate that we the people care a very great deal about freedom, when in actual fact this is not true at all.
Freedom has a very narrow definition. When we talk about freedom of speech and a free press, we do not also acknowledge the freedom to be hungry, the freedom to be homeless, the freedom to be marginalised, excluded and abandoned by our "fit in or f**k off" culture. While we might enjoy freedom of speech and a free press, those luxuries are only useful to a privileged few; the wealthy elites; the rich and powerful. While you are theoretically free to run for political office or broadcast your opinions, you are not at all free in practice.
The only freedoms that ordinary people have are the choice between virtually identical minimum wage zero-hours contract McJobs; the choice between conformity or social exclusion. You can be a free tramp, if you choose: you can be homeless, penniless, destitute and free, or you can be enslaved to the capitalists... it's up to you; you're free to choose.
Further, for those who are not neurotypical you have to choose between social exclusion, stigma and poverty or the chemical straightjacket of powerful psychotropic medications. You're free to accept the diagnoses and swallow the pills, and allow yourself to be 'normalised' so that you fit the rigid static definition of how a 'normal' person should think and act, or you can choose to be excluded from most economic and social activity because you don't fit in.
Many of us willingly and indeed eagerly beat a path to the door of our doctors, demanding medications that will return us to 'normality' when we find that we are deviating from what we perceive to be the norm. We see millions of others around us getting up at dawn, commuting to bullshit office jobs and being uncomplaining, so when we're troubled by depression, anxiety and other disruptive changes which force us to confront the purposelessness of our absurd existence, we 'choose' to be made normal again by psychiatry.
Society should be constantly adapting to the changing needs of the people, such that the stress and exhaustion in our lives is reduced or at least kept constant, but instead we see that the people themselves believe that they are the ones at fault. Students take amphetamines, modafinil and methylphenidate in order to artificially increase their concentration spans and stay awake during marathon exam-cramming sessions. Workers drink tea, coffee and energy drinks in a desperate attempt to stimulate their brains and fend off tiredness. We take antidepressants and anti-anxiety medications so that we can withstand the horrors of a society which places greater and greater demands upon us, while also giving us less and less security: our jobs are under threat, our homes are under threat, we and our children are under threat. Where has the feeling of prosperity and the sense of optimism gone? We presume that it must be us who have faulty brains, as opposed to seeing that it's society itself which is failing to deliver the things we need.
As is oft-quoted: "it is no measure of health to be well-adjusted to a profoundly sick society"
When more than 50% of the population are categorised as suffering from some sort of mental disorder, we must surely accept that it's the minority group who are the sick ones. Why should society continue only to serve the ones who are not suffering? Why should our idea of what is 'normal' be based on something which is abnormal because it is less common? Why are we trying to conform to such unrealistic and impossible ideals, which do not serve the majority of people?
"I'm miserable, so you have to be miserable too"
I think the above quote accurately sums up the attitude of powerfully influential figures in our society, who are blocking any progress towards a better way of life for all our citizens. I had the misfortune of making the acquaintance of a doctor who hated their job, their commute, the daily grind and - seemingly - their patients. This doctor made it their mission in life to deny time off work to anybody they could. Their reasoning was simple: because they were miserable and hated their job, they were going to make everybody within their power suffer too. A doctor has the power to dispense medications which might temporarily mask the symptoms of a sick and broken society, or to sign a piece of paper which excuses a person from the charade of having to go to their bullshit McJob every day. A doctor has the power to inflict misery on potentially thousands of people every year, and we must presume that as many doctors are as miserable as the general population as a whole, which means that more than 50% of doctors are perpetrating this kind of awfulness on the people they have power over.
We worship medicine and medics as a force for good, but in the increasing absence of organised religion in wealthy western democratic countries, we are seeing doctors elevated to a social status beyond what is reasonable, creating demi-gods who abuse their power. Just as with organised religion, we have suspended rational thought, cynicism, curious inquiry and skepticism, and have placed blind faith in the medical establishment to cure the ills of society. We reject politics and politicians as corrupt self-serving liars and we have lost faith in the ability of our vote and other democratic instruments to be able to influence our lives for the better.
The only thing we believe we're able to change is ourselves, with the assistance of doctors who can give us "magic bullet" pills to alter our mood and perceptions, as well as keeping us youthful and protecting us from death. We have fake tits, white teeth, hair implants, botox and numerous other procedures to alter our appearance, because we're powerless over anything except our looks. We can be reasonably sure that our lives are protected by hospitals and medicines, but our power to influence anything else in life, such as our socioeconomic prospects, is precisely zero.
While a sharp-elbowed tranche of middle-class society obsesses about their children's exam grades, places at the most desirable schools and universities, internships, graduate training programmes and otherwise attempting to give their precious little darlings a head start in life, this blinkered myopia ignores the fact that the baby boomers are getting older and older but living longer and longer, while also amassing asset portfolios well beyond their means, and preventing those precious little darlings from having any hope of having secure jobs and secure housing. In order to pay grotesquely unjustified and disgustingly greedy defined-benefit pensions to the generation who've contributed the least - except to national debts, global warming and a decline in living standards - the pension funds demand that workers are paid pitiful wages for longer hours in terrible working conditions, so that profits, capital gains and dividends can keep sustaining the unsustainable, unrealistic and ridiculously greedy selfish demands of those who are taking out far more than they paid in.
A small segment of society is free to write, paint, photograph, travel and generally enjoy the freedoms that we would all love to have, but the very vast majority of us are too busy trying to survive in an ecomony which is built to benefit the few, not the many. Only the old and wealthy are free, and they did not work hard to earn their freedom: they have stolen that freedom from the young and from the future generations who will inherit all the problems of today and tomorrow.
If you're an artist and/or an academic and you enjoy your life and your job, you need to remember that the position of privilege you're in is very rare and a very high price is paid by a huge number of people, so that you can swan around having a lovely time. Your freedom ends where mine begins, so if your freedom is disproportionately large compared to the rest of society's then you're being greedy and antisocial; you're an enemy of society. While it's very trendy to talk about freedom being important, we must be mindful that most people want security, not freedom. Think about the price that's paid by the whole of society for your luxury privileges.
To be truly free and happy, we might have to re-evaluate our priorities. We can't demand cheap food and cheap goods if we want to be free, for example, because those things are only made possible by the exploitation of workers. We can't demand passive labour-free unearned income, for example, because that's only made possible by tyranny, economic slavery and exploitation of the vulnerable. Most importantly, we can't expect to feel contentment and security, when we need unhappy, insecure people in order to sell consumer products and to keep our entire workforce on the treadmill, by heavily indebting them and denying them social housing or the ability to buy/build their own home.
You might teach your children that a strong work ethic and academic excellence are the route to getting ahead in life, but it's not true. Being a compliant hard worker means you will be exploited, and obtaining academic qualifications incurs a substantial amount of debt. Servicing debts and paying rent is a form of tyranny which has encroached on personal freedom to the point where only a tiny fraction of society enjoys any kind of meaningful freedom at all. Your children will not be able to escape the trap; there's no hope. The depression and lack of optimism for the future is driven by a rational, reasonable and sound assessment of our younger generations' prospects.
Our heavily indebted and heavily medicated society is also controlled by draconian laws which were ostensibly introduced to counteract terrorism and industrial unrest, but have been abused to undermine the strength of trade unions and prevent the establishment of any counter-cultural movements which might challenge the status quo. While we should be living in an age of alternative lifestyles and people dropping out of a society which clearly no longer serves the majority of people's needs, we are instead witnessing a miserable dystopia, where we're all trapped on the treadmill because the only alternative is hunger, homelessness, persecution and social exclusion.
Yes, I'm free to write whatever I want, provided I do not defame the powerful figures who are responsible for maintaining this miserable state of existence for so many millions, but those in power are quite comfortable in the knowledge that my ranting is safely confined to an echo-chamber filled with so much noise that, as Aldous Huxley predicted, the truth is drowned in a sea of irrelevance - information overload.
We are somewhat hoisted by our own petard. Almost none of us of us demanded freedom, but we have collectively made freedom of speech into something useless; toothless. We are not free at all and we have no mechanism by which to affect any meaningful change. What is supposedly our most powerful tool to speak truth to power - the freedom to express ourselves - has in fact become the reason why our voices are not heard and our suffering goes ignored.
All that's left is the freedom to be hungry, homeless, persecuted and excluded.
Tags: #homeless #politics #capitalism #socialmedia #media #writing #philosophy #society