This is a story about screen time...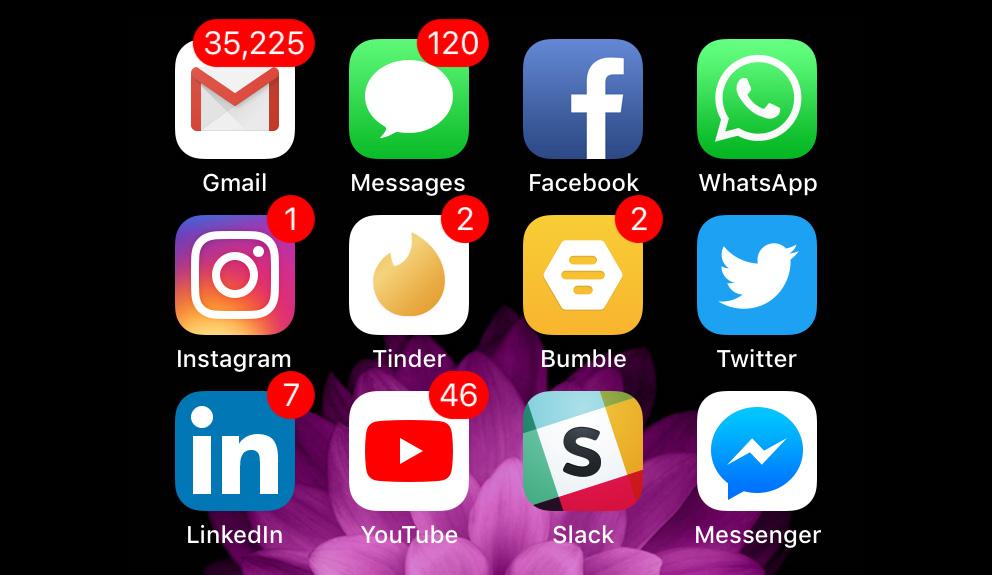 The button to silence my smartphone has broken so I leave it permanently in "do not disturb" mode, which suits me just fine. Hardly anybody ever phones me except for agents and other cold caller sales types. My time is mostly spent in the 12 apps pictured above. Perhaps I'm not on my smartphone all the time, but essentially I'm context-switching non-stop throughout my waking hours, so I thought that warranted a little examination.
Starting with my 35,225 unread emails, my inbox has gotten rather out of control. Email has become such a victim of its own success that no IT professional I know even uses it anymore - we're all on Slack. Most communication is entirely transient and there's no need to have a record of anything except some kind of chat transcript to catch up on - anything old can be archived and forgotten. I spend all day every day chatting to my colleagues on Slack, including colleagues from organisations where I don't even work anymore.
Messages comprises SMS messages - mostly telling me about voicemails I haven't listened to - and a handful of iMessages from people who aren't using WhatsApp for some reason. WhatsApp deserves special note though, because of the group chats. I was removed from the only group chat I was a member of - discussion between cryptocurrency enthusiasts - and I was usurped by a guy who screwed me over last year when I was on my deathbed, which is kinda besides the point but it galls me.
Instagram I don't actually use very much. I live in a text-based world and the photos I take are in 4:3 or 3:2 aspect ratio, not 1:1. I don't take very many selfies.
Facebook Messenger is my most active chat app, but I only use it to chat to one person - my guardian angel - and we mainly exchange memes about suicide, mental health problems and the ruined economy. Facebook messenger also makes calls - as do many of the apps - and I occasionally speak to a friend in Poland, which is about the only time I speak to anybody on the telephone.
Recently I've been using Tinder and Bumble in an attempt to meet girls. It adds additional complexity to my context-switching life.
I'm not really sure what I use Facebook for. I do browse through the feed once a day - not on my smartphone - and I occasionally like and comment on things which are especially noteworthy, but I generally try to avoid over-investment in that particular walled garden. I used to share a lot and indeed I've managed to rather make a fool of myself in front of all my friends and scupper my chances of ever working in some organisations, because I dragged my own good name through the mud. I don't put my dirty laundry on Facebook much, only for it to be conspicuously ignored. Instead I write over a million words on my blog and broadcast my ups and downs to thousands of followers and anybody who does Google searches.
I don't use Twitter properly. I don't generally retweet stuff and I don't spend enough time reading the tweets of the 6,000+ people I follow. How anybody could sift through it all I have no idea - Twitter is a pretty noisy place. Generally I just look to see if anybody I know is tweeting about any of the trending topics, and I otherwise rely on an email I receive in the morning each day, which tells me what my favourite people have been up to. I must admit, it's sometimes a struggle to stay on top of my notifications and DMs and then I turn turtle and hide for a while until things quieten down.
I don't bother with LinkedIn much. I don't struggle to find work. I don't much see the point in ploughing much time and effort into my corporate image - I've got a perfectly professional CV and LinkedIn page, and otherwise I rely on my contacts, skills, experience and references to be able to get work when I need it.
I wake up in the morning and I quickly scan through my notifications - mostly Twitter - to see if there have been any comments, which I make a mental note to reply to later in the day. When I get bored around mid-morning, I have a glance at my inbox to see if there's anybody demanding money with menaces or otherwise harassing me. Approaching lunchtime, I might kill a bit of time with Facebook, but I don't want to get too engrossed in my phone when I'm at work. If I'm having a really dreadful day, I might reach out to a couple of friends via Facebook Messenger and WhatsApp and see if I can get them to send jokes, memes or anything that might provide a moment's distraction from the boredom. After leaving the office and generally before my evening meal, I write a blog post. I often scan through my website analytics to see if there's anything notable going on. If my mind is busy and distracted I frequently find myself flipping between half-watching something on Netflix and several tabs in my browser - a mix of Facebook and Twitter. Sometimes I read the news, but I find that I spend less and less time engaging with current affairs at the moment, because I've been stressed out of my mind with basic survival. A new part of my routine is chatting to girl(s) via the dating apps and if I'm ever lucky enough to get a phone number, then chatting on WhatsApp.
The amount of context switching is pretty remarkable. In any given day I might have to switch between fully professional mode, with colleagues who I want to present with a squeaky-clean corporate-friendly version of myself, and a more relaxed but still guarded version of myself which allows a little bit of my personality to show, but hopefully keeps my bad not-safe-for-work (NSFW) stuff hidden. I might be chatting to somebody who I've known for a long time online who's in a different timezone - ahead or behind - and they'll know an incredible amount of personal stuff about me and we'll be talking very frankly and honestly about everything and everything... then I'll be talking to a girl who I've just started chatting to who doesn't know me at all... then I'll be chatting to work colleagues who I spend 40 hours a week in close proximity with and they think they know me but they don't [and I don't want them to know everything]. Then, there's the image I present and the interactions I have via my blog and social media. and all the people who I have frequent and infrequent contact with, and the different ways I know people. Facebook is a particularly weird melting pot, where former work colleagues mingle with people who I know through kitesurfing, my startup days, the time I was homeless and living in parks and hostels, people who I've just randomly friend requested when I was mentally unwell. Facebook is kinda the worst, because I never know which guise I should be in, so I'm probably too honest and I'm tarnishing my own reputation and good standing that I once had with friends.
My brain has to switch between survival mode - where I've been worried about money, housing, addiction, alcoholism, transport, sex, isolation, suicidal thoughts, self harm, depression, anxiety and odds that have been very much stacked against me - and professional mode - where I'm expected to perform at a very high standard and navigate extremely complicated large organisations and know all the ins and outs of massive and complex software systems and the infrastructure they're deployed on, plus all the many teams and the zillions of people and the processes and procedures - and my digital identity which I'm cultivating - which needs me to compose a blog post every day and stay on top of any replies, messages and emails, and generally keep in touch with an ever-growing list of friends who I've never met in person, but who've been amazingly kind and supportive during rough times - and Mr. Eligible Bachelor mode, which requires me to present myself in the correct sequence, so that I can be understood without at the same time being overwhelming and off-putting.
To some extent my life looks quite simple. I have a job and not much else - I don't socialise and I'm not in a relationship. To the casual observer, all I do is move between my home, the office and a hotel, and I'm always in front of my laptop, tapping away at the keys quite furiously.
I suppose my life is quite simple, if we imagine that my fixation is the screen and the keyboard, but the screen time is a red herring - it's a window to an unimaginably gigantic and complex world of thousands of interactions with people all around the globe.
The context-switching is pretty hard though. I've struggled to stay on top of everything during the last couple of days.
Tags: #socialmedia #privacy #writing #friends #career #computing #dating #sex