This is a story about comfort zones...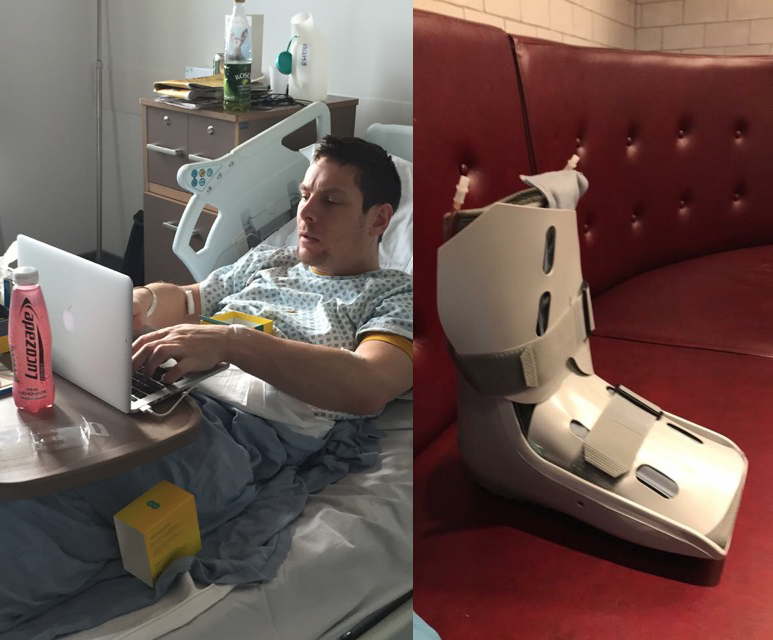 Relax and put your feet up, I'm about to tell you the tale of two sedentary situations.
I'm institutionalised. Put me inside a hospital or a head office, and I'll feel right at home.
Most people don't like hospitals: they associate them with pain, death and stress. Most people don't find hospital relaxing; quite the opposite in fact. Hospitals are places of mysterious rhythms and routines that seem chaotic to most people. There are different sounds that all the machines make when they're working, and when they're making noises that indicate that something is going wrong. There are different NHS staff, in different roles, in different clothes, who appear at different times.
My week in hospital that I'm going to tell you about - although I spent the best part of two weeks in hospital  - sounds kinda nice, because I was never really afraid or outside my comfort zone. I find the functioning of complex organisations to be fascinating. I love observing the systems and the people, trying to second-guess what's going to happen next, and what's going on behind the scenes. I like asking loads of questions and adding whatever I can learn to my growing body of knowledge that allows me to feel more in control of my destiny and more able to know what to expect next, than the tense, anxious and extremely tedious waiting game that most patients face on the National Health Service.
Once one has resigned oneself to the maximum speed that a massive organisation can function at, the whole hospital experience becomes quite meditative. Sitting in Accident & Emergency, you can fill your time sneakily looking at the other patients in the waiting room, and trying to guess what symptoms they reported to the reception staff when they arrived. Shortness of breath, chest pains, numbness in one side, drooped face, earlier seizures, unconscious or otherwise delirious patients will normally arrive by ambulance, but any walk-in presentations will obviously jump to the front of the queue. Then, there are the people with minor injuries who have put up with their trivial ailments for days or even weeks. The reception staff aren't allowed to tell them to fuck off, so these idiots must sit for hours on end, only to be told off for wasting valuable NHS resources, quite rightly. In the middle, there are nasty workplace injuries, DIY accidents and total wildcards. You usually get seen by a triage nurse within an hour.
Having been admitted into Accident and Emergency, there is a brief flurry of activity while routine blood samples are taken, and perhaps you're hooked up to a drip. A barrage of questions is fired at you. Examinations seem to be probing and thorough. Surely these professionals are going to have this problem fixed in no time?
It's always a mistake to believe that important things are happening and it won't be long before the right diagnosis is reached and the right treatment is administered. One should be aware that the function of A&E is to rapidly assess whether you're about to die, whether you might need to be properly admitted to the hospital, or whether you can be discharged swiftly, suddenly and brutally.
Once on a ward, a certain amount of orientation and induction is necessary, but all wards function with great similarity. All nurses are grateful if you don't press the call button all the time, for trivial things, as well as being cantankerous and discourteous. Remembering one's Ps and Qs at all times is a pleasant distraction from boredom, pain and discomfort. There will be shifts, and it's important to be mindful of when these shift changes occur. The NHS staff see so many patients come and go, and many are lucky enough to only have a very short stay in hospital, so there will be a certain initial reluctance to absorb you into the system: the ward wants to spit you out undigested.
Having overcome some initial resistance, you can relax into hospital life. Your day begins with your vital signs being measured. Then blood samples are taken. Then there is the hullabaloo of breakfast, ridiculously early in the morning at 7am. Then, there is nothing. All of that disturbance keeps the night shift staff briefly busy before they hand over to the day shift. The day shift hope to be able to ease their way into the working day gradually. Consultants start to appear at around 10:30am, followed by a gaggle of registrars and junior doctors. The most important time of the day arrives: choosing your lunch and dinner for the next day. By the time that lunch is served, you can't remember what you're going to get because it wasn't long ago you had to choose what to eat tomorrow. The meals are pleasantly bland and easy enough to eat. Mealtimes are something to look forward to, even if the food is far from gourmet. Expecting much to happen during the day, in terms of treatment, is a mistake. Anticipation of treatment that has been promised can only lead to frustration and disappointment. The NHS does what the NHS does, and it does it at its own speed. Things cannot be rushed or expedited. Complaining or asking staff when things are going to happen or what's going on, will only piss them off and ruin their day. Dinner arrives surprisingly early. Treatment can be sprung upon you at the end of the day, just when you thought you were going to have a relaxing evening, or you can have a lengthy wait until you get your pain medication and anything to help you sleep. Dropping off to sleep is not easy, especially as the day shift will hand over to the night shift loudly at the end of your bed, and there will be more vital signs being measured before you'll be left in peace to try to get some rest.
And so, my week in hospital consisted of lying on a bed that had buttons that could make me sit up or lie down, with no effort required at all. I was able to elevate my bad leg, to reduce the swelling. I was brought paracetamol every 4 hours, tramadol every 6 hours, and 2 hot meals a day. There were few unexpected interruptions, and if I was well enough, I would have been able to read, listen to music, browse the internet and watch films & TV, pretty much all day, all evening and as late at night as I wanted. I could stake a piss without even having to get out of bed. Friends travelled to see me. Doctors came to my bedside, and I was wheeled to wherever I needed treatment, by hospital porters. I was under no obligation to do anything, except to get better, and all my basic needs were met. My lovely girlfriend augmented the hospital care, so I wanted for absolutely nothing. Blissful, right? I could have stayed for a month, and I would have even earned £676 (I pay myself minimum wage).
---
Why then was I in such a hurry to discharge myself? Why would I leave the lap of luxury, and risk my health and even my life, by leaving the safe confines of hospital?
Well, that's a topic of discussion I've covered at length in prior blog posts, so I invite you to peruse the archives.
---
People rarely change their bank. We open current accounts in our teens, and we keep them into adulthood. Some of us even opened special accounts when we were children, and we have a certain nostalgic brand loyalty for the bank that we've been a customer of since we were youths.
The 'big four' or 'big five' high-street banks have not changed for my entire lifetime. We have (in alphabetical order) Barclays, HSBC [Midland], Lloyds [TSB], Royal Bank of Scotland and Santander [Abbey National]. These banks hoover up 85% of all the current account banking customers in the UK.
Just like current account holders, people join these banks when they're young - often their first job - and tend to stay loyal. Many people who I deal with on a day-to-day basis have worked for 15, 20 or 25+ years for the same bank that's been so good to them that they've never felt compelled to leave. Everybody bitches about their job, but a bank employee knows that they're very well looked after and they'd be mad to go off in search of a better job.
I've worked for 3 of the big 5, and they're institutions that I feel very at home in. Some people might think that I work in a rather high-stress environment, where it's imperative that I'm up to date with the latest cutting-edge developments in my field, and I need to perform in an exceptionally demanding role. The truth is, once you're in the door, you're in for good. You get your feet under the desk, and adopt the right kind of jaded resignation, that everything is going to be slow, sloppy, shit and a massive festering pile of neglected crap that nobody gives two fucks about, and you'll fit in just fine. Moan as much as you want - everybody does - but for God's sake don't go on any crusades to change or improve anything. Just settle in, get comfortable and enjoy the masochistic experience of being in a world where not a lot gets done and the right answer is always "no".
A lot of people get into technology and engineering, because they like to fix things and make stuff that works. They like to build stuff. They like the feeling of completing a technical project, throwing the switch and seeing their hard work put into action. A bank is a terrible, terrible place to build anything that will ever see daylight.
Having come to terms with the fact that any ambitions you had of building useful things that people might actually use, will be forever thwarted by a bank, you can begin to enjoy the ridiculous game. You command millions of pounds of budget, and you will achieve nothing. When you estimate how long you think it will take you to do something, you double your original estimate, double it again, and then double it one final time for good luck, and it's still not long enough. When you are asked about the feasibility of doing something, or whether you have any spare bandwidth to perhaps do something extra, you instinctively say no; it can't be done; no chance. Nobody ever got fired for saying no. In fact, people start to love you and think you're great at your job, if you get really good at saying no.
Delivering pieces of important technology, 100% working and of high quality, in short timescales and with hardly any resources, is liable to cost you your sanity. "It can't be true" colleagues will proclaim, even as the results are staring them in the face. From denial, your colleagues will move to the belief that it's a one-off fluke, or they will hate you. Colleagues will mainly hate you for making them look like totally incompetent blundering slowcoach fools. Nobody ever made friends and got ahead in a bank, by doing a good job. Finding yourself burnt out from the exertions of persuading people of the merits of doing things properly, without pointless delays, you find yourself suddenly alone; isolated. You may create some kind of mythical; legendary; cult status around yourself and your achievements, but you have no future with the bank: the bank doesn't want your type, and it will unceremoniously eject you.
You can work for a bank for as long as you like, provided you just go along with things. Never challenge anything. Never push for change. Never go the extra mile. For sure, banking demands that you be seen to be going the extra mile, but it's all just for show; part of the act.
So, if you want to be really successful in your banking career, you learn the rhythm and routine of your department. You learn when your boss arrives at work, and you get to your desk before him or her, and leave with them in the evening, making pathetic small-talk. You learn who's got kids, what ages they are, and what stressful childcare arrangements are a pain in the arse for your colleagues. You learn how everybody gets to work. You learn whether they're morning people or night owls. You learn their interests: topics to get them talking; things that enthuse them. You learn who takes their job seriously; who's ambitious; who's jaded and demotivated. You learn who drinks heavily, smokes, gets stoned. You learn who's lived, and who's been insulated. You learn who's worked hard, and who's had advantages. You learn when to make yourself scarce and blend into the background, and when to promote yourself. You learn the things that need to regularly get done, and you discover many things that don't need doing. You learn how to do just enough to please the handful of important and influential people, and how to avoid having to do any pointless busywork.
You can't prepare yourself for boredom. There is nothing in the world worse than boredom.
My first week back in the office was 4 days of boredom. I've seen it all before, done it all before, and I'm the master of minimal effort. The only problem is that I need to look busy to make a good first impression. I forbade myself from reading the news on my laptop. I tried really hard to not look at my phone too much, and to pretend to be busy.
My boss and his boss, both sit right next to me. My boss is a nice guy who seems to have a paternal nature. The big boss talks too much and doesn't realise that I find him amusingly stupid. I listen, make the right noises and say some encouraging sounding things, but I'm completely failing to disguise my contempt for this fellow, but luckily he's the only one who fails to see my total lack of respect for him, except for my bosss. I endeavour to make my boss feel that my number one priority is in supporting him in making our team look good in the eyes of the big boss. I try to make the big boss feel in control, while diverting any respect he commanded away from him. There's a mutiny in progress, but nobody will realise until it's past the point of no return.
Virtually nothing can be achieved in 4 days in a bank, and I've achieved far more than anybody expects of me, even though I've spent a considerable amount of time in the toilets, browsing Facebook and writing amusing things for my friends to read. I invested as much time as I possibly could in developing a good relationship with my boss and my team, but I have nothing of value to contribute yet. Aside from dazzling my colleagues with my all-round technical knowledge, my main task is to stay the fuck out of their way and not disrupt things too much.
Regrettably, I've had to take Friday off work. Making a good first impression can only be done once, and the lasting image that my colleagues will have of me - the guy wearing the robocop ankle splint - will now be tainted with the fact that I had to take time off work, giving the impression that I'm unreliable and prone to sickness. Damage to your image like that can be irreparable.
Sometimes, it's desirable to be known for being unhelpful, regularly late to work and somebody who leaves on time in the evenings. Being somebody who walks out the office door, even when there's a major crisis, is the sign that you have become perfectly adjusted to bank culture. However, the clever ploy is to try hard at first, to develop an image of being a hard worker, but in actuality, you are avoiding work and responsibilities at all costs. In time, you will have the best of both worlds: being thought of as dedicated and useful, but actually adding no value at all.
My foot has been steadily getting more and more painful through the week, and I've been popping painkillers throughout the day. I've passed the week in a dreamlike state; heavily medicated. Having strong coffee in the morning to make me sharp and alert enough to make a good first impression, has meant that I've been able to stay awake in some horribly boring meetings, but it has made me a little hypomanic, causing me to be far too outspoken at times, but I think I've got away with it.
I've earned more in a single day in the office, than I would for almost a whole month of being in hospital. That kind of cash does motivate you to get out of bed in the morning, and to stay at your desk with your mouth shut, when really you can't stand being in the office.
You'd think it wouldn't be that hard, being a bit bored, going to a few meetings, talking to people, saying fairly standard things that are obvious. Having the exhaustion of being unwell, plus being in pain and discomfort, make things hard for sure, but in a way, it's been an excuse to be fucked up on drugs for 4 days and get paid an obscene amount of money for the privilege.
It seems fairly clear that if I can dial the intensity down to 4 or 5 from 11 - and the dial only goes to 10 - and ease my way into a gentle routine that I can just about cope with, then I'll be able to blend in for years. There's no reason why I wouldn't be liked and respected. There's no reason why I can't be perceived as doing a great job, even though I'm not doing anything useful. That's the main thing I need to remember: I'm specifically there to not do anything.
Saying the right thing at the right moment - being the smartest guy in the room (as someone I know once jibed) - comes easily to me, and it does unfortunately command a disproportionate amount of respect versus doing some real work instead.
---
I'm not sure which week was more comfortable. Certainly hospital was more physically comfortable, but I was highly stressed about losing my lucrative hard-won contract and being too tired to be able to function when I started work. My job is extremely easy and I anticipate no problems, except coping with boredom and my propensity to blow a fuse with frustration at the snail-like pace that everything moves at.
Sleeping in my own bed has been far superior to the hospital bed, but getting up in the morning is never pleasant. However, my lie-ins were so ruined in hospital - by irritatingly early breakfast and the like - that I have actually been getting ready for work, relatively painlessly.
Commuting is hell, but because I know it's hell, I'm able to impassively observe the shit that I'm going through; detach. Commuting is the price that one must pay, if you wish for your gross income to exceed a year's average salary in the space of just 8 weeks.
How can anybody handle such contrast? It's insane. It's surreal.
How can I walk out of a hospital, against medical advice, and go straight into a brand new job where they're oblivious of just how sick I am and how messed up my brain is by strong medication? Can't they see that they have an imposter in their mix? Obviously not.
That, effectively, sums up the bipolarity of my life. The ups and the downs. The highs and the lows. What more extreme example could I come up with?