This is a story about star quality...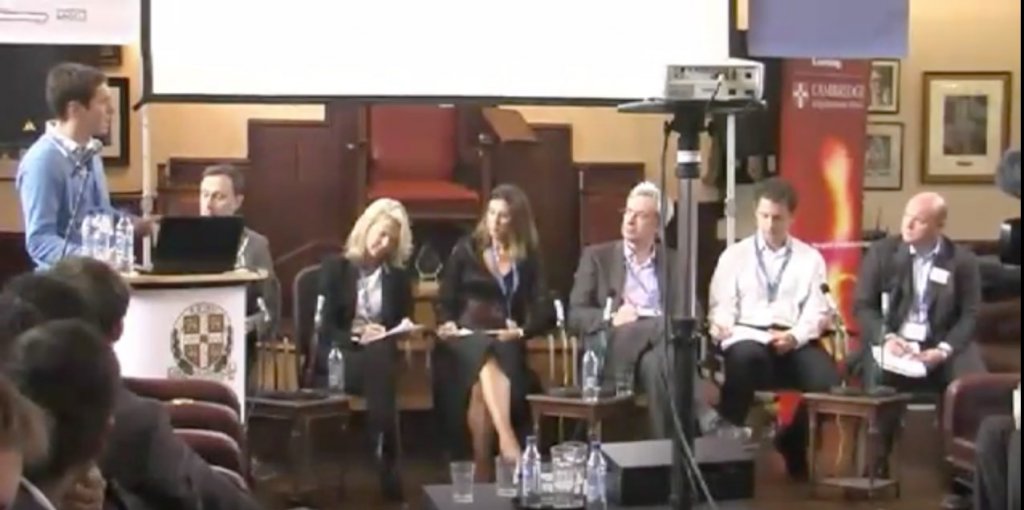 Hey! Is that Nick Grant pitching a Dragons Den panel at Cambridge Union? Isn't that the same podium in Cambridge where UK prime ministers and US presidents have wowed crowds? Isn't that the same podium where the world's best and brightest have stood? Yes. Yes it is.
If you're into astrology, you should know I'm a Leo. Apparently this means that I adore being the centre of attention. However, I've always had somebody yelling louder than me for the spotlight to be directed onto them.
Growing up, my dad had this horse-shit narrative about how cool he was because he took drugs. My childhood achievements were nothing compared to the amount of drugs and alcohol he could consume. Growing up, life was all about worshipping how smart he was for obtaining and taking intoxicating substances. Woo!
My longest relationship, with the girl who my friends affectionately called "the poison dwarf" was dominated by her tantrums if the attention was diverted from her. She completely ruined our joint birthday and engagement party, simply because her unpleasant nature had brought her few friends in life, and the event was mainly my friends, despite my efforts to help her encourage people from her own social circle to attend.
OK, I'm not that humble, but I'm not that arrogant either. If I'm bigging myself up, it's because it's a defence mechanism because I've been dragged down by my own parents, bullies and an abusive ex-wife. I've had a rough fucking ride, so let me have this one, OK?
I haven't lost perspective. I'm well aware that my achievements amount to nothing. I never got so much as a "well done" out of my parents for everything I've ever accomplished. It's tough fucking going, living life with insufferable cunts who just want to see you fail.
Normally, when things are going well, people are supportive and want to help you to continue to achieve your potential in life. Not so, in most of my story to date.
Often times startup founders receive their initial funding from friends and family. My friends contributed generously to my ambitions to build a profitable business, and they were repaid with the dividends from the company. My own parents saw no potential in what I was doing, even though billionaire investors took me under their wing and agreed to help my co-founder and I to build a valuable business. My ex-wife took particularly cruel delight in watching my dreams get shattered.
Yes, I'm subject the fatal flaw of a little too much desire to be loved and liked. When an acting coach suggested that we try my co-founder out to see if he was any better at delivering an investor pitch, I was mortified by the idea that I wouldn't get my moment of fame. For sure, I'm subject to big-headedness and delusions of grandeur as much as the next person, but in a way, I can argue that I deserved my little headlining moment, because I had always been kicked to the sidelines by self-centred parents and partners.
You know what? Give your kids their moment of fame. Let your kids bask in a bit of adoration. Don't hoover it all up for yourselves. You know what your input was? You had sex. Well done. Gold star. But that's nothing that every couple didn't already do for hundreds of millions of years. All you did was do what your fucking body was programmed to do. Now get the fuck out of the spotlight and let your kid enjoy their little moment. Your time is over. It's no longer your chance to shine. It's your moment to tell your kid well done, and that you're proud of them.
Butt the fuck out and acknowledge a good performance when you see one. Congratulate your fucking kid on their hard work and try and pretend like you're pleased, even if you're too fucking drug addled and self centred to even see straight.
You know what else? I'm fucking taking this one. I'm fucking taking this moment to tell myself well done, because nobody in my family is going to. My ex-wife isn't going to. Basically, the people who mattered most to me when some fairly monumental stuff happened to me in my life couldn't have given two shits about anything that wasn't to do with them and their selfish fucking world, so I'm going to relive this little moment and applaud myself.
Well fucking done me.
It ain't fucking easy battling for your moment of fame. It ain't fucking easy getting that chance, and then performing when it matters. It ain't fucking easy at all. And what's it all for if the people who you think care about you couldn't give a toss?
Well, guess what? I had that limelight. Not because I was a drug-taking fucktard like my parents, but because I worked hard to get that opportunity. I had that opportunity, not because I demanded it and stole it from my child, but because I wanted to impress, because I wanted to do something great.
Isn't that awful, that my parents made my entire childhood about them, shoving me into a dark corner so they could harvest all the ill-gotten attention? Isn't that awful, that my longest relationship was dominated by an abusive partner who demanded that the spotlight was always directed on her, and abused me to the point that I lost my confidence and became a withdrawn and shattered version of my former self?
Bygones. Regrets. Yes.
I'm just telling the story because nobody else is going to tell it. If you ask my parents they'll tell you that I was an evil waste of space who never achieved anything, and that's plain wrong.
This is me sticking up for myself. This is me fighting against the complete collapse of my self esteem that will render me hopelessly suicidally depressed. This is my defence mechanism.
I'm sorry if this comes across as arrogant or self-centred. I hope it comes across in the context of my desperately low sense of self-worth, given how I've been treated most of my life. I need a little pride and self confidence to be able to continue.
God damn, I'm so low right now.
Tags: #startup #suicide #depression #selfesteem #parents #childhood #divorce