This is a story about the food of the gods...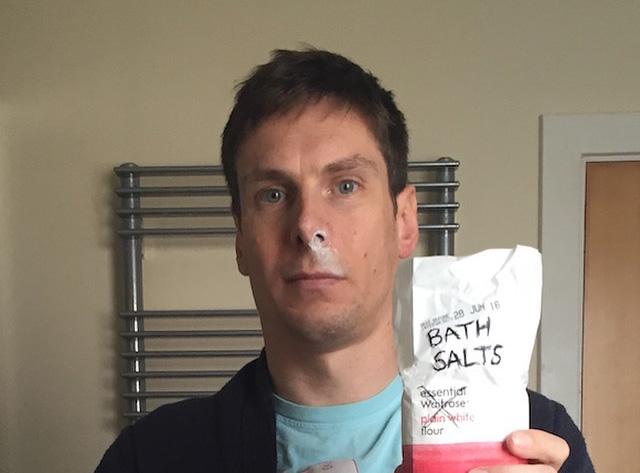 It was a spate of sensationalistic tabloid newspaper articles which first alerted me to the fact that you can buy super-strong high purity narcotics on the internet. It seems fairly obvious that the internet would sell drugs, given that pornography and escorts are readily available to anybody who looks online. It's a simple case of supply and demand.
Your average middle-class person normally has excellent life prospects - they're likely to be able to get a rewarding secure job, buy a house and afford to raise a family. Having a nice life is an excellent protective factor against the temptations of drink and drugs, although there are plenty of wealthy people who become alcoholics and junkies. Most middle-class people are afraid of drugs, because their insulated life never exposes them to the reality of recreational drug use and they wouldn't know where to find a drug dealer even if they wanted to.
Making drugs easily available on the internet lowers the barrier to entry. Being able to conduct a frictionless e-commerce transaction and have extremely potent drugs hitting your doormat the very next day, places a whole group of people who'd never normally be able to dabble - because they're insulated - in the position where there's a mountain of choice available at the click of a button.
Addictions don't generally take hold unless there are other social and psychological risk factors present. Being stressed, depressed, unemployed, having no hope, having relationship difficulties, family difficulties, money worries and a whole host of similarly unpleasant things, predisposes a person towards drug addiction - unhappy people are much more at risk of developing a habit, because their lives are shitty.
The first wave of legal highs were not very good - the stimulant drug BZP is a an anthelmintic... i.e. it's a worming treatment given to animals.
The second wave of legal highs was a huge improvement. Meow meow - methcathinone, mephedrone or M-CAT - swept the nation at a time when the average purity of street cocaine was less than 20%. Street drugs were terrible quality because of prohibition and the pressure on dealers to maximise profits, because of the risk to their life and liberty. Legal highs were the obvious solution in a capitalist society driven by supply and demand.
Methylone - βk-MDMA or beta-keto-MDMA - was the legal version of ecstasy, and for people who used to go clubbing in Ibiza when they were younger, it proved to be very tempting for former ravers, including myself. Being able to legally obtain an ecstasy-like drug via the internet, enabled me to resume safe recreational occasional weekend drug-taking, which had no negative effect on me or those around me. This was legal, victimless drug-taking in a capitalist society, where the drug was simply a product being produced in a factory and sold by a vendor to the customer - me - in exactly the same way as people buy Nike trainers.
Then, the government banned meow meow and methylone, along with a whole host of other chemical analogues.
For a while, I didn't care.
I went back to my drug-free existence.
I wasn't addicted.
But.
18 months later, I was incredibly stressed and I was having horrible relationship problems. I was depressed and suicidal. I was at risk of addiction.
I went onto a legal high website that I'd used 18 months previously and I looked for a product that was similar to methylone; similar to ecstasy. I wanted to feel better. I wanted something to lift my mood. I didn't know it, but I was very vulnerable to addiction getting its hooks into me.
I bought the number one bestseller on that website.
It was called "NRG-3".
I had no idea what it was.
I'm not stupid, so I did my research. I was away from home a lot because I was trying to raise investment for my startup. I researched this "NRG-3" stuff and it sounded horribly dangerous, so I decided to throw it in the dustbin as soon as I got home - it was sitting on my dining room table in the padded envelope it had been delivered in.
I went to a wedding.
I had an almighty row with my partner.
I decided I was going to kill myself.
I drove home from the wedding in the middle of the night, trying to build up the nerve to drive my car into a concrete bridge pillar at 100mph+. I had turned off the airbag in my car. I wasn't wearing my seatbelt. I figured I'd die instantly if I crashed at that speed into an immovable object.
I got home. I wasn't dead, but I was still suicidal.
There was the envelope.
...
The rest as they say, is history.
...
But what is "NRG-3"?
In America they call it bath salts. Sometimes it's sold as Ivory Wave. Now it seems to be called monkey dust, in the UK. There are also nicknames like flakka, gravel and zombie drug. It's all the same stuff. I call it supercrack.
The reason why I call "NRG-3" supercrack is because I don't really want to write anything online that makes the connection. I've written at length about how potent supercrack is, with a dose of 15mg lasting circa 18 hours, which means that 1 gram of supercrack is 67 doses. This drug is so ridiculously strong and so incredibly cheap that it seemed irresponsible of me to inform anybody of what exactly it is. This drug messed me up so badly that I didn't want anybody else getting curious and falling into the trap that I did.
The active ingredient in monkey dust is alleged to be a chemical called MDPV, but this seems very unlikely given how effectively the Chinese and UK customs have cracked down on the laboratories and supply chain, such that MDPV does not exist in the wild anymore. When the newspapers report that monkey dust is MDPV, they're just plain wrong.
Another chemical called a-PVP - α-PVP or alpha-PVP - is so similar to MDPV it's almost indistinguishable. When the Chinese shut down all the labs producing MDPV, they simply switched to producing a-PVP. Now, a-PVP has gone the same way as MDPV and it doesn't exist in the wild anymore.
There are zillions of analogues of MDPV and a-PVP, so monkey dust could be anything, but it's certainly related to MDPV and a-PVP. Monkey dust is not MDPV, as misreported by the newspapers, but it certainly has all the same effects, such as inducing stimulant psychosis - users hear voices and hallucinate. The psychosis is so powerful that people climb buildings and run through traffic to get away from the monsters in their head. The psychosis has lead to a number of grizzly deaths, hence why the tabloid newspapers have decided to run sensationalistic stories about the crazy escapades of monkey dust users.
The trend towards ever more powerful and ever cheaper drugs is a natural consequence of capitalism and drug prohibition. I'm definitely not pro-legalisation given that it does increase the risk that vulnerable people will become addicts if they have easy access to any drugs they want, but we have created a situation where those with crack, heroin and crystal meth addictions are beginning to realise that there are cheap alternatives, and the new drugs from the Chinese labs are incredibly pure.
Carfentanil can be bought via the Dark Web, which is a synthetic opioid so powerful that an amount the size of a pin head is enough to cause respiratory failure and death. Carfentanil is so powerful that it's considered to be a potential weapon of mass destruction, were it turned into an aerosol and sprayed in a crowded area. The Russians famously pumped carfentanil into a theatre full of Chechen rebels and hostages, killing at least 170 people.
The combination of Bitcoin, the Dark Web, Chinese factories, late-capitalism, austerity, prohibition and drug policies based on vote-winning and public opinion, instead of risk and good science, is creating a perfect storm where increasingly powerful drugs are becoming ubiquitously accessible at an increasingly cheap price. The situation is so bad that the US President has seen fit to declare a state of emergency. Emergency workers in the UK have declared the use of monkey dust as "an epidemic"
The synthetic cannabinoids - sold as Mamba and Spice in the UK - have ruined countless millions of lives and are used by almost the majority of homeless people and prisoners. The ubiquity of these psychosis-inducing cannabis replacements seems unaffected by the New Psychoactive Substances Act, which makes possession in a prison illegal, as well as criminalising the supply of the drugs. In such a depressed economic climate and with the dismantling of the welfare state, of course there will be countless millions who will become addicted to something which has proven far more addictive and destructive than the cannabis it was invented to legally replace.
All the trends point towards an ever-increasing proportion of society struggling with drug addiction, alcoholism, mental health problems, suicide, money worries, insecure jobs and insecure housing. Homelessness rates are soaring, living standards are declining, death rates are climbing and life expectancies are falling. It's a scandal. It's a disaster. It's a tragedy.
I struggle with addiction problems, although I've been 'clean' for a couple of months. Knowing that drugs are always readily available at the click of a button, but a secure job and a place to live are not, it seems obvious that the odds are stacked against people like me who are struggling. What's the best a person can hope for in such a dreadful economic climate? If you're suicidally depressed, of course drugs are going to seem more attractive than the life that's pushed you to the point of killing yourself. Drugs are simply a more protracted and drawn-out form of suicide, and most addicts know exactly what they're doing; they're choosing to kill themselves with drugs, because there's no better life on offer.
I read in the tabloid rags that a small bag of monkey dust can be bought for £2. I used to pay £27 for 2 grams of "NRG-3" which would last me anywhere between 2 and 3 months, so I imagine that a £2 bag of monkey dust lasts for 4 or 5 days, which - in an addict's mind - is incredibly good value for money, even if it's causing them to suffer powerful stimulant psychosis.
I've got a huge scar on my right leg where I fell through a glass roof in a classic monkey-dust story. I hid 80 feet up a tree with a massive shard of glass protruding from my leg, before descending and hiding in a bush in very unsanitary conditions. It's a miracle that I didn't bleed to death or subsequently die of septicaemia, shock or infection. It was exactly as the newspapers describe: superhuman strength, feeling no pain, hearing voices, hallucinating and being wide awake for days and days, with accompanying paranoia and strange delusional thoughts.
That I've been able to recover is only due to the fact that I've been able to somehow continue to work doing very highly paid jobs and the money I've earned has conferred considerable advantages. I've been very lucky to have had a guardian angel looking after me, helping to smooth over the enormous and virtually insurmountable difficulties associated with breaking the habit, detoxing and getting rehabilitated. Unleashing a powerful drug like monkey dust onto impoverished people is consigning them to an incredibly awful fate with little or no hope of escape. It's no wonder our emergency services, social services, police and mental health services are over-stretched, dealing with an avalanche of people who're using drugs like Spice, Mamba and monkey dust, because their lives are so shit, depressing and hopeless.
The social decay that we see and the conspicuous addiction and mental health problems that are putting such a strain on our first-line services, is a direct result of the collapse of our living standards and demise of any opportunity to work hard for a better life. The prospect of becoming crushed by spiralling debts, working zero-hours contract McJobs and not being able to afford rent and bills, is not something I'd wish upon my worst enemy. Of course people are going to become dysfunctional addicts when they're treated so appallingly, and there's so little hope of them ever owning a house and being able to afford to raise a family; there's so little hope of ever having the dignity of earning enough money to feel happy and secure.
Monkey dust is a hell of a drug, but there's no point in me warning people not to use it, because it's toxic circumstances that corral people towards addiction, not bad life choices or bad character.
Tags: #addiction #supercrack #monkeydust #nrg3 #drugs #mentalhealth #homeless