This is a story about looking after number one...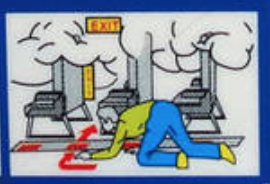 I just spent about half an hour searching for a specific picture which I know I took, because I have a photographic memory. I quite clearly remember the harrowing scene depicted, of the person crawling out of a burning aircraft. Perhaps I have muddled up some parody/meme image with my constant snapping of everything vaguely interesting, but I am certain that it was a photograph which I took and have uncharacteristically misplaced.
Why the hell is this important?
Well, every day I have to think of a title, introductory line, a rough outline of what I plan to write, and I choose what I think is an appropriate photo to accompany my piece. It might often seem like the pictures are unrelated, but very often a photograph is the thing which prompts what I'm going to write.
In today's instance, I knew what I was going to write, and I knew which photo I wanted to accompany the piece, but I couldn't find it despite a thorough search.
I imagine that many people are quite thorough and meticulous about organising their lives, and I am too, but in my own unique way. I can quickly lay my hands on on what I need, given that I have taken the various essential tasks of my life and turned them into efficient processes, despite not spending an inordinate amount of time on systematically organising stuff.
I deal with a substantial amount of stuff. I run my own business, which requires me to do monthly payroll submissions to HMRC, quarterly VAT submissions, annual accounts, self-assessment tax return, corporation tax, dividend tax, income tax, national insurance, annual shareholder statements, board meeting minutes, dividend certificates, professional indemnity insurance, 3rd party liability insurance. I live an ordinary life, which brings rental contracts, house inspections, gas and electric meter readings, tenant insurance, home contents insurance, pet insurance, car insurance, car tax, car roadworthiness testing, car servicing, car maintenance, cleaning the house, feeding the cat, scooping my cat's poops and replacing her kitty litter, recycling, bin day, mowing the lawn, composting, buying food, preparing meals. None of this is unusual, but it's not insignificant.
With the continuous unrelenting pressure to do a good job at work, and impress my colleagues, combined with the constant threat of ending up bankrupt, homeless, penniless and destitute, it's an intolerable amount of stress and anxiety, heaped upon me. Although I'm not drowning in ever-growing debt - my income far exceeds my expenditure - I don't have any job security, housing security or financial security. The position I find myself in is immutable: there are no alternative choices I could take.
"Why don't you take some time off?" or "why don't you do some unpaid voluntary work" or "why don't you switch careers?" or "why don't you study something interesting?" are all as utterly ridiculous as asking me why I don't just wave my magic wand and turn a pile of house-bricks into a pile of gold bullion. My situation is completely, rigidly, unalterably dictated by my circumstances. There is no other way to structure my life, other than the way I have done it - my life is like a prison.
Of course, I could always drop out of society, live in a tent under a road bridge, beg for money, eat at soup kitchens. Of course I have the option of becoming totally feral, and foraging for food in the forest, covered in dirt and clothed in rags. Yes, I suppose those are options which are available to me, but we must be aware that society operates a strict one-way street. Once I left society, I would never be permitted to return.
"So Mr Grant, what have you been doing for the past 6 months?" asks the interviewer. "Living in a cave" comes my reply. "Where should we write to you if your application for the job is successful?" the interviewer asks. "I have no postal address" comes my reply. Thus endeth any attempts to re-enter society, once a person has dropped out. I suppose I could get a cash-in-hand job washing cars for illegal immigrants, and sleep rough on the streets, but I think I would rather go back to my cave than suffer such a fate.
The point of this rant is that my life is finely balanced: it doesn't take much extra demand placed upon me, to push me beyond what I can cope with, given that I've already endured such incredible hardship to get here.
My journey has already included rough sleeping, hospitalisations and being locked up in secure psychiatric institutions. My journey has already included recent periods where I had no money and I had no income which is a pretty difficult place to come back from. My journey already took me to the limit of human survival, where I was in an intensive care ward of a hospital on life support in a coma, suffering from multiple organ failure.
I'm feeling pretty fit and healthy, relative to how I was before. I'm feeling pretty financially prosperous, versus the time when I had no money and no income. I'm feeling as thought I have a realistic prospect of re-entering civilised society, as opposed to crushed beneath its heel, like a bug. However, it really wasn't very long ago that I was in dire trouble, relatively speaking.
So, I have to be careful about being too competent and capable, taking on the world's problems; boiling the ocean. Only a few months ago I shunned anything and everything which would add more complexity and stress to my life, cutting things back to the bare essentials, so that I could cope. I'm little more capable of dealing with extra stuff now, but it's easy for me to get carried away. Vast amounts of my precious time can be eaten up when I try to help with some "simple" task, which is always anything but.
It's hard to say "no" as an engineer. We are, by our nature, problem solvers who like fixing stuff. We have dogged unshakeable determination to follow a complex set of tasks through to completion. What use is a half-finished engineering project which doesn't work? What use is half an aeroplane? What use is half a bridge?
I don't really know what my wants and needs are, but I know that it's very important that I fend off things of no value: things that drain my time and energy, disproportionately versus any reward I receive. My blog is an engineering solution to a problem I had, where lots of people wanted to be kept updated about my woeful life, but nobody was offering any useful practical help, so it was a massive waste of time speaking to the rubberneckers who wanted to know every gory detail, despite being completely useless, and indeed counterproductive because it was valuable time wasted which could otherwise have been put to good use, earning money or securing a place to live. If you want a soap opera - human drama - then you can read the pages of this blog, but don't bug me for your own personal show, because I don't have the time.
Of course, I love my online friends and they are very supportive, but only one or two have ever stepped forward to ever offer any real tangible thing of any use. Only one or two have ever made effort and taken risk, in order to help and support me. This is not to say that all the messages of support I receive aren't lovely, and the concern that's felt for me does lift my spirits, but I have to balance that proportionately against the effort involved. Lots of "sorry to hear you're having a hard time" messages won't pay my rent, if I'm in a financially precarious situation, so I have to prioritise work and other practical matters ahead of maintaining online friendships.
As a group of supportive individuals, of course my Twitter followers - and one in particular - were instrumental in getting the emergency services to me and saving my life, so it would be churlish and mean-spirited to complain about the 'burden' of having people who are interested and concerned my welfare. Of course I want more friends, not fewer. Of course I want to maintain a good relationship with as many people as practicably possible, but I have to offset that with the effort involved and the probability of useful, practical payoff. I could never have predicted that Twitter followers would be so swift in delivering the emergency services to me in the nick of time - although I still nearly died - and I could never have predicted that I would receive vital practical things that I needed, exactly when I needed them, due to people who've read my blog. I could never have predicted that my blog would bring me new friends, who make the effort to come and visit me. All of these things are positive, but I also need to be careful, because social media is mostly a black hole, swallowing vast amounts of time and energy, and giving very little back in return.
So, I say this as a reminder to myself: my blog is the way that anybody who's interested in my life can stay up to date, without excessively burdening me. It seems unfair to ask for your own personal update, when I spend so much time and effort crafting these written updates, for the express purpose of keeping anybody who's interested informed.
Of course 1.3 million words are far too many for anybody to read in order to "get to know me" but also somehow too few... either way, I'm struggling to survive day to day through my essential tasks of: work, sleep, eat, write.
It might sound selfish or antisocial, but this massive piece of writing contains everything you might ever want to know, if only you can be bothered to look. Don't ask for me to look for you, because that undermines the very point of having gone to such a great deal of effort in documenting years of my life. There's a search box at the top and I tag every post. Knock yourself out. Go digging. Explore - there's plenty there.
Meanwhile, I just need a simple, basic, undemanding life at the moment, because things are demanding and overwhelming and stressful enough. I don't need any extra work, especially if it's unrewarding versus the effort expended.
This lengthy blog post has taken me all day to finish, because of various interruptions, some of which were very welcome - like a phonecall from a close friend - and others were questionably useful, when I might otherwise have been spending my time doing something more beneficial for myself. Spare time feels very scarce at the moment, so it should be used wisely and efficiently. I went to a great deal of effort to provide a vast trove of information, so it irks me if that effort is not delivering what I want it to, which is to avoid having to repeat myself.
Anyway, I need as many friends as I can get looking out for me, but I have very little "spare capacity" to offer at the moment, and it's wrong to ask too much of me - the resources are out there; you just have to look.
I need to protect myself. I'm no good at saying "no!" and "enough!".