This is a story about technocrats...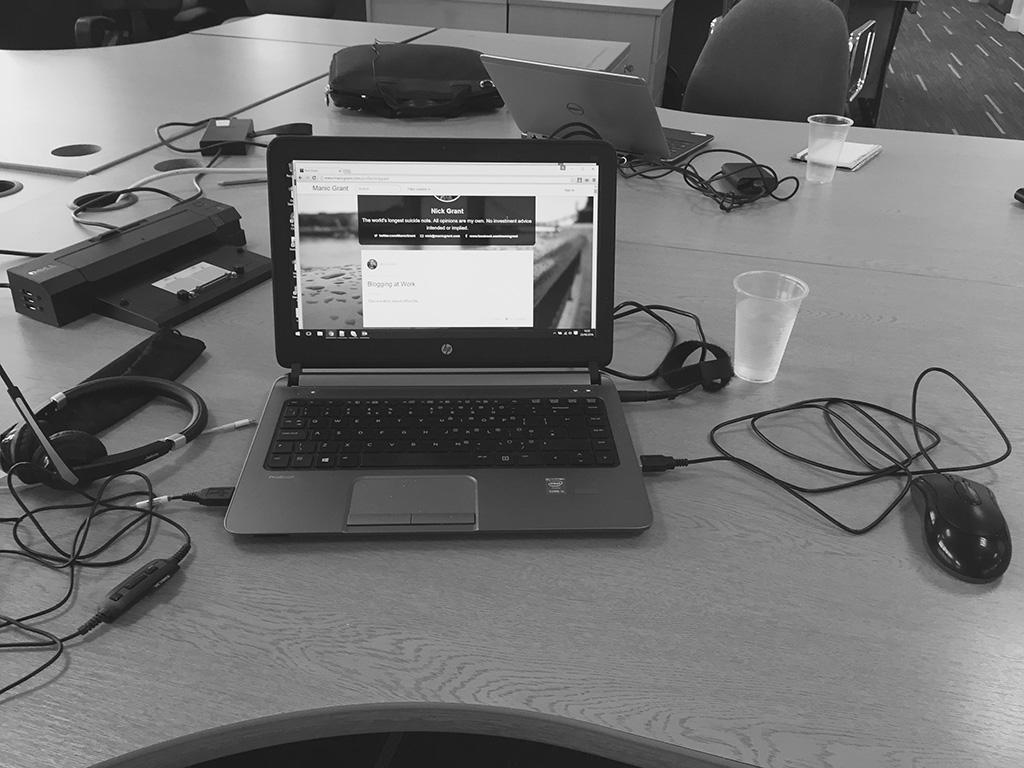 I wish I could tell you more about my day job, but I can't. I can't even tell you who my main client is, or generally what the project is that I'm working on. I mean, technically I could tell you the organisation and project, but then anybody searching for my name and that project or organisation would be brought right here, immediately, which wouldn't be helpful. I can't tell you any detail about my day, because it would probably breach code of conduct, and possibly some laws too, depending on what I told you.
Anyway.
I hate when people try to be super mysterious, and generally allude to the fact that what they do for a living is exciting; like they're James fucking Bond, or something. No, it's much more boring than that, as this quote that I love explains very well:
"I live in the Managerial Age, in a world of "Admin." The greatest evil is not now done in those sordid "dens of crime" that Dickens loved to paint. It is not done even in concentration camps and labour camps. In those we see its final result. But it is conceived and ordered (moved, seconded, carried, and minuted) in clean, carpeted, warmed and well-lighted offices, by quiet men with white collars and cut fingernails and smooth-shaven cheeks who do not need to raise their voices. Hence, naturally enough, my symbol for Hell is something like the bureaucracy of a police state or the office of a thoroughly nasty business concern." -- C.S. Lewis, The Screwtape Letters
What I'm working on for the majority of my working week, is benign, most people would agree. A colleague reads my blog, openly, not secretly, and they said that they agree with me: the project, and indeed the work of the organisation is benign in their opinion too. It's hard to see how what we're doing is not benign, but we should explore the topic with a little more of an open mind.
Something which you might pay little heed to, but will be well aware of if you've ever been unwell, is that there is a vast mountain of administrative headache, which has to be ploughed through, simply for the privilege of being alive. Even though all my bills are paid via direct debit from my bank account, or auto-renewal straight from my debit card, or some other way of money disappearing constantly from my pocket, still that's not enough. The council will write to me demanding that I tell them who lives in my house, even though I already told them. The car insurance company demanding to see proof that I've never claimed on my policy, even though it is them who administers the policy. Somebody, somewhere, at all times, is expecting me to do something for them, on pain of fine, prosecution... prison even.
The United Kingdom is ostensibly a very difficult place to live, unmolested. If you were hoping to live here, simply paying your rent/mortgage and bills, and expecting that would be enough, you are very wrong: an endless stream of bureaucratic obligations will bombard you, every single day. There are reams of forms which need to be filled in in triplicate; numerous permits, licenses, notices and interminable obligations, which are met with extremely harsh penalties if these constant intrusions into your life are not dealt with immediately.
Each organisation which contacts you thinks that its demands are not onerous, which is true. Taken individually, each task is not particularly difficult or time-consuming. However, when all these small tasks are added together, the demand is huge: I really don't give a shit whether I'm doing my tax return or revising the electoral roll... both tasks are equally irksome; equally intruding into my time, effort and energy. For highly functional people, they perhaps don't notice this burden, but those who are sick - speaking from personal experience - will find it overwhelming, to the point of driving a person to suicide.
While it might seem ridiculous - improbable - that these 'easy' jobs might tip somebody over the edge, to the point that they'd end their own life, if you consider the harsh penalties which are attached to all of these things, they can all threaten to ruin your life. An unpaid parking ticket can lead to £15,000 of court costs and other expenses, which would bankrupt most people. Other minor administrative oversights, like failing to tell the council that your flatmate moved out, could lead to thousands of pounds of fines, and perhaps even a criminal conviction. Cumulatively, I'm sure that you could end up with a very big police criminal record, and be bankrupted many times, simply because you weren't able to open your mail for a few months, because you were sick.
The letters keep dropping on your doormat, and every single one is demanding money with menaces. Every single one of those letters is threatening to lock you up, take away your home, take away your livelihood, take away your children, take away your pets, take away your transport; threatening to bankrupt you, and wreck your chance of ever having a home ever again; having a job ever again. It's a pretty shitty state of affairs, that we can do that to people, who just want/need to be left alone.
Tags: #work #capitalism