This is a story about starting over...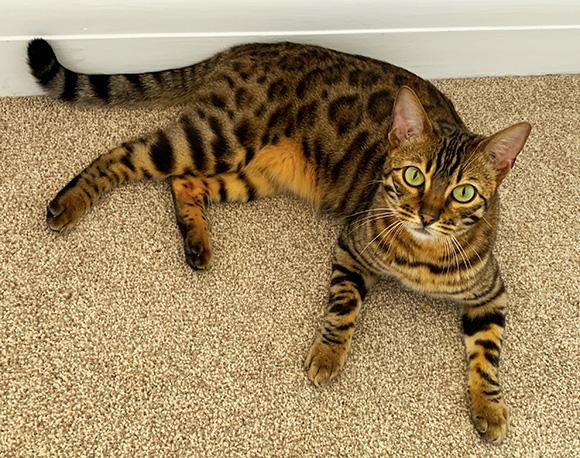 My cat is missing. She's been missing since 26 June. I've posted leaflets through the door of hundreds of homes in the vicinity. I've posted all over social media. I've alerted all my neighbours through private messaging groups. I've spent countless hours walking around, calling her name, shaking her food. I've put her litter, her blanket and her favourite toys around outside my house, in the hope that she'd smell the scent.
All to no avail.
She's gone.
Was she stolen? Was she hit by a car or a train, and the incident didn't get reported; her body wasn't found? Has somebody started feeding her and taken her in as their own? Was she stolen for profit by an unscrupulous rogue? Is she out there somewhere, lost and hungry?
Whatever has happened - and I'll probably never know - she's gone.
Of course, I can play the coulda woulda shoulda game. In the course of my search for her, I've found out that there are lots of cats just like her which are living quite happily in this safe neighbourhood. We live in a leafy, wealthy suburb, plus the streets have been extra quiet and safe because of the Coronavirus lockdown. Perhaps I could have turned my house into some kind of maximum-security cat prison, but why did I need to worry? I live in a nice place and I have nice neighbours; plenty of cats just like her live very happily in this area.
Whatever has happened, she's gone and I can't do anything about it now.
I don't have a time machine. If I did, would I go back and change anything? It's not realistic to put a metal grille over your windows. It's not realistic to install air-lock style security doors. It's not realistic to secure every skylight, window, door and air-vent, which your determined would-be escapee might use in their bid for freedom. I'm trying to live my life, not become a prison warden to a cat, living in some kind of concrete bunker with bars on the windows and heavy metal cell doors.
If I was messing around with time travel, maybe I should go back further and not get the cat.
Maybe I should go back further in time and not give my first cat to my parents, during the messy divorce.
Maybe I should go back further and fix my marriage.
Maybe I should go back further and not even get with that girl who I later married.
Maybe I should go back further... and not even be born.
This reductio ad absurdum reasoning leads me to conclude that it's futile to start wishing to change things in the past, not least because it's impossible anyway. It's futile and unproductive, and it leads nowhere good.
Maybe I'm just covering my ass because my cat is lost and I feel bad about that; somehow responsible. OK so my decision has led to my cat becoming lost. There. I said it. Does that bring my cat back? No.
Anyway, as is often my way, I'm making another point: there are heaps of things which are less-than-ideal in my past, but I can't do anything about them. I've had a really rough bunch of years, and it's caused me a whole heap of problems, but I can't expunge those unfortunate events from history so I'm going to have to live with everything that's happened.
I had a lengthy break from blogging and social media. I felt like it wouldn't be good to be writing every day during lockdown. I thought that the time would pass incredibly slowly if I was writing my blog during the repetitive and monotonous stay-at-home period, where I've been cooped up under the same roof for more than 3 months, with no company except my cat... who has now disappeared.
My intention is to begin writing regularly again, but I hope that my improved mental health, finances and a generally improved outlook to my life - much more stable than in recent years - will provide a backdrop for a period of writing which seems more like a normal happy life; less full of disaster and violent mood swings; less full of powerful negative emotions and terrible memories; less full of bitterness and hate.
Of course, my writing is therapy for me, and part of therapy is venting - catharsis - so I shall no doubt be launching myself into the occasional angry rant from time to time, but I'm hoping to somewhat turn over a new leaf and start with a clean slate as much as possible... although I can never escape my past, and doubly so because I intend to leave this blog in place unedited, containing all the difficulties I've been through in the 5 years I've been writing it.
I'm hoping that by writing a load of new material which is coming from a much more secure and happy place, it will put some time, space and distance between me and the bad stuff in my past.
Tags: #cat