This is a story about crutches...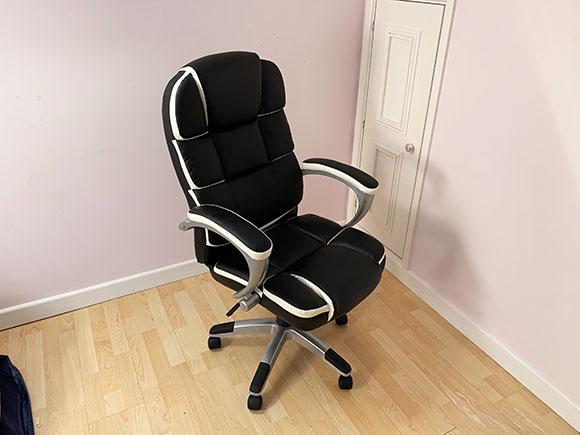 Trawling through my photos from the past three and a half months, I found very few which would be suitable to accompany what I wanted to write today. The photos on my phone are mostly of my cat(s) and not much else. However, this photo does - rather cryptically - allude to what I am now writing about.
When I started the lockdown, I decided that I wasn't going to bother with a desk or an office chair at home; that I would muddle by with my laptop on my lap. I decided - wrongly - that it wouldn't be worth the effort of setting up a proper office at home.
As I already wrote a few days ago, I started the lockdown drinking copiously. Every day after work, I would pour myself a large glass of wine. I would estimate that my alcohol consumption was somewhere in the region of 8 to 10 bottles of wine per week.
As I already wrote a few days ago, I started the lockdown physically dependent on medication. Every night I took sleeping pills. Every day I took tranquillising sedatives.
Then, it became obvious that there would be dire consequences to my physical health.
I didn't want to finish lockdown as a fat alcoholic pill-popper with a hunched back.
Because I delayed setting up my home office, I didn't have a lot of choice for a desk and an office chair, hence why the ugly garish monstrosity - pictured above - has become part of my home office. The desk is super ugly too. However, it's good to have a more professional set-up instead of reclining on my sofa.
The health improvements to my life don't feel like they're paying dividends. I still feel overweight, unfit and I still crave alcohol. Ostensibly, I feel much the same as I did when I was guzzling booze, popping pills and spending 16 hours a day reclining on my sofa. However, we must acknowledge that there is a very significant difference between an alcoholic pill addict, and somebody who drinks in moderation at the weekends, and is entirely medication free. That I have stabilised myself and found almost liveable and almost bearable sustainable routine without my crutches, is not an achievement which should be underestimated.
The backdrop to the past four months has been the global pandemic which has claimed hundreds of thousands of lives, and threatens the livelihoods and living standards of hundreds of millions, if not billions of people. If there was ever a time to feel insecure about money, work and housing, it would be now.
I wouldn't describe myself as a particularly anxious person, but the past 5 years of my life have been spent with the threat of destitution hanging over me. I've been forced to generate vast amounts of money each year in order to protect my credit rating and employability, as well as to simply pay rent, bills and service debts. The amount of money needed to escape my predicament was so vast that I was forced into high-risk high-stress situations, which were potentially high-reward. Eventually, perseverance paid off. There was no other choice: a crappy salaried job would have inevitably led to bankruptcy; the books simply didn't balance with some crap paying job.
So, I've suffered 5 years of incredible, immense stress. I've suffered 5 years of living on the edge of ruin.
When the pandemic started to get very bad in Europe my mood improved considerably. The havoc wrought by the pandemic has brought the stress and suffering that I was enduring into the lives of vast numbers of my fellow people. Suffering collectively is far more bearable than suffering alone.
At some point, I want to stop talking about the difficulties in my past and to talk about the future. I want to put some distance between my past and the present. I want to have a period of wealth and security, which clearly delineates 'now' from 'then'.
I note that my abysmal childhood became unimportant when I started to have success and get ahead in life, in my late teens and early twenties. My rapidly growing bank balance, exotic travel, status symbols - like houses, cars and boats - and adventurous hobbies, felt like I could forget about past transgressions against me: the bullies and abusers were rotting, and I was thriving, so I wasn't bitter and angry; I had broken free from the misery of the past.
My rage at my parents - which has been a repeated theme of the past 5 years - and sad memories of a ruined childhood, which has caused me vast amounts of problems... all becomes irrelevant again, as my health and wealth are regained, and my quality of life improves manyfold.
Yes, my crutches are going to change from alcohol and medications, to be luxury holidays and other trappings of wealth, but I don't care. Alcohol and medications lead to misery and death - they're a dreadful trap, which leads nowhere positive.
I still have suicide as my 'retirement plan' but that's a simple matter of practicality, given that I'm now unable to be likely to accumulate enough wealth to enjoy a comfortable retirement before my health starts to deteriorate. It's something I'm going to have to learn to live with. Or rather, it's something that's going to kill me. C'est la vie. C'est la mort.
Tags: #alcohol #medication #debt #suicide #parents #bullying #childhood #lockdown