This is a story about mess...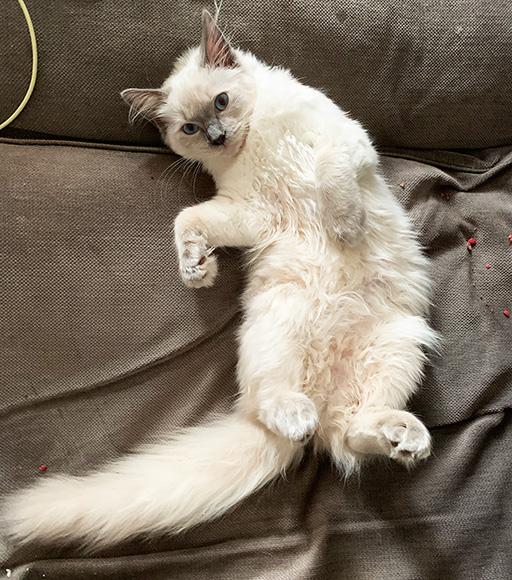 I realised I haven't written about my adorable furry companion in a while. My phone contains nothing but pictures of cats; mainly my cat(s). My bengal seems to be lost forever, heartbreakingly - I suspect she was stolen, because there has been a spate of cat and dog thefts recently. My ragdoll, pictured above, is an amazing cat; she's healed my broken heart.
If you look carefully at the photo, and I really wish you wouldn't, then you'll see various bits of detritus - mostly crumbs and other bits of food; dirt. I've been a real slob for quite a long time.
I've got a demanding job, plus lockdown has meant being under the same roof 24 x 7, for many months. Of course, we're all in the same boat, but I've been struggling with my physical and mental health all year. I tried to kick the couch potato habit, but August has been incredibly punishing at work, and I've all but ceased doing anything besides working, sleeping and eating.
The one happy constant in my life - the stable part - is my cat. Of course, I had the heartbreak of losing my last cat quite recently, but my new cat is delightful. It's fantastic to have my fluffy friend to keep me company. Life would be intolerably miserable without a cat.
A plumber came to fix something in my bathroom, which prompted me to quickly clean. I don't really have many visitors, so why bother to keep my house clean and tidy? I hardly make any mess, except for a few dirty dishes, but I suppose the general dirt and grime builds up, which depresses me but not enough to do anything about it. The messiest thing is my cat, who regularly kicks her litter onto the floor. It sounds like she's trying to dig to the centre of the earth sometimes.
I guess I'll probably hire a cleaner, once this pandemic is over. Seems lazy and wasteful, but it's good for me, and it's good for them - I get a clean house and they get paid, which seems like a win:win situation.
My cat eats individually packaged pouches of cat food, which seems like a big waste of packaging, but she's super fussy about her food going 'stale' in her bowl, so I can't imagine she'd love food from a tin which has been open for days and days - she's only got a tiny appetite. I eat gourmet soups, which also seems crazy when it seems relatively easy to make a big batch of soup and freeze it, but I want and need simplicity in my life. I can feed my cat and I in the blink of an eye, which is what's needed when I'm working so hard.
Living in a clean house, or eating a freshly cooked homemade meal are things I enjoy, but I'm not prepared to do the work, when I'm already working super hard. Seems profligate and lazy, but I don't care - it's allowing me to be functional and stable.
Apologies for boring you with the rather domestic and uninteresting minutiae of my existence, but I wanted to try and write about something other than the agony of existence.