This is a story about being in lockdown...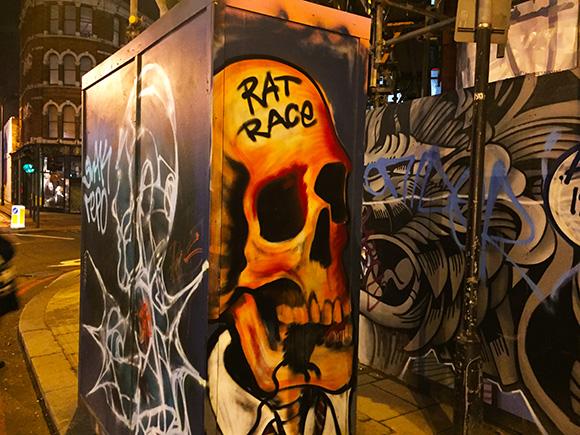 I didn't write during the total lockdown of the pandemic, quite deliberately, because I knew that I would get very repetitive, and that I would drive myself slightly insane. Having insight into my own mind, and being able to introspect, is a great gift - at times - but when artificially constrained, such as being in lockdown, it's difficult not to overthink, and to over-fixate on the discomfort of the situation; better to just go with the flow.
I'm still in lockdown.
Of course, I can now travel to the shops, visit a café or restaurant, travel, and do lots of other things, which I previously couldn't. That's correct in theory but in practice, I'm still in lockdown. I only leave the house to buy food.
It's not through choice that I'm in lockdown, although it appears, at first glance, to be the case.
Theoretically, I'm rich again; debt free and with some savings in the bank. However, the economy looks totally screwed, forcing me to consider the security of my future income, and of course my housing security and other important essential needs. Having been homeless and slept rough, I'm more reluctant than most to go back to living on the streets, especially after working so hard to get back on my feet.
So, I'm working as hard as I can, for as long as I can. Given the opportunity to earn money in a global pandemic, and a global recession, I'm going to fill my war chest as full as I can.
It's miserable.
Most people have got their "summer holiday" heads on in the Northern Hemisphere. Most people's moods are 'artificially' lifted by the warm summer weather, despite the backdrop of a rampaging pandemic and terrible recession. Of course, things have been artificially propped up, to temporarily stave off the wave of redundancies, evictions, bankruptcies and other cataclysmic economic events, which will hit like a tsunami in the autumn. Most ordinary people are overjoyed the lockdown is lifted and are enjoying their regained freedoms, with seemingly little regard for the bleak future.
Not me.
I'm miserable.
Of course, if I've managed to "make hay while the sun shines" then I'll be somewhat better placed to ride out the storm than those ordinary people who are currently frolicking in the sun. On the flip side, they'll be happier and more well rested. I'm risking burnout and/or breakdown, pushing myself as hard as I'm pushing myself... but all I want is COLD. HARD. CASH. As much cash as possible AND I WANT IT NOW.
Waking up every morning, there's a finite amount of money I can earn, because time and energy are finite quantities. This is simultaneously a motivation ("I can earn a lot of money today") and a something which is quite depressing ("I can only earn a small amount versus what I need").
Perhaps if you saw my personal finances, you would think that my mentality is vulgar; privileged. However, my mentality is based on many years spent homeless; destitute. Of course, I'm fortunate that my life isn't ruined irreparably, and that I've enjoyed the occasional period of exceptionally high quality of life, in-between the chaos, trauma and near-death experiences.
Because it's a marathon, not a sprint, I am whinging and complaining the whole way. I try not to, but I'm not built for steady plodding. I want to get rich quick, or die trying... anything else is intolerable.
Of course the reality, compared with most ordinary people, is that I am getting rich quick. I'm absolutely sure that you would have no problem at all, thinking of really great ways that you could spend my so-called 'disposable' income. However, I don't look at that money as 'disposable'... I look at it with despair, knowing that it's not enough to give me the security I need, to protect me against homelessness, destitution, bankruptcy, and all the other things which nearly killed me.
Sorry for repeating myself.